It is no secret that the University of Montana is a major driver of Missoula's economy. Not only is it the largest single employer in western Montana, but the students and visitors it attracts spend money on everything from housing to craft beer every year.
The Bureau of Business and Economic Research at the University of Montana took a look at the specific ways that UM boosts the local economy. It found the presence of the university creates 9,700 jobs statewide, $1 billion in after-tax income, $200 million in state tax revenues and $352 million in annual investment spending. The average compensation per job in Montana is $1,346 per year higher because of UM. All of the findings take into account the tax support and tuition dollars the university receives from Montanans as a public education institution.
"The operations and the output of the University of Montana in Missoula result in a larger, more prosperous and more populous Montana economy," Patrick Barkey, an economist and the director of the BBER, stated in the report. "The additional earnings power of its graduates, the contributions of its research, patents and inventions and the millions of dollars of business it conducts with Montana vendors of products and services extend its ultimate economic footprint to all corners of the state."
Barkey and economist Jennifer Hepp wrote the report.
They also looked at how UM attracts visitors to the city, whether they are parents attending a graduation ceremony or researchers attending a lecture. Hepp and Barkey found that the 3,456 nonresident students at UM in 2010 generated about 9,600 visits by friends and relatives from out of state, with the average person staying an average of about 3.5 days.
"From the statewide perspective, it is only the spending by out-of-state visitors that can be said to add to the Montana economy," Barkey said.
He and Hepp estimated that the nonresident trips generated about $5.2 million worth of spending in the state, with most of the money going to food services, accommodations and travel.
"Spending by nonresidents visiting or passing through Montana constitutes an important component of the state economy," Hepp said. "The University of Montana-Missoula generates significant visitor traffic, including visits by friends and families of its students and faculty and by those attending academic, cultural and athletic events hosted at or because of the university. Were it not for the presence of the university, these visits, as well as the spending and the jobs that spending supports, would not exist."
The spending by students off-campus plays a significant role as well. Nonresident students spend about $49 million in Montana for each academic year they live in Montana, with retail sales accounting for $20.8 million of that.
Because UM is such an important player in the economy of Missoula, it comes as no surprise that there has been significant consternation and despair following a huge enrollment drop, almost a quarter of full-time equivalent students, since 2010. With a drop in students and the money they bring to the economy comes a push by officials at UM to reduce payroll expenditures. The university has taken steps to boost enrollment, starting by hiring a new vice president for enrollment and student affairs, Tom Crady.
Research is a huge component at UM. A different 2014 study found research supports 1,075 permanent, high-paying jobs in the state, 521 of which are at UM. Those jobs translate into $64.3 million in payroll and a total economic output of $134.9 million in the state.
There are examples of businesses that have spun off from research and intellectual property developed at UM, such as Sunburst Sensors, a thriving company that manufactures and sells autonomous chemical sensors.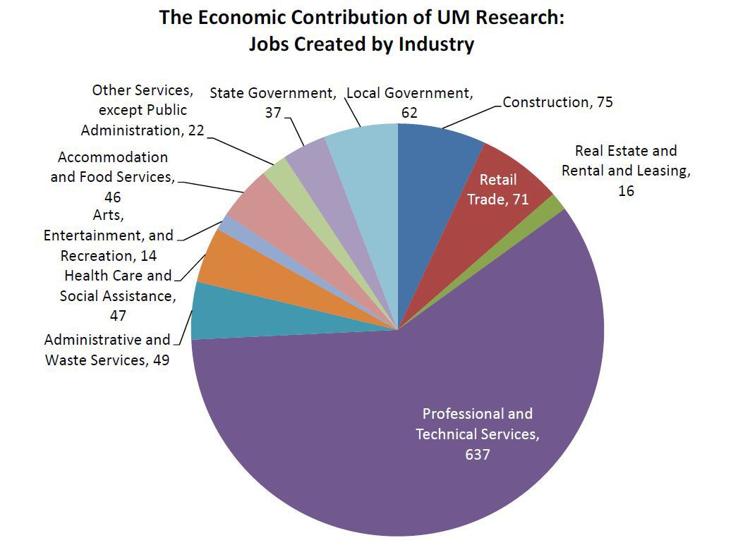 "As Montana faces the challenges of finding ways to grow income, job opportunities and prosperity in the years ahead, it is well served by a university that plays a key role in helping to achieve those same goals," Barkey concluded.