From art exhibits to costumed bike rides to film festivals to farm parties, this week features a ton of exciting fall events.
If you are a local teenager over the age of 15 and you want a cool summer job, you might want to think about taking lifeguard classes at the Currents Aquatics Center. Successful participants will obtain American Red Cross certificates for waterpark lifeguard, first aid and CPR/AED for professional rescuers. Candidates for the class must be able to complete the following swim prerequisites: Swim 200 yards continuously using front crawl and breaststroke and then swim 20 yards and then surface dive to a depth of 8.5 feet and retrieve a 10-pound brick. The classes run Oct. 13-31 on Monday, Wednesday and Friday from 5:30-9 p.m. For more information contact 721-7275. The last day to register is Monday, Oct. 13.
Join Missoula Urban Demonstration for a cider-pressing workshop and mingle at 5:30 p.m. at the nonprofit's headquarters at 1527 Wyoming St. They will celebrate the end of harvest season by grinding up some local fruit and having a tasting party for the cider. MUD board members and staff will also be on hand to collect ideas about sustainability as they get ready to develop a three-year plan to promote healthy, low-impact urban living and shared resources in Missoula. The event is free.
Check out the film "Coal Road to China," a grassroots production, at 7 p.m. at the University Theater on the UM campus. The film takes you to the Powder River Basin in Montana and Wyoming and explores the questions surrounding the development of the Otter Creek coal mine and the Tongue River railroad. After the film there will be a Q&A with School of Forestry professor and leading climate scientist Steve Running, along with former coal mine manager Bill Ritchie, astronomer George Seielstad, pulmonologist Paul Smith, geologist Ian Lange and Northern Cheyenne tribal member Alaina Buffalo Spirit.
Missoula-born, Brooklyn-based artist Amanda Browder will be presenting an exhibition called "End of the Infinite" at the Montana Museum of Art and Culture on the University of Montana campus in the PAR/TV Center.
Browder is a fabric artist who is "challenging, reviving and redefining 'soft' sculpture, which at times delves into the realm of large-scale public sculpture." On the first and last days of the installation, two of Browder's large-scale pieces will be hung over the PAR/TV Building, weather permitting. Another smaller piece will be set up in the Meloy Gallery. Browder will be in town to speak about the series at 5 p.m. on Oct. 16 in the Masquer Theatre, followed by an artist's reception.
Check out the Last Best Film Fest, sponsored by Draught Works Brewery, the Trail and Hi-Line Films. The three-day festival kicks off Friday and features short action adventure films. Films will be shown at the Roxy, the Wilma and Caras Park. For more information visit lastbestfilmfest.com.
Celebrate the Fall Harvest Festival at the PEAS Farm at 3010 Duncan Drive in the Rattlesnake. There will be potato sack races, live music, stomp rockets for kids and a pumpkin-carving station. Everyone is encouraged to come in costumes, and there will be cider and food tastings. Admission is $5. The fun starts at 2 p.m.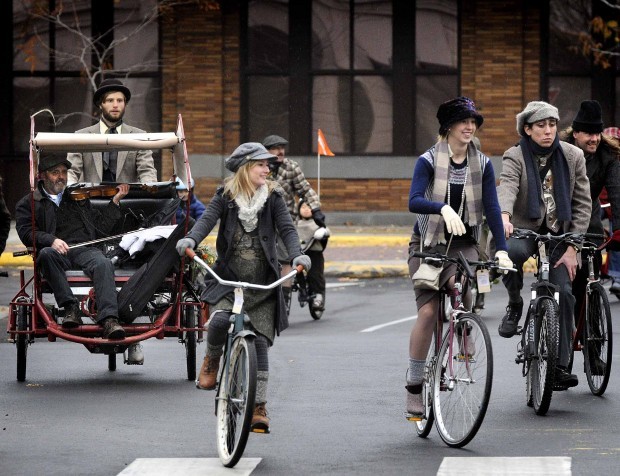 Check out the fifth annual Tweed Ride to benefit the youth cycles program at the Free Cycles community bike shop. The event is a leisurely 5K bike ride through Missoula, and people are encouraged to wear vintage clothing, mustaches and festive flair.
The ride includes tea and treat stops along the route, ending with a festive party, complete with food, prizes, music and a silent auction at the bike shop. The fun starts at 1 p.m. at the shop at 732 S. First W. in Missoula.