Some last-minute shoppers out and about town Saturday weren't in search of presents.
"Daddy! I found a good one!" 7-year-old Ian Thornblade yelled as he carried a tree taller than himself toward his dad and brother.
The family was at the Pink Grizzly greenhouse Saturday morning searching for the perfect Christmas tree.
"We usually wait until about a week before Christmas," Ian's dad, Carl, said.
The tree search is "boys only," and Ian's 9-year-old brother Elliot came along.
Delaying getting a tree keeps it from getting brown, Elliot said.
For Carl, waiting heightens the enjoyment of the holiday.
"It gets me excited about Christmas when I do it closer to Christmas," he said.
After thoroughly perusing their options, the trio finally settled on a tall tree.
"OK, timber!" Ian said jovially.
The Thornblade family's good cheer isn't unusual for customers this time of year, said Ron Brammer, who helps manage the tree lot.
"Most of the people are happy to be here and they're in a good mood," Brammer said.
Some trees were sold before Thanksgiving and the week after, but the first few weeks in December were the busiest for sales, he said, adding that at least 85 percent of the inventory was gone by Saturday and the majority would be gone by close on Christmas Eve.
+1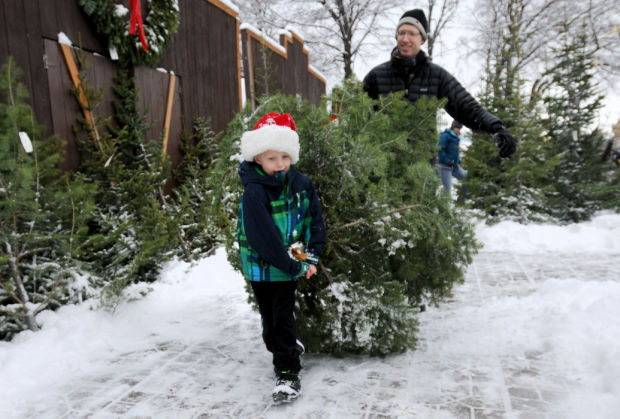 Some of the trees come from the Flathead Reservation, with others coming from Sandpoint, Idaho. Prices range from $3 to $120, with an extra fee for flocking.
Many people are repeat customers who know what section of the lot holds their preferred type of tree, Brammer said. "You can see it on their face, they know exactly where they're going, what kind of tree they want."
At the Adams Ranch & Trees lot in the Rosauers Supermarket parking lot, the trees of choice seem to be the grand and noble firs, said Evan Porter, who has worked at the lot five years.
Doug Turner and his daughter Fallon picked up a grand fir Saturday morning.
Usually, they cut a tree themselves, but this year they were too lazy – by their own admission – and found themselves running out of time.
"Had to get it done before the holiday," Turner said.
They didn't spend much time debating, he said. "It was a 'that one' kind of thing."
Although the busiest weekend for sales was last weekend, Porter said they expect to sell most of the remaining trees before they pack it up Sunday evening. Already, about 90 percent of the trees that came from Oregon, Idaho and the Seeley Swan Valley have sold. The prices ranged from $6 to $200.
"By Sunday night, there probably won't be 30 trees there," said Steve Adams, who owns the operation.
After 32 years of selling trees in Missoula, some of the customers are grandchildren of previous customers, Adams said.
Most of the customers are in the holiday spirit when they arrive, he said. "On a daily basis, there are hundreds of kind gestures and things that come into the tree lot."