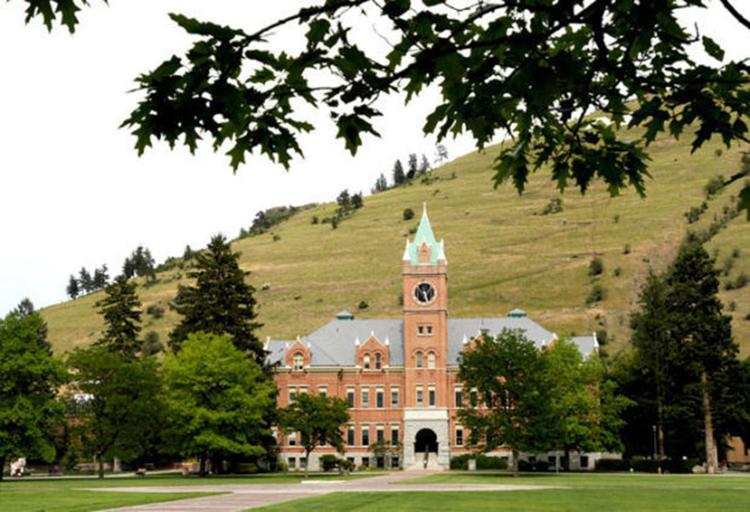 Mayor John Engen is among the community and campus leaders pleased to see General Electric executive Seth Bodnar selected as the next University of Montana president.
"My view is that the University of Montana needs leadership and vision that's a little bit out of the box, and I think Seth really brings that to the institution, and his background is such that we're going to have lots of opportunities to work together," Engen said Wednesday.
This week, the Montana Commissioner of Higher Education announced that Bodnar, the nontraditional candidate with a corporate and military background, had accepted an offer to be head of UM.
The hire is pending approval by the Montana Board of Regents, but the regents discussed the finalists Monday in a private session to give the commissioner direction after hearing a recommendation from the search advisory committee.
Diana Six, professor of forest entomology/pathology, said Bodnar is a good choice for UM and represents a good direction. Bodnar was top in his class at West Point and spent eight years in the U.S. Army, including commanding a detachment of Green Berets.
"Higher education is changing really fast, so I think we need a very nimble leader, someone who is in tune with new directions and is very supportive of innovation," Six said. "And so I think people felt like maybe it was time for someone who had their finger on the pulse of future directions."
Six, one of 20 search committee members, said she believes the regents listened to the advisers in making their choice, and the committee had listened to the campus, although she said any decision won't please everyone. She also said giving Bodnar the nod took much discussion because he does not have significant experience inside higher education.
Sometimes, academia can move at a glacial pace and be slow to encompass change, Six said. She worried that Bodnar, as strong as he was, would appear to offer too much change too fast to be the top pick.
"But it didn't turn out that way. Maybe we've come to a place as an institution where we see the need for some big, positive changes, and we're ready to actually move faster," Six said.
As head of the faculty union, Paul Haber has both worked with the administration and gone up against it, and he said he's looking forward to working with Bodnar. He believes the new president will build on the progress that UM leaders have made and will govern with meaningful input from faculty, staff and student leaders.
"Early conversations that I've had with him suggest to me that he brings a leadership style that will fit well with and strengthen the shared governance model," Haber said.
On campus, Bodnar listened well, asked good questions and responded candidly, Haber said. He also said the new president will roll up his sleeves and get to work and learn the things he needs to know.
Haber said Bodnar knows his own strengths, he's been in different environments, and he knows he's entering another new culture going from the corporate world and the military into higher education.
"I think the really important thing that the campus community needs to do — and wider constituencies as well — is come to Seth with an open mind and do what you can to help him be successful," Haber said. "Where he goes, the rest of us go in the collective enterprise."
Susan Hay Patrick, a community leader and chief executive officer of United Way of Missoula County, said she appreciated Bodnar's passion for developing leaders and teams.
Bodnar is 38, more than a couple of decades younger than the average university president, and Patrick said she also appreciates it when decision-makers recognize the talents of younger leaders.
"I was surprised by the choice, but in a good way because I think we need to explore new options," Patrick said.
The United Way board has much support from faculty and staff at UM, and it's also had board representation from campus, she said. Patrick said both organizations play roles in building better community.
From her vantage, the CEO has seen nonprofits rise and fall, and she said a good leader at UM will be mindful not only of the things that need to be changed, but of the university's long and successful history. That requires listening to those who have "weathered the storms and been with the institution for a long time."
"I think good leaders are humble and are good listeners, and that Stephen Covey admonition to seek first to understand rather than to be understood is good advice for any leader," Patrick said of the author of "The 7 Habits of Highly Effective People."
Dean Chris Comer said he plans to approach the selection of Bodnar with much optimism and hope. Comer oversees the College of Humanities and Sciences, the largest on campus.
"Deans always try to assess faculty interest, and there was certainly a big buzz when he came to campus, and I think that continued after his departure," Comer said.
Comer, also on the search committee, said Bodnar's age doesn't bother him, but his short experience in higher education has been outside the norm, at least in the past. 
"It's normal for there to be a little bit of skepticism on campus because he hasn't gone through the ranks and been an academician, but we would not be the first campus to choose somebody who is not in the classic mold," Comer said. "That's happened more frequently lately."
At the same time, Comer said risk exists in selecting any candidate, and bringing in Bodnar means choosing someone whose leadership skills are palpable. Bodnar wants to build teams and get moving at UM.
"I think we go with that. That's a way forward, and I think we have to embrace it," Comer said.
Mayor Engen, also represented on the search committee, said the group kept its eyes on the prize, which was finding the best candidate for this time and place. He said the committee didn't veer from the mission and presented high-quality candidates to the regents.
The mayor said he's had a good relationship with former UM President Royce Engstrom and current interim President Sheila Stearns, and he anticipates the tie between the campus and city will only grow with Bodnar at the helm.
The campus and community already both work on housing and business development. But Engen said the relationship can expand to social justice issues by using models from Europe that bring different disciplines together to address critical community needs, a conversation he's already having with UM.
Children who grow up in Missoula, for instance, should understand the opportunities that living in a university community affords them, he said. And they should see a clear path to education that will make their lives better and more stable.
"We need to figure out ways to plan together, to exploit — in the best sense of the word — the talent that's at the university and the talent that exists in the community. And I'm really excited. I think this is an exciting time for both the university and for the city," Engen said.