The Poffenroths were the last to arrive.
The family waited until the last minute to enter the courtroom at Russell Smith Federal Courthouse on Thursday morning so their 2-year-old, Grace, could get the wiggles out before sitting through the naturalization ceremony.
Benji Poffenroth, a Canadian, is now a U.S. citizen after taking the oath alongside 20 others – from Belarus, Canada, Colombia, Finland, Germany, India, Indonesia, Mexico, Norway, Philippines, Russia, South Korea, Thailand and Ukraine.
"Can I get a wave from everybody?" Poffenroth said before the ceremony began, standing up in the rows of soon-to-be-citizens for a selfie, capturing the crowd in the background.
Magistrate Judge Jeremiah Lynch presided over the ceremony, apologizing because a criminal trial pushed the ceremony into a smaller courtroom.
"It gives us good togetherness, right?" he said.
The last-minute scheduling also meant there were no snacks and drinks, and no national anthem. Lynch tried to get the spokespeople for U.S. Sens. Jon Tester and Steve Daines to sing – a no-go.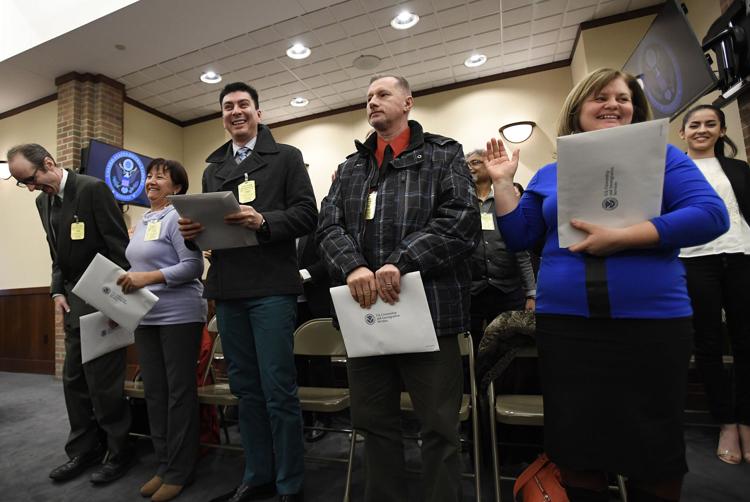 Lynch recognized the significance of the ceremony's timing.
Last week, President Donald Trump's executive order banned nationals from seven Muslim-majority countries from entering the United States for at least 90 days.
Montana's senators split on the issue, as Daines, a Republican, agreed with Trump's decision and saying that "anything less than 100 percent verification of these refugees' backgrounds puts our national security at risk."
In a letter, Daines encouraged the new citizens to become engaged and informed.
"The strength of the United States always comes from our willingness to open our arms to people from all around the world," Daines wrote.
Tester, a Democrat, called the executive order harmful, saying "We must take strong steps to protect our nation from those who want to harm us, but we cannot sacrifice our religious freedom and our American values."
In Tester's letter read aloud Thursday, he pointed out that immigrants helped build this country, and "they make it great."
The final words of the Pledge of Allegiance, "liberty and justice for all," are inspiring and "a moving ideal," Lynch said Thursday.
He called on the words of George Washington, Franklin D. Roosevelt, Martin Luther King Jr. and Robert Kennedy to drive his point home.
After MLK was assassinated, Kennedy said, "What we need in the United States is not hatred, what we need in the United States is not violence or lawlessness, but love and wisdom, and compassion toward one another..."
"Reflecting on Kennedy's words today would do us all well," Lynch said.
In the last decade, 6.6 million people have been naturalized, according to U.S. Citizenship and Immigration Services. 
"Unfortunately, the beacon of America is burning a bit dimly today," Lynch said. "The billows of intolerance have persisted since our founding."
While the country has come a long way, Lynch said oppression and intolerance are too often ignored or not believed today. Politically or personally, some Americans, Lynch said, have "encouraged that growth."
"The greatest threat to our democracy does not come from enemies abroad or our economy, it's if we allow ourselves to become intolerant," he said. "We must all remember that our rights and liberties are only as secure as those of our neighbors, even those with whom we disagree."
The new citizens have earned the right to vote and to serve on a jury – two responsibilities, Lynch said, that "form the backbone of our democracy."
"Your work is just beginning," he said. "You must be thoughtful and informed citizens.
"That means informed voting. I emphasize today: informed voting."
Lynch's speech struck a chord with Laura Marcela Tirado Rios.
"It really made me excited about becoming a citizen," she said. "He encouraged us to become active and become part of democracy to make America more tolerant again, and accepting of diversity. That's what this country is based upon."
Rios came to America from Colombia several years ago to work. On the job at Showdown Ski Area, she met her future husband, Evan Haugan. In March, they'll celebrate their sixth wedding anniversary.
It was a similar story for the Poffenroths.
This month marks 10 years since Benji Poffenroth came to the United States to volunteer at Youth With A Mission in the Flathead.
"I wasn't expecting to stay this long," he said, but then he met his wife Aubree, who's originally from Oregon.
Their son Roman is a month old. His birth meant they missed Poffenroth's original naturalization ceremony in Helena; Thursday's in Missoula was a shorter drive for the family, since they live in Lakeside.
"It was an incredible speech, and timely," Poffenroth said of Lynch. "We've got a ways to go.
"We're still a land of immigrants."