Outlandish stories live in Lowell School – some that teachers don't want published.
As the elementary school prepares to move to Mount Jumbo School for a year while Lowell is under construction, teachers and staff are looking back at its history and the highlights of their careers.
The project is estimated to cost about $11.4 million, part of Missoula County Public Schools' $88 million elementary district bond that earned voter approval last fall. Construction begins June 11. Its overhaul won't be as drastic as Franklin's – the main building will remain standing – but the addition and renovations mark a huge change, particularly for those who have worked there for years.
Lowell opened its doors in 1909, making it the oldest active school in the district.
It was designed by renowned architect A.J. Gibson, who's also known for designing Hellgate High, the Missoula County Courthouse and five University of Montana buildings, including Main Hall and Jeannette Rankin Hall.
Lowell was named after poet James Russell Lowell, mimicking surrounding streets in the Westside neighborhood. The school is bordered by Shakespeare, Sherwood, Scott and Phillips streets.
"They're all named after really good writers, poets, philosophers, because they really felt when they were building this area that it was going to be the cultural center for Missoula," said school librarian Andrea Phillip, whose extensive historical account of Lowell started seven years ago for the school's 100th birthday celebration.
Brian Bessette is in his seventh year as principal, but his first position was as a student three decades ago. Bessette was part of Lowell's last eighth grade class in 1985. He's the first Lowell principal to have attended the school.
"It was kind of interesting the first few times I walked the halls as principal here, it was before anyone was really in the building, and all these memories would just kind of come rushing in," he said.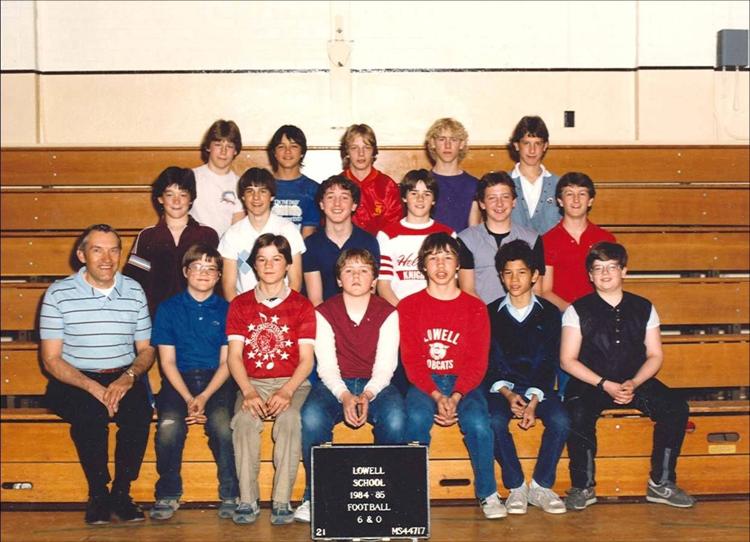 He was leaving the school just as first-grade teacher Cathy Carter was starting.
"The kids think I built the building, but I haven't been here quite that long," said Carter, whose classroom is in the annex, a one-story 1960 addition on the east side that houses four of the six K-1 classes.
Lowell started with a bang: the sound of its first principal falling down the stairs.
Christopher Rupp, Lowell's principal from 1909 to 1927, got into an argument with eighth-graders who didn't want to be in school (at the time, eighth-graders were older teenagers, Phillip said). Rupp was small in stature, so the kids shoved him down the stairs.
Soon after there was Russell Neal, Lowell's longest-serving principal, from 1927 to 1960.
"They were looking for somebody who could not be easily thrown down the stairs," Phillip said, laughing.
Lowell's most famous alumnus is Hoagy Carmichael, perhaps best known for composing "Georgia On My Mind" and "Stardust," among others. As a child, he briefly attended Lowell while living on West Pine Street. His mother would play piano in the halls while kids changed classes.
"Sometimes you almost think you can hear ragtime up there," Phillip said with a wink.
Custodian John Hayes – who worked during Neal's tenure – was in the right place at the right time. One summer, lightning struck the school. Hayes, who lived across the street, happened to see it from home.
"He saved the school," Phillip said. If you go in the attic today, you can still see the charred beams from the fire.
When teachers talk about the students they've had over the years, the first thing that comes to mind is the kids' kindness.
"I think they see the bigger picture sometimes," Carter said. "A lot of them don't have a lot of stuff, so they'll accept you for who you are."
"They remember this school," Phillip said. "It's a safe place for them. It's the first school I've ever worked at where kids have been sad to leave for summer vacation."
Lowell's staff is a goofy group. Fifth-grade teacher Carole Addis has worked at Lowell for 30 years and said the school has always attracted teachers with a good sense of humor.
"We have kids with overwhelming problems, and it can be so stressful ... so, you find stuff to laugh about," she said.
"This has always been a building where people have had a lot of fun. It's a very warm and caring staff."
When she comes back, her room won't have the heating and cooling fits it suffers from now, it'll have wireless internet and the walls will be red, not beige.
"For me, it might be a little emotional," Addis said. "Just having this remodeled, at first going, 'Wow, this is the end of an era.' "
From Sherwood Street, the school will mostly look the same, except that the annex will be torn down (for one, the annex was insulated with straw, which quickly grew moldy). Phillips Street will become the front of the school.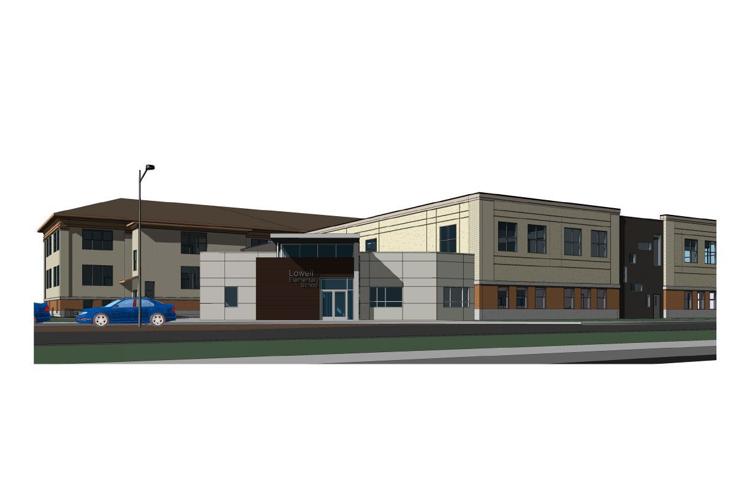 "We're excited that we get to hold onto the historical piece but yet add new and make it brand new, state-of-the-art, functional," Bessette said. "I think the thing we're most excited about is we're going to have functionality that we haven't had before. And it'll be ADA-accessible everywhere. Right now if you are wheelchair-bound or have mobility issues, to get to our gym you actually have to go outside and around the building to get in."
Knocking down the school was never part of the discussion. The community wouldn't have accepted that, he said. But it also ended up being more cost-effective to keep the main building and add on to the north.
Lowell joins Franklin in getting out of school early this summer, on June 8 instead of June 10, giving staff more time to pack before the move to Mount Jumbo. Lowell has the same drop-dead finish date of Aug. 11, 2017, giving the school time to be furnished and ready for school a couple of weeks later.
Crews have been doing plumbing and mechanical upgrades and replacements at Mount Jumbo since it hasn't been used as an elementary school since 2004. Walls will be patched and painted, and office spaces will be framed. The gym floor will be redone, and crews will tackle the grounds and landscaping.
All Lowell students will be bused to Mount Jumbo, due to its distance from the school's boundaries. Bus routes and stops are being finalized and will be announced this month.
Lowell's summer feeding program will move to the former Whittier School, the building MCPS leases to Head Start.
Lowell and Franklin "will be the hardest right out the gate" since two entire schools have to be moved for a year, said MCPS operations and maintenance supervisor Burley McWilliams.
"Aside from a complete replacement, I don't think there's another project out there where we'd move the whole school," he said. "Anything's up for discussion when we're planning. Anything can happen. That's the thing is so many things have changed since the first day we started this. You get into it and you realize, no, that's not a good idea. We need to do it this way instead.
While Franklin will be entirely torn down and rebuilt except for the gym, Lowell will instead undergo extensive renovations on the existing building.
"The fact that we get to have this incredible facility that we're going to come back to is really exciting," Bessette said. "We'll get to do some things we've been wanting to do. We'll have shared spaces to have breakout sessions. Right now we're kind of jamming things in the hallways and doing what we can, and it hasn't really held us back too much, but to have these opportunities before us now is really exciting."
Students will take a field trip to Mount Jumbo the last week of school to ease some of their anxiety about the move – and to help some with their sense of direction. One child asked Phillip if they would have to climb, thinking the school was far up Mount Jumbo. "Is it like Heidi? Are we going up a mountain?" Phillip said of the student's question.
"One of my little boys went home and told his parents that he was going to the new school by himself," Carter said.
Not quite, Carter had to remind him. Everyone is going.
Carter and Phillip had several stops and starts in their flashbacks, remembering stories and then quickly asking that they not be published: ghost stories (they don't want to scare the current students) or stories about out-of-line parents, like the one who cursed so loud that nearly the entire school could hear.
Of course, their favorite moments are the students who return, bringing back memories and doling out hugs.
"People go like this: 'Why are you still there?' " Carter said. "I've taught in other places, I've taught in other cities, in other states. I go, 'Because you make a difference here. You have kids who do come back to you.' "