Most of us remember our birth dates. As she goes through life, Nicollette Brynn Anders should have no trouble recalling her birth minute.
The daughter of Amanda and Mark Anders came into the world Tuesday at Missoula's Community Medical Center at 2:15 p.m., which doesn't sound unusual until you break it down.
Nicollete was born on 11-12-13 at, in military time, 14:15.
"That's just when she happened to come," proud papa Mark said Thursday, as Nicollette slept peacefully in her mother's arms in their home in Missoula's South Hills. "It wasn't planned. She just … did it."
Dr. Tom Baumgartner started inducing labor at around 8:30 a.m. Tuesday, six days before Nicollette's due date. Amanda Anders said they were aware of the potential milestone birthday.
"The 11-12-13 we knew, but it wasn't until 10 minutes before she came that we realized we could possibly have a 14:15," she said.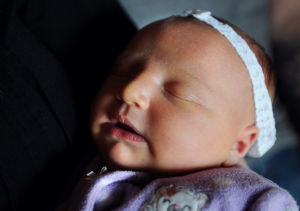 Amanda, 35, has three children from a previous marriage. It was a first for Mark, and his glow was still apparent two days later.
He's originally from Hamilton and works at Sheehan-Majestic. She's an accountant in Missoula who grew up in St. Ignatius, the former Amanda Versteegh.
On Wednesday, the Anderses saw a story on Missoulian.com about an 11-12-13 wedding. It included a link to another article from Virginia about a baby born to Mary and Anthony Macera of Virginia Beach. Isabella Grace Macera was born Tuesday at 2:15 p.m. Eastern Standard Time.
Like Nicollette, Isabella was 9 pounds, 3 ounces at birth. The Montana infant measured 20 1/2 inches. The Virginia baby started life an inch and a half taller.
There were news accounts of at least two other 11-12-13, 14:15 babies in the United States: David Cole Salvagnini in Grande Prairie, Texas, and an unidentified newborn in Omaha, Neb.
We've spent the past 10-plus years, since 01-02-03, with these sequential date events. But they're about to run out for the century. Next year, there'll be a 12-13-14, then no such phenomenon occurs again until Jan. 2, 2103.