There's now a rap about Montana that includes the line, "People are outnumbered by cows."
About 30 kids headed to Missoula Children's Theatre on Monday for a camp during their day off school for Presidents Day. It was the sixth of eight "Play in a Day" camps MCT is hosting this school year, which align with some of Missoula County Public Schools' days off.
"We've been looking at giving more opportunities to children in theater," said MCT education director Matt Loehrke. "This building is very busy, with MCT, this week with the Big Sky Documentary Film Festival and with DDC (Downtown Dance Collective).
"We pride ourselves on being a community center, but we saw a need in the community on off days for child care and something to do for families."
It's the first year for Play in a Day, and MCT has seen a steady stream of kids over each session, as well as several kids who have been to many if not all of these day camps.
Two of those are siblings Branden and Nevaeh Roach, second- and first-graders at Paxson Elementary, respectively.
Monday was their fifth Play in a Day camp.
The best part, Nevaeh said, is "getting to act in front of our parents."
Another bonus: During the "Tarzan" play put on at one of the camps this year, Branden got to be a hippo and Nevaeh a piranha.
"We'd be at another camp, or at home," Branden said of what he'd be doing if he wasn't at MCT.
Each camp has a different theme, and is set up in a way that kids coming multiple times won't get bored with the same routine.
On Monday, they worked on "Hamil-tune," a kid-friendly version of the hit Broadway musical "Hamilton." Because Hamilton is somewhat "R-rated," Loehrke said, they modified it and made Monday's musical about states.
They steered away from singing or rapping about specific presidents, Loehrke said, in order to avoid politics.
Music is a fun way to teach kids history, he said. While the adults with MCT usually come to day camps prepared with a script or outline, on Monday the kids created most of the content themselves. This time, they ranged in age from 5 to 14.
Depending on the theme, the kids write a really short play or sketch. On Monday, they made up songs and raps. During the Halloween-themed camp last fall, it was about dance. The kids channeled Michael Jackson and danced to "Thriller."
It's "not a full-blown play," said Anna Lewing, a volunteer MCT teacher who's helped lead every Play in a Day camp.
"They only have eight hours with us, but rehearsing the entire time would be exhausting," she said.
Because the kids are at MCT all day, the camp is spread out. They played warm-up games and exercises Monday morning — "Tall as a giraffe! Small as a flea!" Lewing said as the kids jumped up and down — and eventually started working on their script and raps.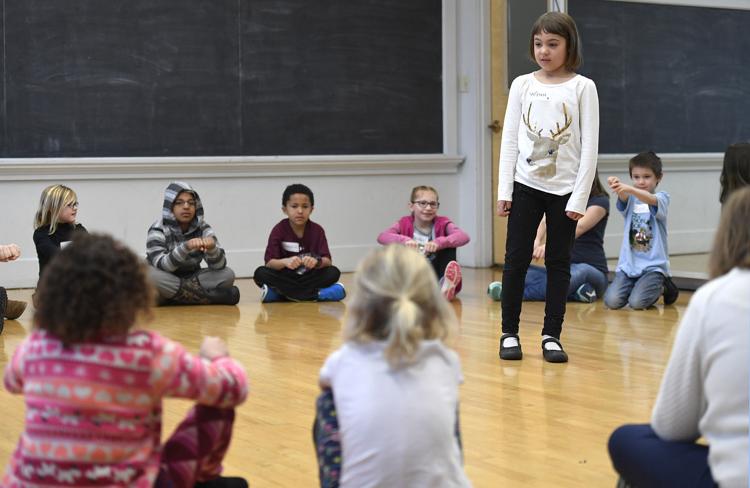 In the afternoon, they rehearsed and did arts and crafts — this time, something red, white and blue, obviously.
The kids learned a Montana rap written by another MCT camp leader, which started, "Our sky's the biggest and brightest of all ..."
"It's showing how rap is basically a poem that means something to you," Lewing said.
"We're talking to them this time about how (Alexander) Hamilton was not a president, but he was still incredibly influential."
Makeup, costumes and the set are minimal, Loehrke said, as it's an informal performance. Parents would start showing up after work around 5:20 p.m., and the show was set to begin at 5:30.
"We thought, if we can put on a play in a week, why not plan one in a day?" he said.
The final Play in a Day sessions are scheduled Friday, March 17, and Monday, April 24.