Missoula is one step closer to having a new bike park in the upper Rattlesnake neighborhood, a sorely needed option for the city's large mountain biking and BMX riding community. Funding sources still have to be put in place, although construction could begin late next year.
In October, the Missoula Parks and Recreation Board adopted a new master park plan for Syringa Park, a 2-acre undeveloped county-managed parcel of land at 1465 Lower Lincoln Hills Drive, across from the Hellgate High soccer and softball complex.
The plan calls for a pump track (a looping trail system that requires no pedaling), a few jump lines, slopestyle features and other topographical elements specifically designed for off-road mountain bikes and BMX bikes. There would be features for beginning to advanced cyclists of all ages, a buried shipping container as a starting base, a shade shelter, a bike work station, dirt rollers and an advanced skills loop with a snake ladder.
Missoulians have been pining for a bike park ever since 2014, when the city bulldozed a popular but unauthorized mountain biking jump course in the Rattlesnake – known locally as the Tamarack gravel pit jumps – that had been used for several decades and had a loyal group of users.
According to Garrick Swanson, a parks and trails designer and planner employed by the county, the Tamarack site was located within a black bear corridor of significance as identified by Montana Fish, Wildlife and Parks.
"With the extensive network of open space in and around the Rattlesnake Corridor, management of wildlife and habitat is important," Swanson wrote in the new plan. "Development of Syringa Park as a bike skills park will support ongoing City efforts to remove unauthorized bike parks from Mount Jumbo Open Space."
The master plan was developed with neighborhood residents and the cycling community through an extensive public process, according to Parks Department spokesperson Becky Goodrich. Parks planning staff also consulted with the International Mountain Biking Association's Trail Solutions Program on the design.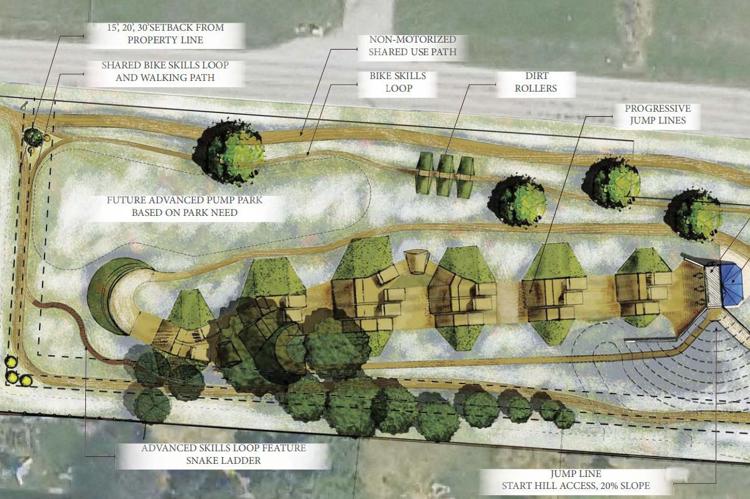 The city estimates the entire project will cost between $322,000 and $372,000 depending on restroom design and other options. A vault toilet with no running water would cost $35,000, a green flush toilet using solar power without a sewer connection would cost $50,000 and a standard toilet would cost $80,000. Possible funding could come from city impact fees, the federal Land and Water Conservation Fund (which has yet to be authorized by Congress), state Recreation Trails Program money and the city's Capital Improvement Program.
Another local nonprofit, the We Ride For Tanner Foundation, has raised nearly $100,000 for the project. That organization was formed in honor of a local middle school student, Tanner Olson, an avid BMX biker who was killed in an automobile accident in 2011.
When the balance has been secured through grants, private donations and other funding sources, Parks and Recreation can proceed with final design, bidding and then construction," Swanson wrote. "If fundraising is successful, the design/build process could start as early as fall of 2017."
Due to neighbors' concerns, Parks staff have recommended that the park hours would be 30 minutes before sunrise to 30 minutes after sunset, and no later than 10 p.m.