Scrolling through time: More than 1 million Missoulian pages accessible on internet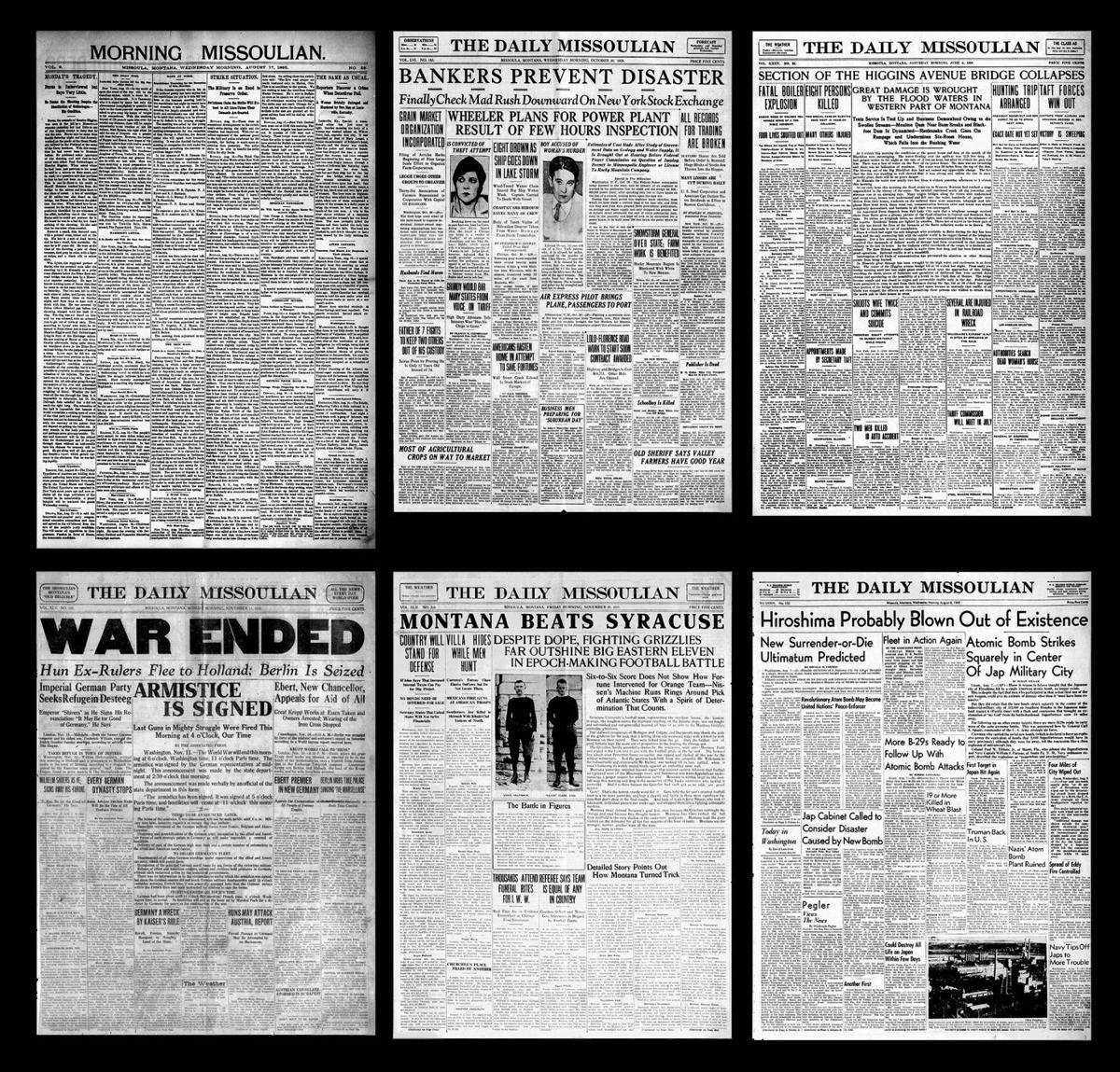 JOE MENARD HAS AN AUTOMOBILE
There was nothing ostentatious about the headline on that Thursday morning in the spring of 1901. The Missoulian played it on a back page, not Page 1.
"After long and anxious expectation Missoula has an automobile," the three-paragraph story began on April 18. "This modern conveyance arrived from an eastern factory for the Missoula Mercantile Co. yesterday, and speedy work that is being made to put the machine in shape for road use is being done that should have the machine on the streets within a few days."
 "Manager Joseph Menard of the Mercantile Company's implement department has eagerly awaited the arrival of the 'auto' which he has set apart as his own particular charge," the paper went on. "It is expected the city will now boast of the metropolitan feature of an automobile with the sang froid of a New Yorker."
We could say much more about Joe Menard and about Missoula's first and subsequent automobiles. We could even tell you that sang froid, meaning composure or self-possession, appeared 55 times in the Missoulian between 1895 and 2008.
And little to none of it would be the product of extensive research.
The factoid above was a simple matter of typing the words "first" and "automobile" into a new Missoulian website, toggling the search window to "paper date, oldest first," scrolling through a couple dozen pages starting in 1895, and — paydirt.
This is a story for all the aching necks and blurry eyes of dedicated local researchers who have microfiched their years away in front of readers at local and state libraries.
All those hundreds of Missoula newspaper microfilm rolls that date back to 1890 have been digitized. They're available for download on a subscription basis to missoulian.newspapers.com ($7.95 a month or $29.95 for six months).
More than 1 million pages of the Daily Missoulian from 1892 to 2008 were recently placed online, along with roughly 4,500 pages of the Weekly Missoulian (1892-1906); almost 1,400 from the Missoula Gazette (1890-92) and a couple hundred pages from the 1912 Missoula Sentinel.
Those papers have long been available on microfilm reels at the Montana Historical Society in Helena, the Missoula Public Library and the Mansfield Library on the University of Montana campus. The latter has Missoulians on microfilm from the paper's beginnings in 1873.
But to find a name or event that way, you pretty much have to know a date. That's not the case with digital. Keywords are all that's required, though you can scan by date as well.
Several years ago some old Missoulians and other state papers were digitized by the state historical society via Chronicling America's free site, chroniclingamerica.loc.gov. Then montananewspapers.com added more. Those are also accessible at no cost to the user.
What the new development does, and in the next week or two will be doing for all four Lee Enterprise dailies in Montana (the Billings Gazette, Butte's Montana Standard, Helena's Independent Record, and the Missoulian) is provide access to, say, everything that Ray Rocene ever wrote for the Missoulian.
He'd just turned 22 when Rocene started writing for the paper in 1916. His first byline appeared on Sept. 17 in a headline — "Reynold Rocene Forecasts and Reviews Montana's Football History." 
Even then the opening words were vintage Rocene: "In a few weeks the reign of baseball will be over and King Football will ascend the throne, and the interest of the sportloving public will be centered upon the thudding of the pigskin on many gridirons."
Rocene was first identified as sports editor, the Missoulian's first, in 1923. In print he was identified first as Reynold, then R.T., Ray, and, usually, Ray T. He was also called the Jabster in reference to his popular Sport Jabs column, which Rocene continued to write after he retired as "dean of Northwest sports writers" in 1960.
His last printed lines appeared 50 years ago, on April 28, 1968. It was an abbreviated column, probably because he'd broken a hip in a fall at home 10 days earlier. The Rocene column told of a tour Don Aldrich, head of the Pacific Northwest Conservation Council, had arranged for the first weekend of May. It would leave the Forest Service research lab on the UM campus and take in the Mission Valley, Flathead Lake, Swan and Clearwater valleys before returning via the Blackfoot.
"If the weather cooperates, the tour members will be seeing some of the most beautiful landscapes in the United States," Rocene concluded.
There followed Rocene's signature Solunar Tables for fishermen, which he initiated in 1947 and the paper discontinued in 1981. He moved into the Royal Manor in the Rattlesnake to recover from the injury and died of pneumonia that Dec. 30 at age 74.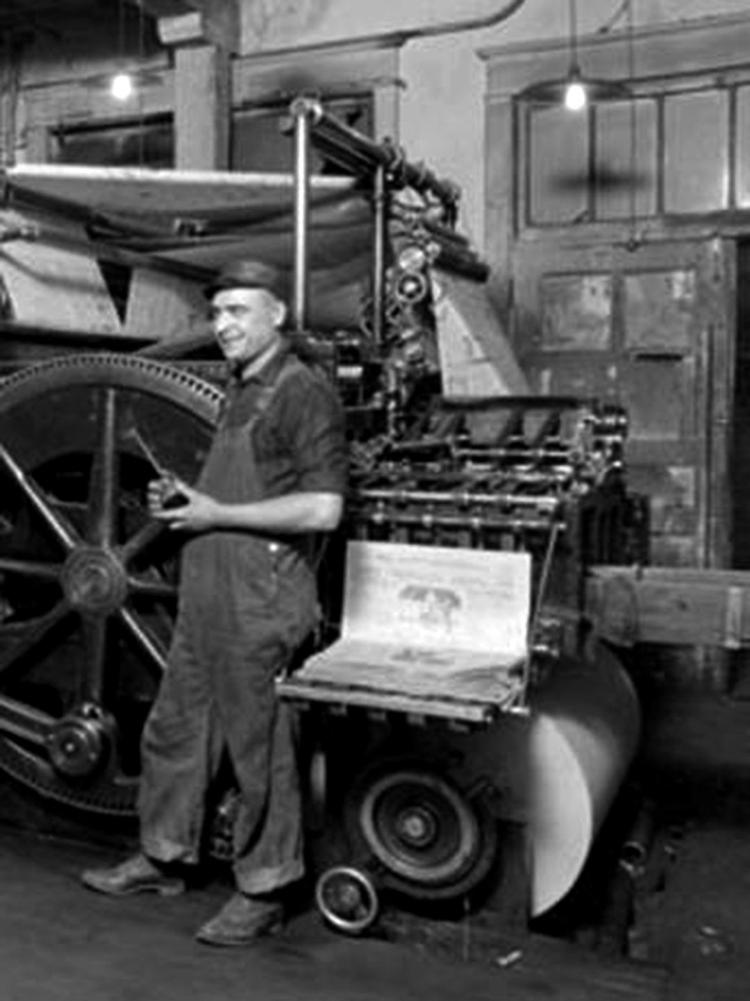 To Bridget Sibthorp-Moecker, digitizing entire newspapers in the Lee Enterprises empire is a win-win proposition.
Lee's corporate director of digital subscriptions, Sibthorp-Moecker has made it her personal pet project and her favorite thing to talk about. The idea took seed during her six years as regional digital director for the Pantagraph, the daily paper in Bloomington-Normal, Illinois.
"I was kind of a nerd in terms of family trees and that sort of thing, and I could not find my great uncle's obituary," Sibthorp-Moecker said last week.
She investigated newspapers.com, found her answers and was smitten with the possibilities. In 2014, the Pantagraph became the first newspaper in the country to digitize its archives. Papers in Lee's Central Illinois group were next, then the St. Louis Post-Dispatch and others in Tucson, Arizona, and Carbondale, Illinois.
Sibthorp-Moecker assumed her current position at corporate headquarters in Iowa last year and paid a visit to Ancestry.com in Utah in October.
"They had an entire room full of Lee papers," she related. "I was able to get hold of the primary companies that do the microfilm for us — there are like three different ones — and developed a relationship with them from there."
She directed further digitization of papers in Nebraska, Iowa and Indiana. The four Lee Montana papers are among nine to go live in the current phase.
The Ravalli Republic in Hamilton, also a Lee holding, eventually will be added.
"We did the easy ones first where we could grab the film quickly," Sibthorp-Moecker said. "Now we're into the ones where it's a little more difficult to find."
The process doesn't cost the company. Ancestry.com and newspapers.com do the digitization for free, then share the profits of subscriptions.
Let's look in on the Maclean boys.
It's late February, 1911, and 5-year-old Paul is under the weather.
"Little Paul Maclean, the younger son of Dr. and Mrs. J.N. Maclean, underwent a minor operation on Monday," the paper reported. "Dr. Shea administered the chloroform and Dr. Randall performed the operation. At latest report, the little fellow is doing as well as could be expected."
Paul's life and his death 27 years later would be memorialized in the 1970s by big brother Norman in his novella "A River Runs Through It," and by actor Brad Pitt in a 1992 movie of the same name.
Scroll on to May 20, 1920. According to the Missoulian, Norman is among 22 students at Missoula county high school (they capitalized only the 'Missoula' back then) to receive purple sweaters with gold letters as his senior year nears its end. His letter is for football. One gold star on the sleeve comes with it.
Norman Maclean earns special mention because he's also awarded a gold medal. It's for winning first place in an essay contest conducted by the National Society of Colonial Daughters.
We know from other sources that Norman Maclean headed east that fall to study English at Dartmouth. He would return to Montana to work summers as a seasonal Forest Service employee. He'd already worked as a lookout in the Bitterroot Mountains the summer before his senior year of high school, laying the groundwork for another short story-turned-motion picture, ""USFS 1919: The Ranger, the Cook, and a Hole in the Sky." 
You don't know when you're living through the Great Depression, Martha Kohl remarked last week.
As historical specialist for the Montana Historical Society, Kohl is a dedicated peruser of old newspapers. She explores them for facts when writing national register signs, combs through obituaries for genealogical information, and turns to them as primary source material for "big questions" such as how Montana and the press dealt with sedition during World War I.
"It's the closest thing you're ever going to get to a time machine," she said.
Kohl is very aware how history can get tucked into boxes too small to contain reality.
"If you read about the Great Depression in a textbook, everyone is unemployed, everyone is desperate," she said. "Well, unemployment is at 33 percent, and that's huge. But it means that 67 percent are working. Life goes on. We pick out themes later."
She hadn't heard about Lee's comprehensive digitization of Montana papers but hailed the news.
"If you have a research question it's incredibly valuable," she said, then added a word of caution.
"We talk about fake news today. It's not a new thing," Kohl said. "You had the Anaconda Co. owning these papers (until 1959), so it's good to have that kind of lens. To teach those kinds of critical thinking skills to deal with the media is really useful."
Jeannette Rankin. Tribal issues, celebrations and turn-your-stomach racism. The apple boom in the Bitterroot. The earliest days of Glacier National Park. Birthday wishes from your kid's orthodonist, Briar Diggs. Crossword puzzles and comics. Dear Abby, Mike Royko and Erma Bombeck. 
The phrase "Flathead Lake monster" occurred 103 times in the Missoulian between 1949 and 2008.
Just because Don Spritzer retired a dozen years ago as reference librarian at the Missoula Public Library doesn't mean he stopped looking up stuff.
At the Missoulian's request, the author of "Roadside History of Montana" spent the better part of last Tuesday evening playing around with newspapers.com.
First Spritzer did the "usual egotistical thing of running my own name, the name of my wife and kids," he reported. "Everything is there, and so easy to find."
Then he searched Wellington Rankin's name and found "a ton of listings" for Jeannette's big brother and former state attorney general.
"He led a fascinating life," Spritzer said. "Perhaps someday a historian will do a scholarly work on the guy."
He searched Johnson Flying Service, the Missoula City Band (Spritzer is giving director Gary Gillette a hand with his book on the history of the band), and looked up events that occurred on the UM campus in May 1970 following the Kent State shootings.
A volunteer at the Historical Museum at Fort Missoula since its inception in the mid-1970s, Spritzer spent "every single day" at work from 1976 to 2006 indexing the Missoulian.
"This thing is so much more thorough," he said. "It makes my work obsolete."