KALISPELL – Mary Reckin has noticed a change in the Flathead Valley.
It started after last fall's election, when Republican Donald J. Trump won the presidential race in Montana by 20 percentage points and Democrats went from holding all but one statewide office to a lone one retained, the governor's seat.
But after the Democrats took such a drubbing, Reckin said people began showing up – so many came to meetings of the Flathead County Democratic Women the room was too crowded to hold them all.
"That really energized people. It's the start of something really wonderful," she said. "We've more than doubled attendance."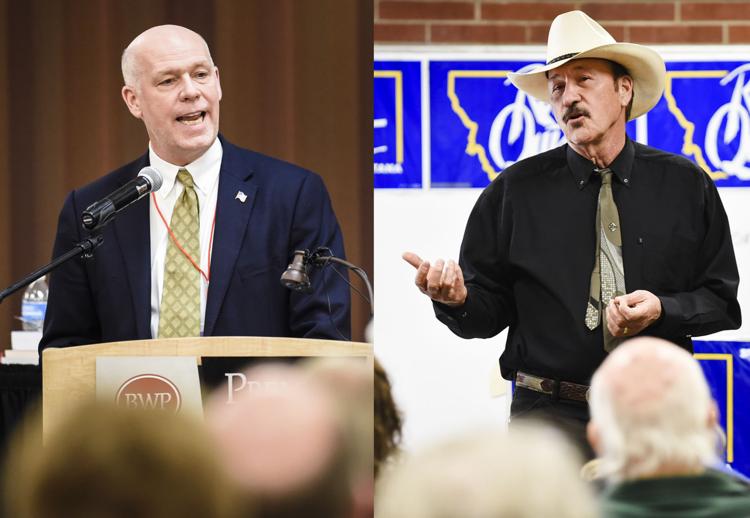 Then came rallies for Rob Quist, a Democrat who until January was best known as a member of the legendary Mission Mountain Wood Band. Quist, from Creston, is running to fill Montana's empty seat in Congress against Republican Greg Gianforte, a Bozeman businessman who lost the governor's race last fall to incumbent Democrat Steve Bullock in a vote close enough nobody knew the winner when they went to bed on election night.
Here in a town that voted up and down the ballot for Republicans by wide margins last fall, a couple hundred came to hear Quist speak at Depot Park.
"I've never seen anything like it," Reckin said Friday, hours before Donald Trump Jr. landed in Kalispell to stump for Gianforte. "People are more involved now than they've ever been before. These people want to know what's going on and participate."
National groups notice the momentum too. Encouraged by stronger-than-expected, though not victorious, showings for Democratic candidates in special elections in Kansas and Georgia, they are pointing money and resources West toward a rural Republican state.
Before Thursday, some complained Montana had been overlooked. "Why won't the national party pay attention?" asked a headline in the Huffington Post earlier this month.
But late last week the Democratic Congressional Campaign Committee told that publication it was committing six figures to the race. Other groups, including one of the country's largest political action committees, mobilized the same day, connecting Quist with a small-donor network that raised more than $825,000 in the Georgia election. In that state Democrat Jon Ossoff is heading to a June runoff after getting 48.1 percent of the vote against 11 Republican candidates.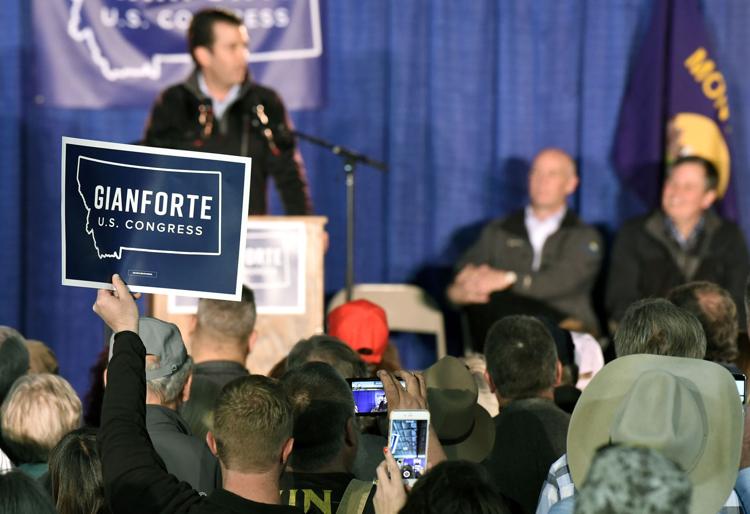 Gianforte's support nationally could be considered more normal or expected, though neither of those words are quite right for this election. Montana hasn't had to replace a congressman since 1969. This time around the state needs a new representative after Ryan Zinke was picked by Trump to be Secretary of the Interior.
While a search for Quist's name on the DCCC website still turns up a goose egg, Gianforte is plastered all over the website for the other party's equivalent organization, the National Republican Campaign Committee. Big-time Republican super PACs, as well as the NRA, have made major ad buys in the state as well.
On the Wednesday before the DCCC dropped money into the race, Quist dismissed narratives that national groups had overlooked his election.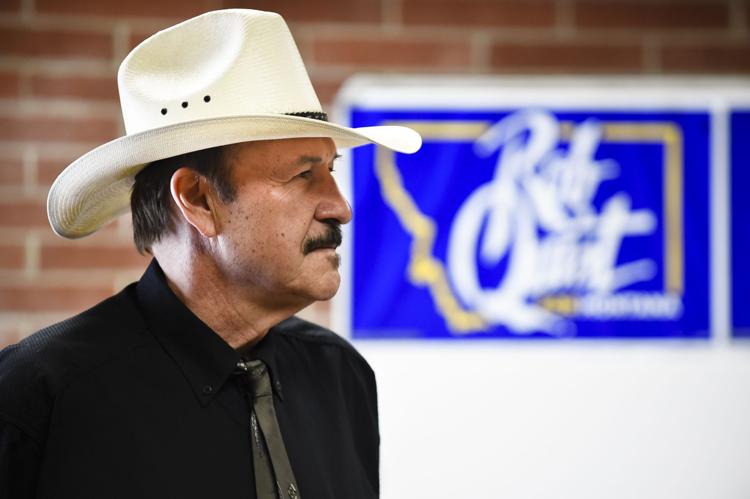 Right after he became the nominee in January after going four rounds with eight other hopefuls, Democratic heavyweights MoveOn.org, a political action committee that works to advance progressive politics, and Daily Kos, a political blog, sent out emails encouraging their followers to support Quist.
"One-third of our contributions are coming from out-of-state," he said.
The race hasn't been ignored by the national media, Quist pointed out. "CBS came out and traveled with us, and they even got me to play my banjo. And CNN has been here and of course Rolling Stone's coming out. It may not be as much as Georgia, but I really feel like we're getting a lot of national press on this."
The DCCC did not return calls or emails asking questions about its timing, but Tiffany Muller, executive director of End Citizens United, the third-largest federal PAC in the 2016 election, said success in Georgia and Kansas spurred their jump into the race.
"I do think that in elections across the country you're seeing a really engaged electorate," she said Friday. "You're seeing voters turn out whether it's in Kansas or Georgia or being involved in the Montana special election right now."
Muller said that even though Quist wants a seat that's been in Republican hands for two decades, there's a good enough chance he'll win that the PAC is mobilizing its 3 million members across the country and 350,000 donors – the same ones who infused $850,000 into the Georgia race.
"Our first and foremost priority is connecting our grassroots members with the Quist campaign to help make sure he has all the support he needs."
Muller said Montana is also a place she thinks End Citizens United can connect with voters because of the state's history with money playing an out-sized role in politics, dating back to the days of the Copper Kings.
"Montana has a long history of trying to get money out of politics and making sure that politicians are seeking for hard-working families," she said. "Our goal is to work hard hand-in-hand with the campaigns in Montana like Rob Quist … to make sure we are fighting things on a federal level."
Gene Reckin, Mary's son, said Quist is popular here because he's not the type of candidate the Democratic party has been putting up lately. Quist's campaign suffered some early setbacks, including stories about his 16-year debt trail of tax liens and a lawsuit after not paying back a loan. His campaign has tried to play off the issue, saying medical emergencies almost bankrupted Quist and it shows he understands the financial situations many Montanans face.
"Quist is a real guy. He seems more of a traditional Montanan than maybe some of the other Democratic candidates have been. I don't see him as a wild-eyed liberal. He has more universal Montana values," Gene Reckin said.
Those with deep roots in Montana politics say while the attention and money is nice, it won't be a deciding factor.
"Since I ran in 2000, there has been very little money that has come in, because this is retail politics out here and we know it," said Nancy Keenan, chair of the Montana Democratic Party, who lost a race for the seat Quist is seeking 17 years ago. "We have to win these races ourselves, so it's like, 'No, we do it ourselves anyway.'"
In a room where a poster from a statewide candidate who lost in last fall's election is used to block sunlight from coming in the upper part of a window, Keenan didn't pull any punches. "Look, we had a tough 2016."
But she points to new enthusiasm, personified by Democratic county central committees either back from long-cold ashes or planning to incorporate this spring.
Six county committees – Mineral, Madison, Glacier, Sweet Grass, Valley, and Roosevelt – reactivated ahead of the nominating convention this spring, many in places Quist visited. Seven more have expressed interest.
In perhaps the biggest display of that enthusiasm, an estimated 10,000 people attended the Women's March in Helena, filling the streets around the Capitol with a sea of signs expressing their feelings about Trump, which ranged from distaste to disgust.
Still, Gianforte is doing everything he can to show he's in lockstep with the president, trusting that Montanans still support the man who won the state in a landslide.
When Trump became the nominee last June, the most support Gianforte could muster up was an "I support my party's nominee" shortly after the primary. 
"When we were talking before I was running in a state race on state issues. This is a federal race related to federal issues, and that's the difference," Gianforte said of his change.
On Friday more than 450 people came to a rally at Glacier Park International Airport outside Kalsipell to hear Donald Trump Jr. speak on behalf of Gianforte. The event was one of four stops that all drew similar-sized crowds.
Attendees dismissed the thought that Democrats were more fired up than Republicans for this election, stomping their feet and cheering loudly any time they heard something they liked.
"I think what you see from the Democrats is not momentum, but desperation," said Anita Newlin, who lives in Kalispell. "Gianforte is a great candidate. Trump has done really well with what he has to go up against and Gianforte will be another ally."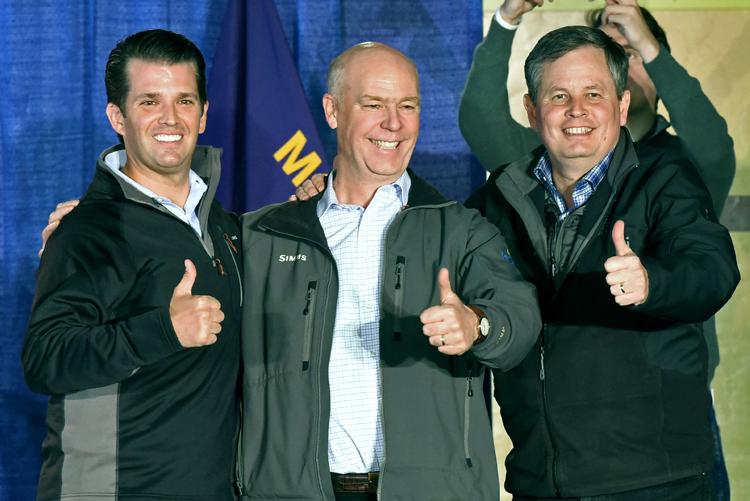 The president's son, who took plenty of shots at Quist while extolling Gianforte, focused a large part of his speech on voter turnout.
"We can't sit back on our laurels, we can't sit back on our past victories," Trump Jr. said. "We have to get out there and we have to tell our friends to get out and vote, to know the date. Early voting's coming up."
Momentum might turn out to matter more than money in this race, said Carroll College political science professor Jeremy Johnson.
The election is set for May 25, the Thursday before Memorial Day weekend. On top of that, polling places in some counties will be different because the usual spots are tied up with band concerts or other events.
Shane Scanlon, with Gianforte's campaign, said a strong get-out-the-vote effort is part of the plan for month leading up to election day. Field staff are on the ground in the state's major cities and will be moving into smaller places as well.
"We're making sure we're reaching voters and increasing that awareness to make sure people do get out and vote. I think every day that passes by you see that support and momentum continue to grow. To have this amount of people come out for President Trump's son has just been fantastic."
Democrats are also planning a big rally with Quist and U.S. Sen. Bernie Sanders, an Independent who ran as a Democrat and won Montana's primary, beating eventual nominee Hillary Clinton by 5 percentage points.
"I think it's smart for both candidates to bring in a surrogate who's popular with the base," Johnson said. "Donald Trump Jr. will track Republicans and Sanders will track with much of the base with Democrats."
The Montana Democratic Party runs a strong get-out-the-vote effort, Johnson said, but there could be problem areas. The colleges in Bozeman and Missoula would be out for the summer and most of those young voters who won't be on campus lean Democratic.
"Montana is probably a better takeover chance than Kansas but less than Georgia, but it certainly makes sense for Democrats to try to make a play for Montana because the environment does seem to be favorable for Democrats right now," Johnson said.