The first night Dave Pauli was in Rockport, the east Texas town where Hurricane Harvey made landfall, he slept in a jail that had been converted to a safe house for rescuers and volunteers. 
"One night in a jail is enough for anybody," he quipped. 
The next night he had been set up in an RV parked outside the Aransas County animal shelter, where he's helping with efforts to rescue pets and other animals left behind when the hurricane hit.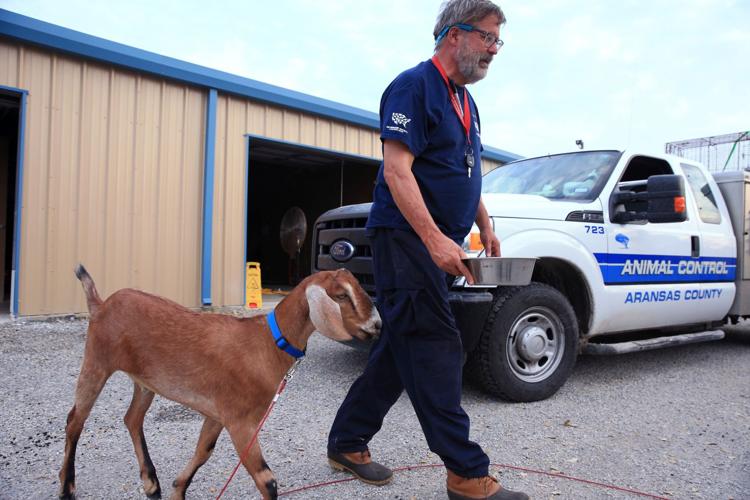 Pauli, a Billings resident, works with the Humane Society of the United States Animal Rescue Team and has been in Texas since Sunday. He's been helping with animal rescues since Hurricane Andrew hit Florida in 1992. In 2005, he spent 51 days on the Gulf Coast after Hurricane Katrina.
And it might be a short stay for Pauli in Texas. Authorities in Puerto Rico, where Pauli has done animal rescue work in the past, want to place him on call as Hurricane Irma — now rated the strongest hurricane ever to form in the Atlantic — barrels toward the Caribbean. 
In Rockport, Pauli has been partnered with a local animal control officer, and together they travel around the flooded neighborhoods answering calls and looking for animals. Hurricane Harvey damaged 80 percent of the homes in Rockport, and 35 percent are uninhabitable. 
"There's water everywhere," Pauli said. 
They spent much of Monday trying to find the owner of six dogs that had been abandoned at home in a flooded-out neighborhood. A neighbor had called animal control to report that a house down the street had three dogs loose on the property and three more dogs locked in a camper in the driveway. 
Pauli and his partner found the dogs and then canvassed the neighborhood trying to find people who knew the dogs' owners or where they went. They ended up with a phone number for a friend of a friend and, using it, they tracked down the owner in a motel one town over from Rockport. 
It turned out the owners had left food and water for the dogs and believed they were OK, Pauli said. When he and the animal control officer explained the situation, the owners gave Pauli permission to open the doors on the camper, leaving the screen doors shut, so that the three dogs inside had ventilation. 
The three dogs loose on the property were taken to the animal shelter. Pauli explained they're not there to give citations or get people in trouble. They're there to educate pet owners and help them find or simply take care of their animals. 
"It's all we can do," he said.