On the back wall of the Heath Gallery at the Historical Museum at Fort Missoula, next to a pair of upright 8-foot wooden water pipes from the O'Keefe ranch west of Missoula, curator Nicole Webb has carefully placed on display a pair of small antique porcelain pieces.
They came from Germany and date back to pre-World War I, according to Missoula historian Stan Cohen, who donated the set from a much larger collection for the museum's latest big exhibit, which opens Saturday.
Both sport a fetching painting with a sort of neon pink glow of the open-air reservoir on Missoula's Waterworks Hill.
The public water system was as big a deal to the city a century ago as it is today.
"I just thought it was a very strange thing to have this pretty porcelain plate, but then you have a big pool of water on it," Webb said.
She was the engineer of "Growing the Garden City: Missoula's First 150 years" that opens for a two-year run Saturday.
The exhibit is replete with such familiar names as C.P. Higgins, A.B. Hammond, Franks Worden and Woody and John Mullan, who crossed the valley at least 15 times in his exploration and road-building capacities in the 1850s and '60s.
It examines the very roots of the city that started at Hell Gate Village in 1860 and moved a few miles east into Missoula Mills starting in late 1864.
"We took the title very literally," Webb said.
The focus is on roughly the first 50 years, or those leading up to World War I, when Missoula was burgeoning with its second railroad, a new streetcar system and paved streets.
Stories of early transportation, hospitals, churches, libraries and businesses are told. So are those of the city's schools, the advent of the university in the 1890s and the Garden City Business College on South Fourth Street in 1905.
Not far to the right of the porcelain pieces is an aging ledger, dated 1890-1893, from Missoula Public School called "Records Book of Examination."
If you squint hard at Line 12, you can see what grades a future congresswoman and peace advocate named Jeannette Rankin received in sixth grade.
The records book is on loan from the local school district, Missoula County Public Schools. Three third-grade classrooms from Lewis and Clark Elementary contributed a flip book of early public schools, an exhibit brochure with games in it, and a question board at the entry/exit.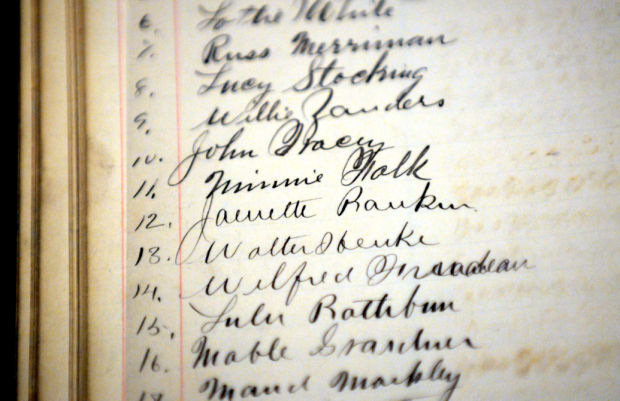 "I think one of the great things about this exhibit is it's not just stuff from the museum's collection," Webb said. "We made a lot of partnerships by doing this."
There are items from the Missoula Public Library, from the Learning Center at St. Patrick Hospital and from local private collectors.
"It was fun to be able to kind of put all this stuff together in one place and have some of the best of the best to be able to show off," said Webb, adding that she had a head start on things. As an intern at the museum a few years ago she inventoried Cohen's extensive collection.
The first corner visitors see as they enter the exhibit is walled in barn wood, all from local sources, Webb said. A big wooden "Missoula" sign near the entry came from an even bigger one that was found in a basement in Pattee Canyon. There wasn't enough wall space for the entire sign that Webb said reads "Missoula Gold Heart Flour."
Missoula, the town, has no specific birth date. It was known as Missoula Mills by 1865 after Higgins and Worden built a mill and moved their operations from Hellgate to the banks of the Clark Fork River below Rattlesnake Creek.
The Historical Museum at Fort Missoula is taking the lead in organizing Missoula 150 activities, which will crescendo in 2015 with a signature event at the fort's annual Fourth of July picnic. But celebrations and interpretations start Saturday at the exhibit opening.
A photography exhibit in the North Gallery featuring the Missoula Camera Club of a century ago will be included in the grand opening on Saturday. That's a 16-month exhibit, and other rooms will rotate out sesquicentennial-related displays more frequently.
Local artist Stephanie Frostad produced a poster that ties it all together with the theme "Growing the Garden City."
"We took the title very literally within the exhibit," Webb said. "We're talking about literally starting from the ground up, whether it's building the town or it being the center of commerce in the area or whether it's farmers planting fields."