In March 2013, Brianna Randall and Rob Roberts packed up their house in Missoula, left their jobs at local conservation nonprofits, and sailed west on a dream.
For the past nine months, the couple have hitchhiked through the South Pacific as crew members on small private sailboats.
In that time, they've been robbed, Roberts saved the life of a drowning woman, they have experienced awe-inspiring wildlife encounters and have come to understand that there are many models in the world as to how to travel, work and raise children.
Currently in Vava'u, an island group in northern Tonga where they are "boat-sitting," Randall answered the Missoulian's email questions and shared how the adventure has unfolded thus far.
After first navigating the Panama Canal, the couple sailed to the Galapagos Islands before taking the monthlong ocean passage to French Polynesia.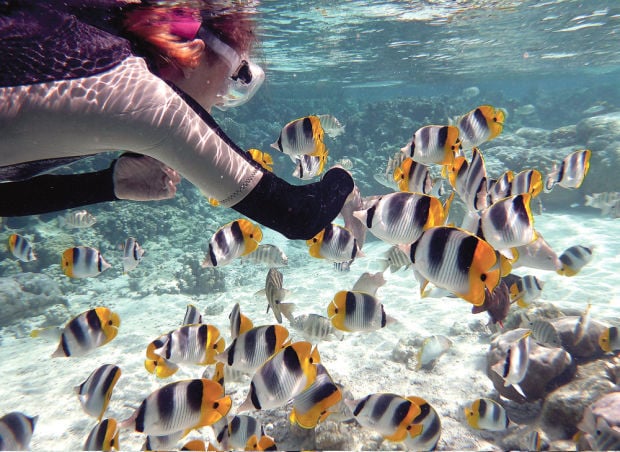 "We visited several islands in French Polynesia, including the Marquesas, Tuamotus, Tahiti and Bora Bora," Randall wrote. " Next we crossed to the Cook Islands, then sailed on to Niue and Beveridge Reef before deciding to take up temporary residence in the Kingdom of Tonga.
"Overall, we've been gone 9 months, traveled to 7 different countries and explored 22 tropical islands."
Getting to Vava'u has taken the couple eight different sailboats, spending anywhere from a few nights to a few months aboard each boat, which were anywhere from 39 to 53 feet long.
"The owners ranged in age from 24 to 60 years old, included families and single handers, and were from Alaska, California, Massachusetts, Australia, England and elsewhere," Randall explained.
When asked to describe some of the highlights of living on the sea, Randall said:
"Nights where the stars are endless and bright. Infinite shades of blues.
"Syncing our daily life with the rhythm of the sun, the wind, the moon. Watching birds and fish and dolphins and whales from the bow. Visiting remote and spectacular places that are inaccessible by plane or car.
"Knowing that there are things below the boat that are bigger than we are."
Along the way, there have been some incredible wildlife encounters.
"In the middle of the Pacific Ocean with no other living creatures in sight, we had a lone Orca whale breach alongside our boat, eye us momentarily and then drift below the boat. He was clearly checking us out," Randall said.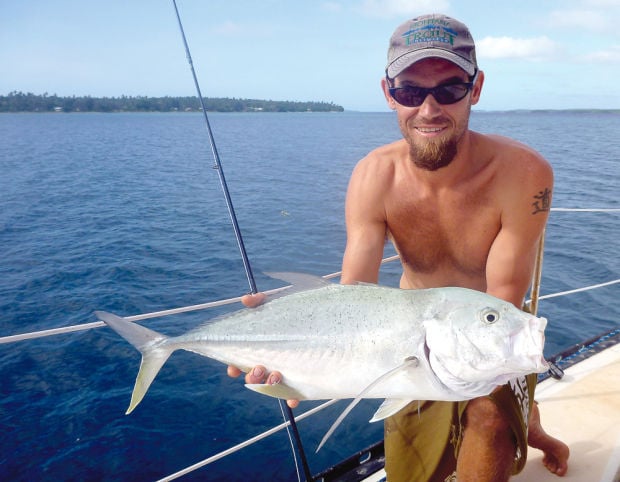 Other memorable sightings include floating next to seven sea turtles in the Galapagos; diving with manta rays in Bora Bora; hearing the song of humpback whales echo around them; and swimming at night through bioluminescent plankton that glow and sparkle.
The dream-like ocean world has endless challenges, she said, including the fact nothing is ever still when you are traveling by boat.
"It means dealing with seasickness, a rocking stove while you cook, and always having to brace yourself as you sit or walk or sleep," Randall said. "The tight quarters and communal living arrangements can be tough at times.
"Wind, waves and currents control when and where you go, testing your patience and flexibility."
Then there's the matter of packing for long passages at sea.
"For instance, we had to provision one boat with enough supplies to feed and support 7 people for 60 days," she said.
"Reconciling the illusion of paradise with the reality of bugs, rats, heat, storms, and the inevitable list of chores and repairs that come with living on a boat," she said. "Struggling to meet like-minded people and finding friendships as close as those we left behind."
Traveling with an unknown destination, hopping boat to boat to work and live alongside intimate strangers has offered many lessons.
"We both learned a lot about relinquishing control, letting go of expectations, and about being followers instead of leaders," Randall explained. "After leaving jobs where we had directed projects and people, it was eye-opening to experience different styles of organization and people management. Our method of travel also taught us more about the importance of clear communication – with each other, as well as with our captains and crew members."
Among their favorite places so far, Palmerston Atoll, an island in the Cooks with only 60 people divided into three governing families; Fakarava, for its unspoiled wildlife, where they dove with more than 200 sharks and witnessed a spawning congregation of a reef fish called marbled grouper on the equinox that numbered in the tens of thousands; Bora Bora for the sheer beauty; and the Kingdom of Tonga for the sense of community, the accessible water sports, and the unique history of being the only country in the South Pacific to never have been colonized.
Whether or not they return to Missoula or to a landlocked life as before remains unanswered.
In many ways, the adventure feels as if they just got started, Randall said.
"There's a tendency for people, ourselves among them, to think that we are "taking a break" or a "sabbatical" or "some time off," Randall said. "To us, this journey is a continuous part of our lives, not an isolated chunk of time when we change habits or our live differently."
"Although the setting is different, our daily routine is similar to past multi-day rafting trips on the Smith River, backpacking trips in the Bob Marshall, or even long weekends chilling in Missoula," she said. "We've traveled in a similar fashion before – as vagabonds and observers, open to whatever may happen as we move about the world, focused on the unfolding experience rather than planning out details.
"And we plan to again. The question now is: Are we traveling or just living?"