ULM — Rick Bogden raises cattle on the northwestern flank of Trumpland. The dusty gravel road that terminates in the Montana rancher's driveway is punctuated with a sign bearing the president's promise to "Make America Great Again."
On this day, Bodgen and a dozen other farmers and ranchers are expecting to hear exactly how Donald Trump intends to make good on that promise for agriculture. There's a motorcade of dark Suburbans approaching the ranch. New U.S. Agriculture Secretary Sonny Perdue is in the back seat of one, along with Senate Agriculture Committee Chairman Pat Roberts of Kansas and Montana Sen. Steve Daines, who is also an Ag Committee member.
Bogden's dogs are locked up in the barn. There are Secret Service agents posted on the lawn.
Up to this point, it hasn't been clear exactly what Trump has in mind for farm country. Trade is the horse that pulls Montana's economic wagon. Agriculture is the state's largest industry with up to $5 billion a year in products sold, mostly to buyers in the Asia-Pacific region.
Montana's six million acres of wheat account for the nation's third-largest harvest, which is mostly exported to Japan. The state has the nation's largest pea and lentil crop with sales in India and China. Montana's cattle outnumber its humans two to one. And there's a little Montana barley malt in every refrigerated display case of Mexican beer.
The new administration
Trump's message on trade has been worrisome for ag country. The president campaigned on the notion that the North American Free Trade Agreement was a bad deal for United States manufacturing and needed to be retooled if not thrown out. The 13-nation Trans Pacific Partnership — which promised better terms for the export of U.S. cattle and wheat in key markets like Japan and Vietnam — became a political punching bag during the 2016 election and was declared down for the count soon after.
Nonetheless, ag voters committed to Trump early and stayed on the bandwagon. There was enough discontent in farm country about federal regulations concerning everything from truck driving to water quality that voters were willing to gamble on trade policy.
"I was a Trump supporter from day one, as soon as he announced," Bogden said. "The people around here were pretty much willing to follow him because they've had enough of this stuff."
Farming is all about risk. There's never been a crop planted that hail couldn't flatten, never a winter calf born wet that couldn't be frozen to the ground. Bodgen keeps a picture on the wall of the canvas tent his parents lived in when they first broke ground in Ulm. And it wasn't the Dirty '30s. It was 1960.
The message conveyed by Perdue, first at Bodgen's ranch and then to a crowd of 700 in Great Falls a day later, was that agri-trade would be a priority.
"While the agriculture community thought TPP was a great deal (and) may be temporarily disappointed, I think they're going to see that this administration means business in trade," Perdue said.
Perdue, who was confirmed in April, plans to create an undersecretary of trade position in the USDA. Agriculture is one of the few areas where the United States actually sells more product to other countries than it imports. That's a success Perdue said the Trump administration wants more of.
The idea of a trade undersecretary isn't new. The 2014 farm bill called for a USDA trade undersecretary, but the positon wasn't filled.
Some say creating the undersecretary positon is coming at too high of a price. The Trump administration has proposed a $4.7 billion cut to discretionary spending at the USDA and plans to eliminate the undersecretary of rural development, a move senators balked at.
"This budget is irresponsible and will hurt rural America and Montana's economy, while giving tax cuts to the wealthy and wasting billions on an ineffective wall," said Sen. Jon Tester, D-Mont, in a press release about cuts not only to USDA, but across federal government. "We need to reduce wasteful spending and get a handle on our debt, but this budget doesn't do that. It will hurt Montana farmers and ranchers."
Rural development staff would be cut 19 percent nationally. Perdue said the he will oversee the program directly once the undersecretary of rural development is eliminated. There are also cuts coming to food stamps and farm subsidies. Perdue said farmers shouldn't be investing a dollar in federally subsidized crop insurance expecting a $1.10 return.
"You wouldn't buy home insurance and hope that your house burned down, would you?" The secretary said.
Food stamps weren't expected to be a way of life, and farm subsidies shouldn't be either; that was the message Perdue, a former Georgia governor and veterinarian, conveyed. His family raises wheat and sells grain for ethanol.
Sen. Roberts said repeatedly over two days that Congress writes the budget and Trump's proposed cuts will not stand. No president's cuts have in the past, he said. The only lawmaker to have ever chaired both the House and Senate agriculture committees, Roberts said farmers' trade interests were also never in jeopardy.
Bolstering trade
There's been a pivot toward promoting agriculture trade, starting with the appointment of Robert Lighthizer as U.S. Trade Representative, Roberts said.
Lighthizer worked for USTR during the Ronald Reagan presidency. He promised during his Senate confirmation to deliver tougher enforcement of trade terms, while also promoting new bilateral trade agreements.
"The administration this president has is very pro-trade," Roberts said. "He wants strong, bilateral agreements for the United States. Robert Lighthizer has said, let's go right back to TPP countries and see if we can't do that. The same with Japan, the same with South Korea, the same with Vietnam. It was farmers and ranchers who brought the president home."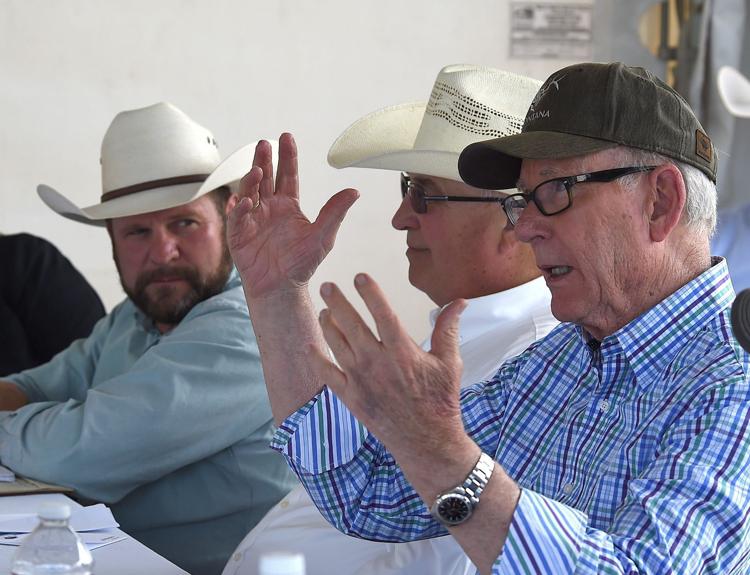 Daines said he's hopeful that bilateral trade agreements can be cobbled together using the preferred parts of TPP and produce better results. The challenge with the multinational trade agreement was that the terms also had to pass muster with countries that were smaller and not as developed, which meant making concessions that would not be given to developed trading partners like Japan in a bilateral deal.
"Of course there's disappointment by the Japanese about the lack of a TPP deal, but I think we're going to get a better deal with a bilateral agreement and I can tell you the relationship between the United States and Japan at this moment is at one of the best places it's been in decades," Daines said.
Past presidential trade teams have been quick to jettison agriculture trade terms if agreements on other products were ready to go. In 2011, then-U.S. Sen. Max Baucus refused to advance a free trade agreement with South Korea until trade terms for U.S. beef were ironed out.
Charged with presenting the free trade agreement to the Senate for approval, Baucus blasted the Obama administration and the Koreans for leaving beef trade undone. There was $1 billion in annual beef sales at risk of being left behind.
Rancher Jim Peterson remembers the Korean fight. He was chairman of the U.S. Meat Export Federation around that time. Export sales of U.S. beef were keeping the cattle economy afloat as restaurant sales of U.S. beef plummeted during the recession.
Getting U.S. beef into China was the next big deal. The Chinese had banned U.S. beef in 2003 after mad cow disease was discovered in a Washington dairy cow. Peterson said lower level talks to end the ban seemed to be progressing, but the presidency didn't seem to be giving the ban much attention.
"That was about the time that President Obama was going to China to meet with the premier," Peterson said. "We all had our hopes and for some reason at the meeting, nothing happened and we came away empty handed."
With 1.4 billion consumers, China is the most attractive emerging market for U.S. beef, with estimated sales of $2.6 billion per year. It's the kind of deal ranchers are hoping for as cattle prices slide toward a 50 percent cut from just two years ago.
Perdue said U.S. beef should be moving into China by this summer. Trump and Chinese President Xi Jinping agreed in April to settle the deal within 100 days, which would allow Chinese cooked chicken into the United States, also.
Daines earlier this year got in on the act by meeting with the Chinese Premier Li Keqiang, to talk about U.S. beef. The senator brought steaks from Montana to sweeten the deal.
Getting U.S. farm products sold is a tall order. There's an estimated 258.3 million tons of wheat in the world's grain bins now, a record amount according to USDA. That abundance, combined with a strong dollar, has sent wheat prices to their lowest levels in years.
"These are very challenging times," said Taylor Brown, the dean of Montana farm radio, as he addressed a Thursday audience at the ag summit in Great Falls.
"People in this room are hurting. They're not honest with you when they say 'Things are doing great at their place.' They're hurting. The last three years have been difficult for their budgets. And yet, even though our income is substantially down the last few years, the price of steel, the price of rubber, the price of pickups, the price of help. Almost everything we buy has not decreased."
Nationally, farm revenue is less than half what it was four years ago because of falling commodity values, according to USDA. It's a predicament farmers would prefer to sell their way out of.