Organizers of the annual International Culture and Food Festival understand something important: food is one of the best ways to bring people together.
The University Center at the University of Montana was packed for Sunday's event, celebrating its 23rd year.
Mohammed Khamis, a UM student and president of the International Students Association, said the festival is important because it is the start of the school's International Week, which continues through Friday.
International Week will feature speakers, panel discussions and other free events concerning international relations. The panels will cover everything from information for students interested in internships abroad to a panel on the current political situation in Ukraine.
"The week provides so many opportunities for students and members of the community to come out and learn more about a different culture," Khamis said.
On Sunday, the ground floor of the UC was dedicated to 20 tables, each featuring food and flavors from a different ethnicity or culture. Hundreds of people made their way from booth to booth, buying a plate and trying a taste of something new.
Tomo Nishio, one of the students serving food at the Malaysian table, spent most of the day spooning portions of sesame chicken covered with a tangy sauce. Other Malaysian dishes included agar-agar, a jelly dessert, and bubur cha-cha, which consists of chunks of sweet potato and yams cooked in coconut milk.
Nishio said he expected to serve a few hundred people on Sunday. Across the floor, Taiwanese students served pearl milk tea and a group of Greek people from the Missoula community dished up souvlaki, spanakopita and baklava.
The longest food line of the day was for the African cuisine table, where members of the African Students Association made plate after plate of doro wat, a west African stew, with sukuma wiki, a dish of collard greens cooked Liberian style, said Murray Pierce, who helps oversee the student group.
Guedem Dara, a graduate student at UM and a member of the African Students Association, helped serve food in the morning, and led a performance in the afternoon in the UC Ballroom, where the festival hosted an all-day live international culture show.
"It's a presentation of African culture. A play showing a traditional family scene at home, how they interact with each other," Dara said.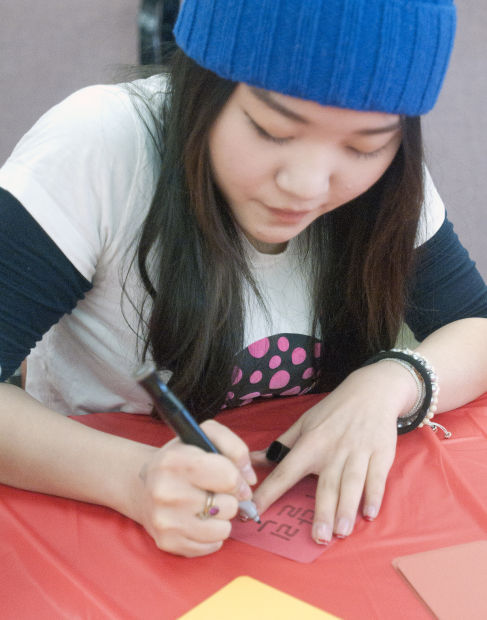 Mona Mondava, the program coordinator for UM's Foreign Student and Scholar Services and the director of the festival, said she expected more than 3,500 people to come out on Sunday, one of the largest turnouts in the event's 23-year history.
This year, the festival also began a partnership with the Montana International Children's Film Festival, showing short films from around the world specifically made to appeal to a younger audience.
"We think it's a great partnership, and one that will probably continue for years to come," Mondava said.
She also said there were more than 25 cultural presentations in the UC Ballroom over the course of the day.
In attendance Sunday was UM President Royce Engstrom, who said the festival is one of the events he looks forward to most every year.
"This festival draws more people to the University Center on any single given day than any other event we do all year," he said.
The theme for this year's festival was "Celebrating Global Gateway," a program at UM that seeks to share the school's various international programs with the Missoula community and especially with local K-12 schools.
Paulo Zagalo-Melo, the director of International Programs at UM, said the school has more than 600 international students this year, and more than 300 U.S. students at UM are currently studying abroad.
"You're never too young to learn to be globally minded," Zagalo-Melo said.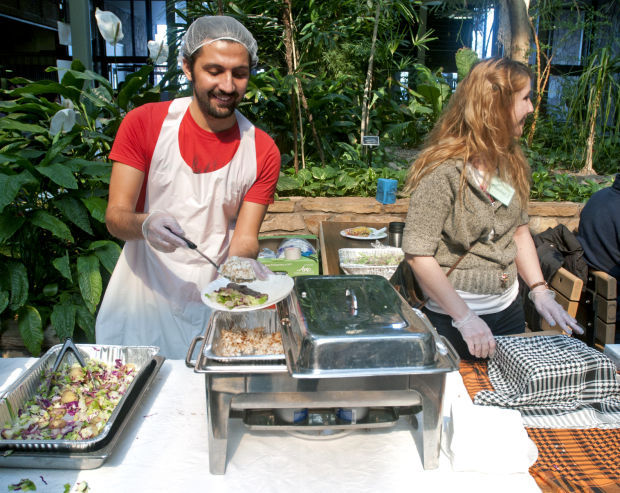 On the second floor, dozens of flags from around the world ringed the atrium, and the largest room had been turned into "Children's World," where kids could tour more than a dozen tables, each with a different themed activity. At the door, kids wrote their name on a paper "passport" and received a stamp for every activity they participated in.
At the Korean table, members of the Korean Students Association had kids say their first name, and then wrote it out for them on a small card in Korean.
"Korean is based on the sounds of a word, so it can match up to just about any Western name," said EunBee Seo, a graduate student and member of the student group.
Two members of the student group were also dressed in the traditional colorful wedding outfits of a husband and wife, called a hanbok, and took pictures with the students after they had their name translated.
At other tables, artists drew temporary henna tattoos on children's hands, or showed them how to make Native American dream catchers and Chinese calligraphy.
One of the groups highlighted at the festival was the Missoula International Friendship Program, which partners exchange students with a family or member of the community. Instead of asking that family to host the student, MIFP simply asks them to become a "community friend."
"Students and members of the community each apply to be a part of the program, and we pair as many people as we can," said Susan Rinehart, a member of the MIFP board.
In the fall, MIFP partnered almost 100 students with more than 70 community members.
"We don't ask them to do much, maybe meet up once a month to talk with the student about how things are going, or maybe bring them along somewhere. It can be as simple as just getting coffee," Rinehart said.
Both the student and the community friend benefit from the relationship. Rinehart, who is partnered with three Japanese students, said she had them over to bake cookies on Dec. 7, the anniversary of the attack on Pearl Harbor.
"We talked a lot about the perspective people here have about it, and asked them about how their parents and other older people in Japan see things," she said.