The Nielsen Company reported that more than 45 million people watched NFL draft coverage on television last year.
Zack Wagenmann will count himself among the masses this time around. He won't be able to help it.
"Yeah I'll watch it. I'm not gonna sit here and say I won't," Montana's record-breaking defensive end said this week. "I'm just going to try and relax and see what the day brings."
Of course the day could very well bring something quite unique for Wagenmann, at least compared to the millions of other Americans tuning in to learn of their favorite teams' latest prospects. Wagenmann and a handful of other Grizzlies hope to hear their names broadcast to the nation as part of the latest crop of professional football players.
The NFL draft begins its three-day stay on both ESPN and NFL Network at 6 p.m. Thursday. No Grizzlies can expect to be included on those broadcasts and none should show up Friday either.
Round 1 will take place on the opening night with the second and third rounds airing Friday at 5 p.m. Now Day 3, when Rounds 4-7 play out beginning at 10 a.m., that's when things will get very interesting for Wagenmann and his cohorts.
Wagenmann and fellow seniors like running back/wide receiver Travon Van and defensive tackle Tonga Takai hope to join the growing fraternity of drafted Grizzlies, a pool that's eight players deep over the last seven years.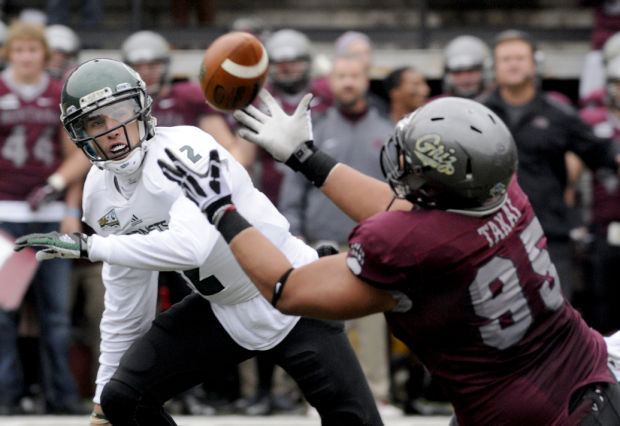 But the waiting truly is the hardest part.
"It's such a long process," said Wagenmann, a 6-foot-3 1/2, 247-pounder who holds UM's career (37.5) and single-season (17.5) sack records. "You get done with your season and it's four months, five months, until the draft.
"Through this whole time I've tried to put my head down and go to work -- every day is Monday. ... Now the work is laid. I'm getting for the first time in this process really excited."
Wagenmann was a likely late-round draft pick, dotting mock draft boards in the fifth, sixth or seventh rounds. He was ranked 20th among DEs in this class by CBS's NFLDraftScout.com.
That was until he broke his right foot recently.
The timing of the injury was such that it shouldn't affect his draft status, Wagenmann hopes -- late enough that he'd done all the work needed, but not so late as to cause issue once NFL training camps open in June.
"I've done everything," said Wagenmann, who broke the foot April 10 during pre-draft private workouts. "I was able to play my entire senior season injury free, play in every game I mean; I played in an all-star game; I competed at the Combine; I participated at my pro day; I have film; I have numbers, all that.
"I feel like I've done the work and I've shown what I need to show. "Now it's in the hands of my hopeful future employers."
Wagenmann's skill set and size have him projected somewhere between defensive end and outside linebacker. He's undersized for the line (Wagenmann's 14 225-pound bench press reps at the Combine in February had some worried), but quick enough to get around the end on a pass rush.
There's some flexibility there and that has intrigued teams, said Noel LaMontagne, Wagenmann's agent at Eastern Athletic Services. About 20 teams have inquired about the Missoula Sentinel product with a handful requesting personal workouts.
"The NFL now, there's not as many pure 3-4 versus 4-3 teams as there used to be," LaMontagne said, referring to defensive alignments with three or four linemen and linebackers. "Sometimes they want a guy that can be an extra linebacker or he can put his hand down and come off the edge from a two-point stance."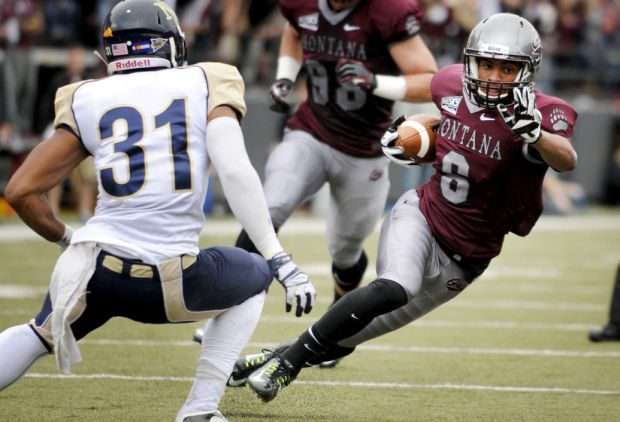 Wagenemann isn't the only Grizzly straddling two positions. Van was a running back when he came to Montana in 2013 as a transfer from FBS Marshall but split his time between the backfield and the receiving corps.
The 5-foot-10, 195-pounder rushed for almost 500 yards as a senior, scoring seven times, and also caught 63 balls for 700 yards and five more scores. All those receiving numbers were the second-best on the team.
"The coaching staff did him huge favors by playing him at wide receiver as well as running back this year," said Chris Gittings, Van's agent at OneWest Sports out of Helena. "And not just putting him in the slot, but putting him at all the receiver positions and letting him run a full route tree."
Gittings said interest in Van, who's been training near his home in San Diego, has spiked this last week ahead of the draft with conversations leaning toward his use as a WR.
Like Van, who's drawn calls from close to 20 teams, Takai has an outside shot at a seventh-round draft pick. Each is more likely to find a free agent deal after the dust settles following Saturday night's section of the draft.
Takai and his agent have spoken with five to 10 teams about a spot on the defensive line. DraftInsider.net scout Tony Pauline figured Takai's performance at the Grizzlies' pro day March 9 nearly assured the big man at least a free-agent deal.
Takai, though, is just focused on staying in football shape in case that call comes.
"Getting that muscle memory back and training and lifting," said Takai from his native Hawaii on Wednesday, adding he's keeping his weight just above 300 pounds while waiting for where prospective teams want him.
Other senior Grizzlies who worked out at Pro Day last month while hoping for a shot at the next level include safety Matt Hermanson and cornerback Josh Dennard.
Running back Jordan Canada pulled out of pro day and won't pursue football, he told UM running backs coach Justin Green last month.
Former Griz quarterback Jordan Johnson has already landed with a pro team, signing with the Ottawa Redblacks of the CFL last month.
His former teammates will have their phones handy this weekend in case that call comes and they become the next to join the professional ranks.
"It'll be plugged in all day," joked Wagenmann, who will follow the action with his family in Missoula this weekend.