Until now, all I knew of Thomas Meagher was that he was Irish and a Montana man, and that there is both a county and a pub in Montana with his namesake. The only effort I had put forth to learn more is to read the quip on the menu of the pub bearing his name. In Timothy Egan's newest release, "The Immortal Irishman," I discovered an epic journey of a legendary man. Egan divides Meagher's life into three parts which relate to his geographic location during the major events of his life.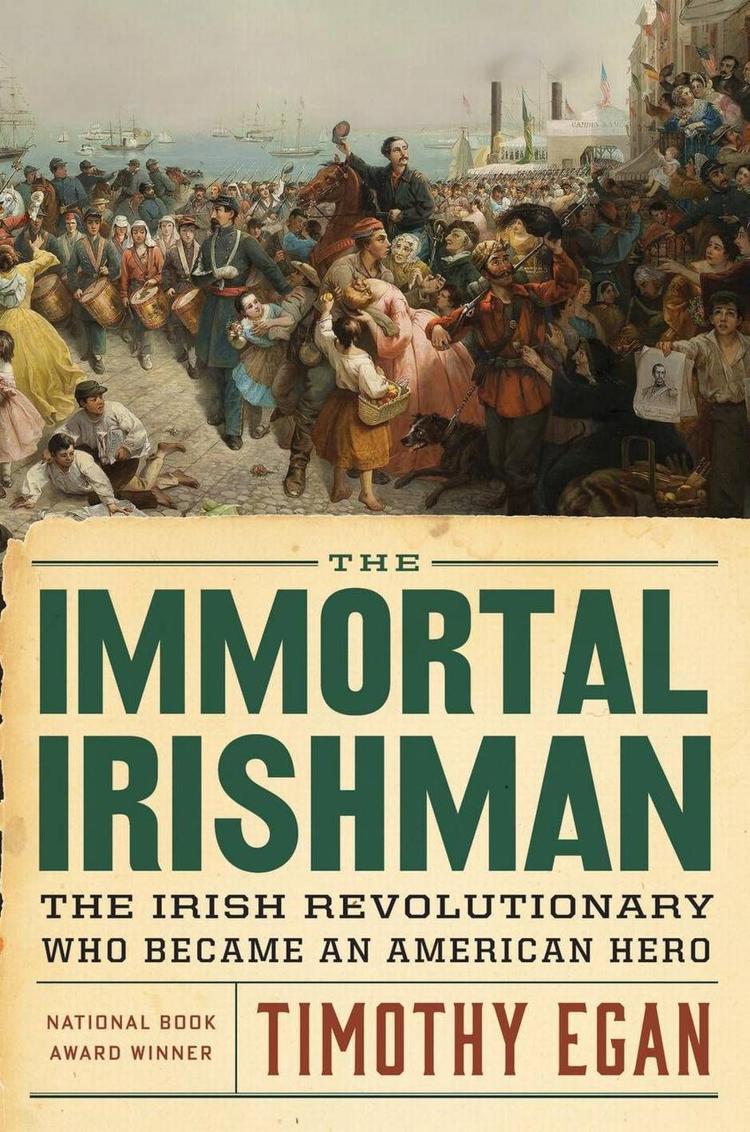 Sometimes bogged down by detail and occasionally repetitive description, the first two sections came slowly to me. We follow Meagher through his schoolboy years in Ireland and the United Kingdom, his eventual involvement in the failed revolution and struggle for the rights and lives of those affected by the Great Hunger. Within these chapters, there is revelation of his disposition. While living as a rich man, we see his extreme level of empathy for the sufferers of the Great Hunger. We see Meagher's strength of character withstanding the urging of his wealthy, politician father to step back from the Young Irish movement to support a more gentle progression for the Irish people within the British ruled land. But fear of losing his way of life, imprisonment, and possible exile did not blind the younger Meagher to the disparity of his fellow Irishmen.
As fascinating as this history can be, Egan presents it as build up to Meagher's years in the United States and as territorial governor of Montana. It also needs to be considered that this may be Egan's point: Meagher's early years are what lead him to his true greatness. The rest of his story, while historically important, is only there as background leading to his eventual role as Irish-American icon.
The section on Meagher's time in the English penal colony of Tasmania is particularly brief. There are mentions of his writing while he is there, but little inclusion of actual quoted text. Friendships are developed, but characters are not. There is strong description of place and struggle, but it failed to grab me. One would imagine that exile and prison break would make for a very intriguing section of this tale, but Egan treats it as only necessary and almost trivial. Meagher's despondency builds and we get just enough entertainment out of the little ways he circumvents rules imposed by Great Britain and the local guard to stay interested in the chapters.
There are moments of humor and quirkiness that allow the reader to have a moment of revelry along with the deprivation of Meagher's captivity. The short chapters of this section read as a reprieve from detail and drudgery; Tasmania is but a stepping stone to Meagher's time in the U.S.
Known for his other writings on American and western history, "The Big Burn," and his Midwestern Dust Bowl epic, "The Worst Hard Time," Egan leans heavily on Meagher's United States and Montana years. Although the earlier sections are detailed and sometimes overwhelmingly so, the meat of this man's life and this book are in the United States where he is finally coming of age: "The Irishman had found his American voice," Egan writes.
Here, the story becomes a gripping tale, we read of the tensions surrounding slavery, the birth and toddler-hood of a young nation, and the trial of individual opinion on massive ideological issues. We see an unconventional view of the civil war, Meagher's fervor to fight based not in the want to free slaves, but to hold the union together. Much is made of the disparity between the opinions of Irish Americans when it comes to the issue of slavery, particularly the fear of a flooded job market if the slaves are freed. Meagher fought a war of nationalism and against Great Britain more than a war to free slaves. He rallied Irish troops with a call for patriotism to their new country, a variant of the standard simplification of the issues surrounding the American civil war. Finally, Meagher makes his way to the Montana territory, still fighting to uphold the values he holds dear. His campaign against the ruthless and violent vigilantes among the citizens he governed and his battle to uphold the beliefs deeply ingrained in his character rounds out the biography well.
"The Immortal Irishman" is an exploration of a legend, an epic tale of a man who lived by character and dedication to his country and his ideals. Although it was the history that grabbed me more than the writing, the historical information makes this book well worth reading. Egan's book is not simply a biography of a man; it is narrative of Ireland, of Civil War in America, and of early Montana.
***
Mara Panich-Crouch is a bookseller at Fact and Fiction Books in Missoula. She received her bachelor's in English literature and creative writing from Purdue University and found her home in Missoula in 2002 while pursuing post-graduate studies at the University of Montana. She loves giving (and receiving) book recommendations of all genres. She is an avid painter, thrift-shopper and adventurer.