MISSOULA — Montana-raised Brady Muller turned in the best pitching performance of his pro career Sunday.
The Missoula Osprey lefty struck out a season-high nine hitters in seven innings, sparking the O's to an 8-3 win over the Great Falls Voyagers in front of 1,863 fans at Ogren-Allegiance Park. The win was especially gratifying considering it was a potential playoff preview — Missoula won the Pioneer League North in the first half and Great Falls leads in the second half.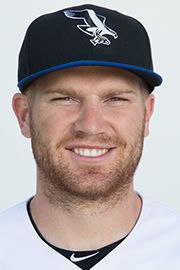 A former member of the Billings Scarlets, Muller (5-7) has earned wins in three of his last four starts. Not bad for a 25-year-old who wasn't taken in the MLB Draft.
"I just want to finish strong more than anything," he said. "The first couple outings that I had weren't what I wanted.
"I just go out there and try to compete and do the best I can. Sometimes I'm not fortunate to have all my stuff. But my whole life I've just been one that just goes out and battles and competes as best I can with what I got."
Muller said there were no indications it was going to be a special night when he was warming up. But he was in a groove from the beginning, striking out four in the first two frames.
"The slider was really good tonight and he had good fastball command," Osprey catcher Andy Yerzy said. "He got ahead with the fastball and finished it with the slider."
Muller's single-game strikeout total was the second highest by an Osprey this season. Luis Madero, who was traded to the Los Angeles Angels organization on July 31 and currently pitches for the Burlington (Iowa) Bees, had 10 strikeouts for O's in a game back in June.
The win was Missoula's seventh in nine games, boosting the team's record to 30-33 overall. The O's are 11-14 in the second half, three games behind first-place Great Falls at 14-11 (29-34 overall).
The Osprey jumped on Voyagers starting pitcher Parker Rigler (5-2) for two runs in the first inning. Gabriel Maciel ripped a leadoff single to left and Eduardo Diaz followed with a two-run home run to right.
Muller had six strikeouts in the first four innings but Great Falls still managed to knot the game at 2-2. Justin Yurchak smacked a solo home run in the second inning and Muller's error on a sacrifice bunt in the third opened the door for another Voyagers run.
The O's recaptured the lead on a solo home run to right by Yerzy in the fourth. No. 9 hitter Brandon Leyton made it 5-2 in the fifth with his two-run tater to left field.
The Osprey added more insurance runs in the seventh off the lefty reliever Ryan Erickson. Leyton hit a leadoff single and Diaz reached on an error, setting the table for Lynch's three-run home run to left.
Damian Defrank came on in relief of Muller in the eighth and ran into some trouble when Great Falls loaded the bases with one out. Defrank allowed a run but did a nice job of regrouping, striking out consecutive hitters to end the rally.
Notes: Missoula is 6-3 in its season series with Great Falls and 5-0 in games played at Ogren-Allegiance Park ... The O's had a total of four home runs and eight extra-base hits Sunday ... Missoula will wrap up its two-game series with Great Falls Monday night.