MISSOULA — For seven years Cesilio Pimentel has made the rounds in pro baseball, pitching in places like Bristol, Virginia and Bradenton, Florida.
The Pittsburgh Pirates organization cut him loose last year and he landed in independent league ball, working to revive his dream with a Nebraska team called the Lincoln Saltdogs. He's back in the minor leagues with the Missoula Osprey and on Wednesday he showed his mettle if nothing else.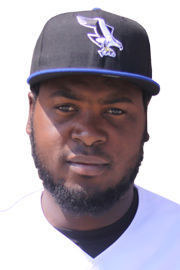 The big lefty lasted five innings and surrendered seven runs — six coming with two outs in the third — for an O's team short on starting pitchers. It was by no means a banner night but Pimentel did keep Missoula within striking distance before it faded late in a 13-7 loss to Grand Junction at Ogren-Allegiance Park.
"It was definitely promising for him because he's got multiple pitches and he mixes them up, changes speeds," Osprey manager Mike Benjamin said of his 24-year-old starter from the Dominican Republic.
"From what we saw this first time I think he's going to be fine. He just kept pitching even though that stuff happened behind him. He didn't let it affect him, which was a good sign."
Missoula, champion of the Pioneer League North first-half race, moved to 5-9 in second-half play and 24-28 overall. The Rockies snapped a three-game skid in improving to 26-27. 
Missoula appeared destined for its third straight win after jumping on the Rockies for three runs in the first two innings. Andy Yerzy extended his hitting streak to 17 games with an RBI double in the first frame and Keshawn Lynch followed with an RBI triple.
Francis Martinez put the hosts in front 3-0 with his fifth home run of the season, a solo shot to left center in the second inning. But Missoula's fortunes turned drastically after that.
With two outs in the Grand Junction third, it all came unraveled for the Osprey. First came a Joey Bartosic RBI single, then a throwing error, then a wild pitch. Later Pimentel made his worst mistake of the night, giving up a three-run home run to Ramon Marcelino.
Pimentel allowed just one more run before leaving after the fifth inning. The Rockies later roughed up converted reliever Kai-Wei Lin for three runs in the sixth and Pierce Romero for three runs in the seventh to make the score 13-4.
Missoula rallied with two runs in the eighth and one in the ninth on a Joey Rose solo homer, but it was too little, too late. The O's hold a 2-1 lead in their series with the Rockies and they'll try to win the series Thursday night, sending Billings native Brady Muller (3-6) to the mound. 
Notes: Lynch had the best defensive play of the night at second base, diving to his left to stop a sharply-hit grounder and then quickly coming to his feet to throw out a runner at first. He also led the offense with three hits, including a double and a triple ... Missoula is 15-12 at home this season.