MISSOULA — It's been seven years since a Missoula Osprey earned a Pioneer League batting title.
Gabriel Maciel might just change that.
Signed as a free agent in 2015, the 18-year-old Brazilian outfielder is enjoying the best summer of his baseball life, hitting .380 through 31 games. At press time he was tied for the best average in the league with 22-year-old Manuel Guzman of the Orem Owlz.
"I look at the numbers but I don't worry about being in first or second," Maciel said through team translator Peter Bransfield before helping the O's beat the Grand Junction Rockies 4-3 Monday at Ogren-Allegiance Park.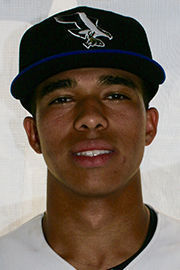 "I just think about trying to maintain my average where it is."
The last Osprey to win a batting title was Adam Eaton in 2010. He has been in the majors the last six seasons and is guaranteed $20 million over the next three as a member of the Washington Nationals.
Money certainly wasn't on Maciel's mind when he first took up baseball as a kid. His mom steered him toward the sport and it might surprise you why.
"Where I grew up in Brazil there is a Japanese culture," he said. "My mom preferred I play baseball over soccer because there is a culture of discipline in baseball."
Maciel, who was 2 for 4 Monday, has made a monster jump since last summer when he hit .266 in 23 games with the Osprey. He credits assistant coach Rick Short with helping him find another level the past two months.
"I've improved trying to go the other way with the ball -- going from center to left batting from the left side and from center to right batting from the right side," Maciel said. "I've been doing a particular drill that helps with my timing.
"To me baseball doesn't feel like a job. I've just always had fun playing."
Missoula used a couple big hits and breaks in building a 4-1 lead on Grand Junction. Juan Araujo kick-started the Osprey offense with a solo home run in the second inning.
Maciel singled, moved up on a ground-out and balk and scored in a wild pitch in the third. The Rockies cut their deficit to 2-1 with a run off reliever Jimmy Johnson in the top of the fifth, but the O's answered with two runs in the bottom half as Joey Rose scored on a balk and Dominic Miroglio on an Ernie De La Trinidad double.
The Rockies' coaching staff took out some frustration on home plate umpire Colin Baron in the sixth. Pitching coach Doug Jones was ejected.
From there it was a matter off holding on for Missoula (23-27). Ramon Marcelino hit a towering home run to center in the seventh inning and Shael Mendoza added an RBI single in the eighth, but Osprey all-star reliever Abraham Almonte held the visitors scoreless in the ninth, striking out two in the process.
Cole Stapler made his first start for the Osprey and he was solid through three innings. He allowed just one hit while striking out five before manager Mike Benjamin went to his bullpen to preserve Stapler's arm.
"My grandparents actually drove up here from Louisiana, took a few days to get here, just to watch me pitch," Stapler said. "It was awesome."
Notes: Missoula third baseman Joey Rose was named Pioneer League Player of the Week. He has a 21-game hit streak that came to an end on Sunday night ... Johnson (1-1) picked up the win on the mound, allowing two runs in the middle four innings. Almonte picked up his eighth save ... Missoula out-hit Grand Junction, 9-6.