MISSOULA — Terence Connelly took the long route to his first RBI single for the Missoula Osprey.
Which made it that much sweeter.
There was the arm injury in 2016 that took most of his baseball season at the University of North Carolina-Wilmington. Then the rocky senior year that saw the first baseman hit .179 for the Seahawks.
In between he lost his mother, the person that more than any other showed him the true meaning of strength, to cancer. Somewhere she must have been smiling Tuesday as Connelly capitalized on his first home start, scoring a run to go along with his RBI single in a 6-5 win over the Grand Junction Rockies in 11 innings.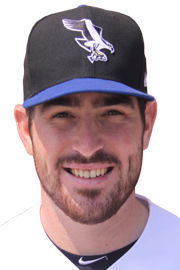 Brandon Leyton scored the winning run on a walk-off infield single by Dominic Miroglio with two outs. The Pioneer League North first-half champion O's (24-27, 5-8 second half) have won three of their last four games.
"It feels great," said Miroglio, who piled up three hits and two RBIs. "I'm sorry we couldn't wrap that one up a couple hours ago but thanks to the fans that stuck around to see it finish off."
Connelly had just the one hit and RBI, but when you've endured all he has to get to Tuesday's game, you're bound to remember the positive experience.
"Everything that has happened the past couple years, it's tough," said the 23-year-old, who has raised over $8,000 for the Ovarian Cancer Research Fund Alliance through his gofundme.com page. "But you find a way to keep moving on.
"This opportunity is a dream come true. I couldn't be happier. The guys on this team, they're accepting, they're good dudes. They really make you feel like family."
Starting pitcher Franklyn Soriano set the tone for the Osprey. He allowed just one run on two hits in five complete innings of work, leaving the game with his team on top, 3-1.
The Rockies drew first blood on a Casey Golden home run to center field in the second inning. Missoula answered with three in the fourth.
Andy Yerzy, Miroglio and Juan Araujo hit consecutive doubles to start the rally and give the hosts their first lead, 2-1. Connelly added his RBI single with one out in the inning.
Missoula added an insurance run in the sixth. Connelly drew a walk, moved to third on a Joel Novas single and scored on a two-out base hit by Eduardo Diaz.
Yerzy extended his league-best hit streak to 16 games, going 3 for 5 before leaving the game. He also made a pivotal defensive play in the eighth inning. Grand Junction had runners on first and third with two outs when Yerzy gunned down Jeff Moberg trying to steal second.
Grand Junction threatened again in the ninth with runners on first and second and no outs.
Reliever Cole Bartlett coaxed a ground-out by Ramon Marcelino before Golden hit a three-run blast to right field. Then with two outs, Todd Czinege smacked a solo shot to left, giving the visitors a 5-4 lead.
Missoula took advantage of some breaks in tying the score in the bottom of the ninth. Eduardo Diaz was awarded first base when he was hit by a pitch. After moving up on a Yerzy base hit and a wild pitch by Jefry Valdez, Diaz scored with two outs on a passed ball.
Rafael Pujols (1-2) picked up his first win for Missoula. He allowed just one hit in two innings.