It's not easy to get noticed as a prized Nicaraguan baseball player.
Chalk it up as one of many challenges in a country with a population base smaller than Washington state. Missoula Osprey shortstop Brandon Leyton, whose team stopped the Idaho Falls Chukars 8-6 Tuesday at Ogren-Allegiance Park, is one of the fortunate ones.
"It's not like the Dominican Republic where there's a lot of players coming out of there," he said through team translator Peter Bransfield. "There's a lot less scouts.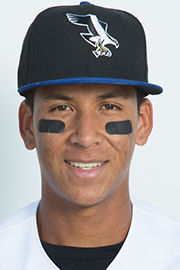 "Having the opportunity to play for the U-21, U-18 and U-15 national teams was a big opportunity for me to not only represent my country but to be seen by a lot more scouts."
Leyton struggled with consistency early in his first summer of American pro ball but he's come on like gangbusters lately. The 18-year-old has hit safely in seven straight games and is 4 for 7 in his last two starts.
"The key for me is always looking for the fastball, but at the same time being ready for the breaking ball and if it comes being able to react," he offered. "But always looking for the fastball. It's something I've been able to internalize and translate better the last few games." 
By simply making his way to the United States to play pro ball — his trip to Missoula exhausted most of a day and left him totally exhausted — Leyton has separated himself as an extremely unique athlete. Still, he's far from satisfied.
"There's probably 15 players in the major leagues from Nicaragua, so it's a small list," he noted. "That's something that makes me work even harder because I want to be part of that list."
With the win the Osprey (17-18) stayed a game behind Billings (18-17) atop the Pioneer League North standings. The Mustangs edged host Orem (24-11) in 11 innings, 4-3.
The O's are running out of time in their bid to win a first half title. Missoula and Billings each have three games remaining and the Mustangs would be crowned champion if the teams finish with identical records. 
The Osprey started slow Tuesday, spotting the Chukars a 2-0 lead in the first inning. Then the hosts found their hitting stroke.
Catcher Dominic Miroglio doubled and scored in the second. Joey Rose and Keshawn Lynch hit RBI singles in the third.
The Osprey loaded the bases with one out in the fourth and Gabriel Maciel, who had been sidelined 12 days, announced his return to the lineup in a big way. The Brazilian outfielder smacked a towering grand that landed on the railroad tracks beyond the right field fence, giving the O's their first lead, 7-5.
Ernie De La Trinidad laced an RBI single in the fifth to extend Missoula's lead. Idaho Falls loaded the bases with two out in the sixth, forcing the departure of starting pitcher Tyler Vail. But Cole Bartlett coaxed a ground-out to end the threat.
Trailing 8-6, Idaho Falls had the bases loaded with one out in the ninth. But reliever Abraham Almonte struck out two hitters in a row to end the game.
"I believe we can get through the next few games and get the playoff (berth and first-half title)," Leyton said. "We're all focused on a goal and the team is very united in trying to make it happen."
The Pioneer League on Tuesday announced its selections for an all-star team that will play against the Northwest League's all-stars Tuesday at 8 p.m. in Hillsboro, Oregon. The list includes Osprey second baseman Lynch, catcher Miroglio and reliever Almonte.
None of the three are in the starting lineup. The starters include catcher Hendrik Clementina of Ogden, first baseman Robby Rinn of Idaho Falls, second baseman Shael Mendoza and shortstop Ryan Vilade of Grand Junction, third baseman Dallas Carroll of Helena and outfielders Amalani Fukofuka of Idaho Falls, Ryan Vega of Orem and Starling Heredia of Ogden.
Ogden's Luis Paz will serve as designated hitter.