Three times Dominic Miroglio was drafted before he took the plunge into pro baseball.
Waiting may have been the smartest thing he ever did. The 22-year-old catcher has been an instant hit for the Missoula Osprey, batting .374 and earning an invitation to Tuesday's Pioneer League-Northwest League All-Star Game in Oregon.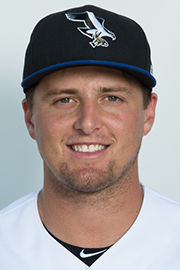 "The all-star game is something that's kind of once-in-a-lifetime," said Miroglio, whose team stayed alive in the Pioneer League North first-half race Friday with a 9-7 win over the Helena Brewers at Ogren-Allegiance Park. "That's a goal every season. You want to be an all-star.
"It means you're recognized by the teams you're playing against. That's the coolest thing about it."
Miroglio was drafted right out of high school, where he played quarterback along with leading the baseball team at Bishop O'Dowd in Oakland, California. Turning down that offer wasn't so hard because he was taken in the 40th round and had his sights set on playing for the UCLA Bruins.
Miroglio transferred to the University of San Francisco as a junior so he could play for coach Nino Giarratano, a man with a reputation for winning and honing players for the pro ranks. He missed most of his junior season with a broken hand but still managed to get noticed, drafted in the 15th round.
"That was a tough decision but I decided to go back for my last year to get my degree," offered the business major. "This year was the only one I was set on going to professional baseball."
Drafted in the 20th round, Miroglio says the work ethic he developed at San Francisco set him up for success with the Osprey. He's a big fan of St. Louis Cardinals catcher Yadier Molina and his approach of embracing the daily grind.
"There was a quote (Thursday) where (Cardinals) manager Mike Matheny thought he looked tired," Miroglio said. "Yadi was very offended by that. He says he trains to play 174 games a year and that's what it takes to win a championship. He can show up every day and catch and that's my goal."
Miroglio never really set out to make the all-star game when he arrived in Missoula. Now that it's a reality, he's going to savor every minute of it with his parents, who are going to make the trip to Hillsboro to watch the game.
"I didn't really think the all-star game was going to be an opportunity until a week or two ago the guys started instilling it into my mind," he said. "I started to get a little excited and the expectations rose. It's a goal, but it's something you can't think about too much before it happens."
The Pioneer League North first-half race has come down to Saturday night.
The Osprey (18-19) need to beat the Brewers (15-22) and hope Great Falls (14-23) wins at Billings (18-18) for a second straight night. If the Mustangs win, they'll clinch the title regardless of what happens in the Garden City because they hold an edge in head-to-head games with the O's.
It didn't look good for Missoula early Friday. Starting pitcher Franklyn Soriano surrendered five runs on five hits in the second frame.
Missoula responded with a run in the second, four in the third and two in the fourth. Jose Caballero's solo homer started the comeback in the second. He and Brandon Leyton each drove in a pair with singles in the third.
The O's took their first lead in the fourth, 7-5. Eduardo Diaz smacked a solo home run to left and Andy Yerzy added an RBI single.
After Helena cut its deficit to 7-6 on a Dallas Carroll home run in the sixth, Missoula answered with help in the seventh. Brandon Leyton reached on an error and scored on a wild pitch. Gabriel Maciel walked and scored on a wild pitch, making the score 9-6.
Notes: Former Osprey Lyle Overbay had his No. 35 jersey retired in an emotional ceremony before the game. The former major leaguer played for the O's in 1999. He hit .343 and drove in 101 runs in leading the Osprey to their first championship and was named the Pioneer League MVP. Overbay became the first short-season player to tally 100 RBIs in a season and was picked as the Short-Season Player of the Year by Baseball America.