Editor's note: This is part of a series on each of the Pioneer League baseball teams in Montana and their stadiums. Each summer, the players come in and leave in the fall, but the fans and people who work there return year after year so we wanted to see what makes each one unique.
BILLINGS – Smoke and the smell of barbecue starts wafting over the fence toward N 27th Street two hours ahead of the game on Mustangs game days. First the home of Cobb Field and now Dehler Park, professional baseball began in Billings in 1949 and fans young and old have been coming ever since.
"Billings has always been a very good baseball town. Even at the old Cobb Field we had lots of attendance, you know, and so it's always supported baseball, but the new stadium is a great stadium," says Mustangs Booster Tom Hellerman.
Fans must pass a statue of Dave McNally to enter through the main entrance. The Billings native pitched for the Baltimore Orioles and the Montreal Expos and holds the distinction of being the only pitcher to hit a grand slam in a World Series game.
They walk in and look out over the field, recessed eight feet into the ground. Look up, and the sandstone Rimrocks loom above the field and video board where fans also get a view of airplanes taking off and landing.
"It's more of a pitcher's park than it is a hitter's park. It's fairly big," says Mustangs general manager Gary Roller. "You have to be able to hit here and you have to be able to pitch here and typically the better team wins.
"The park here is a little bit unique because we have 360-degree access."
In left field people can stand and watch from bar-top tables or perched at the counter mounted to the top of the right field wall. Look down to the field and peanuts and sunflower seeds scatter the dirt at the base of the wall.
"This is the place to be up here in left field," says Mustangs Booster Joel Chipman. "You can't beat it."
Here, Hellerman and Chipman man the beer coolers as part of their duties with the Booster Club.
"It's just fun. I love baseball and Billings is a great place so we have a good time," says Hellerman. 
Hazards come with the job from the action both in front of them on the field and behind them.
"I had a home run ball hit the beer kiosk so that was exciting," says Chipman.
Behind, a group of kids plays their own game of baseball on the grass next to the zip line newly installed this season.
"It's always interesting to see on the concourse now, you get all the teenagers and early teenagers/12 year-olds all walking laps and they don't have a clue what's going on in the game or who's playing and what it is all about," says Hellerman, "but it's always fun to question them every once in a while, 'what's the score? Who's playing?'"
One person who always knows the answers to those questions is PA announcer Sarah Spangle.
"It's figuring out a time flow for things and figuring out when batters come up to bat and how much time you're going to have between pitching changes and what music is going to pump up the crowd and what music is going to kind of heckle with the other team or umpires a little bit," says Spangle. "That's part of the great thing that merges so well between me being a music teacher and this, is I kind of get to do a little bit of both."
Spangle is in her second season as announcer, but was with the Mustangs for four seasons before that working in Guest Services. After the former announcer moved to Oregon, GM Gary Roller was looking for a replacement from within the staff.
"My first reaction was, there's no women who do this. I know of one, Renel Brooks-Moon in San Francisco in the major leagues," says Spangle when she got the call. "I said, 'I have no experience. I'm just a music teacher, that's all I do. I teach music and I love baseball.'"
"I had the upmost confidence in her that she was going to be able to do it and she's turned out terrific," Roller says. "She really, really has."
And in her time with the Mustangs, she has already gotten to be part of franchise history.
And for many longtime fans of the Mustangs, Barbara Berreth is a part of their history with the franchise. Berreth has been coming to games since 1948.
"I've seen many a game and a lot of players come and go and some of them went up," says Berreth proudly.
Berreth is affectionately known around the park as 'Cheerleader Barb,' for her pompoms and leading the Mustangs cheer during games, although she has been unable to do so this year due to a broken leg.
"I was even offered that if I ever get to Cincinnati that I could do cheers," says Berreth. "I would love that."
She giggles when recounting that in the past, parents of players would request to meet her when they were in town because they had heard her on the radio broadcast.
Dressed in a gray Mustangs t-shirt and red sneakers that match the red Mustangs hat she has on backwards, fans greet Berreth as she walks around the concourse with her walker. They ask when she's going to be back at it and she tells them next year hopefully.
Clayton Scheafer has been coming to Mustangs games for 25 years. He and Berreth are both members of the Mustangs Fan club and now Schaefer and his wife often give Berreth rides to the games.
"It's just a great way to spend an afternoon or an evening to watch baseball," says Scheafer.
He's been a season-ticket holder at both Cobb Field and now Dehler Park.
"There's not a bad seat and even standing in the outfield watching the game, it's still a great experience," says Scheafer. "For me to go out to right field and watch part of a game, it's great."
Tyler, Liane and Tom Frieders know that from first-hand experience. They watch from the outfield after deciding to come for just their second game this season. Tyler plays for the Billings Royals and now spends plenty of time on the field, but has spent his fair share of time in the stands watching the Mustangs over the years.
"We came and watched Billy Hamilton when he was here for awhile," says Tyler. "I used to do the Knothole Gang when I was little so it was like you have a few signatures from MLB players. I have Todd Frazier's autograph from when he played for the Mustangs."
Rita Cetrone remembers watching Dick Stuart when he was in Billings as a member of the Pittsburgh Pirates in the 1950s. She and her sister Ruth Romero come to games together now that they're both retired.
"It's just fun," they say together.
"I just like to see where they all come from and see how they do," Cetrone says. Her son-in-law came from New York and played for the Mustangs. After he finished his baseball career, he moved back to Montana and met his wife.
The sisters sit in the handicap accessible area above section 107 with other season-ticket holders. They choose to sit there so they don't have to climb up and down the stairs to get to their seats, but there are options for everyone at Dehler Park.
"It's really neat now with the concourse and everything and the handicap accessibility is the neatest part because you see all these people in wheelchairs that really couldn't do much in the old stadium and they're here and there's a lot of them that come out to the games," says Hellerman.
And for some fans, they have thrived on the community they've formed with the people around them. In section 117, a group of season-ticket holders have even made matching shirts.
"We literally spend more time with our Section 117 family than we do with our own families sometimes," says Rita Giebink who has watched her kids grow up coming to games.
Fans mill around in this stadium and there are concessions and different food stands tucked into all kinds of corners, including behind the third-base stand where there's a picnic area and where fans line up to get the marquee menu item Stang Burger: a burger topped with brisket.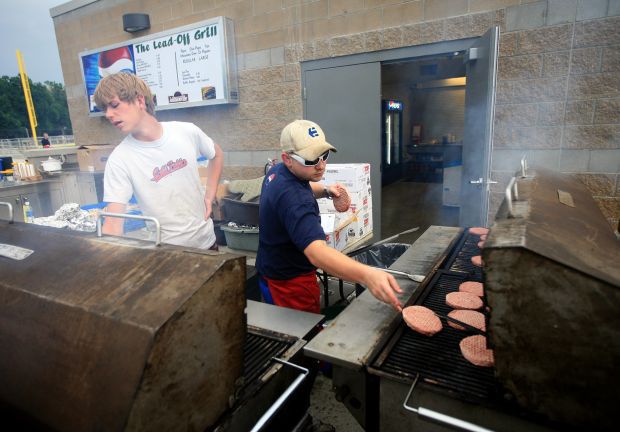 There are snow cones, tacos, stir fry, Moutain Mudd coffee, Philly Cheese Steaks and fresh donuts all in addition to the fare that comes out of the typical concession stands.
"We're trying to please as many people as we can," says Roller.
And while fans can wander freely for food, they also wander while they socialize.
"(The park) promotes mobility," says Roller.
It seems that there are people tucked into every little nook and cranny of the park and while fans use the concourse to socialize, those in the seats can pay attention to the game. There are no on-field games between innings and distractions are kept to a minimum.
"It's not too goofy, it's not too stuffy. It's a great space," says Giebink. "It's a nice little slice of Billings."