MISSOULA — Coach Melanie Meuchel says there's a sure-fire way to tell when Tristin Achenbach is feeling good in the pitching circle.
"She always has a little bit of a smile on her face," said Montana's first-year softball skipper. "She had that today and trusted her pitches. When she has the presence she had today, you're going to get great outings from her."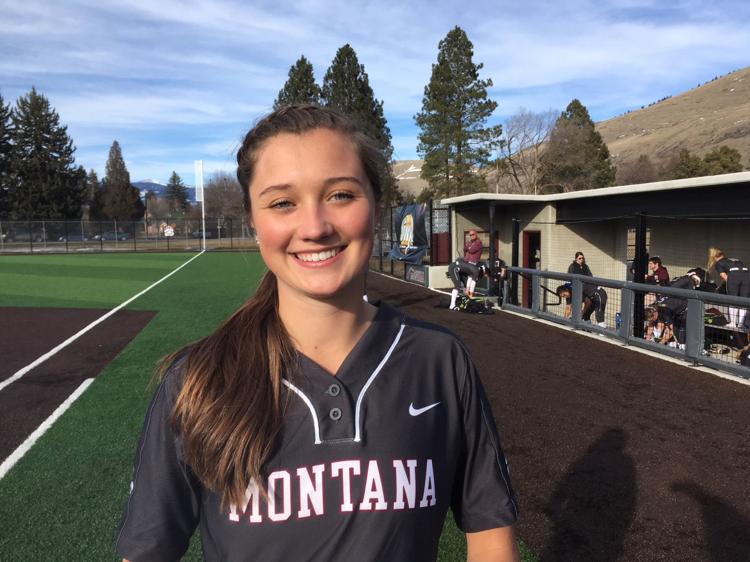 Achenbach will have a hard time topping her first home start. The true freshman from Great Falls pitched a no-hitter in the second game of a doubleheader against the University of Providence at Grizzly Softball Field. Montana won that one in five innings, 8-0, to cap a confidence-boosting Tuesday that started with a 3-1 win.
Achenbach struck out nine of the 17 hitters she faced in recording the third five-inning no-hitter in program history. She hadn't gone more than an inning since Feb. 24 and carried a 5.83 ERA into Tuesday, so the day was relatively special in her brief college career.
Achenbach acknowledged the irony that her first home start came against a team from the town where she graduated from high school (Great Falls CM Russell). That said, it's worth noting Montana's two-time Gatorade Player of the Year was a student at Choteau until her senior year.
"I knew a couple girls on the team over there but not too many, so it wasn't too emotional," Achenbach said. "(Catcher) Dani (Walker) called a great game behind the plate and that had a lot to do with it today. We had a good thing going and it just worked out — a great start to getting ready for conference."
Meuchel has a deep pitching staff, so it says a lot about her confidence in Achenbach that she started the freshman in the Grizzlies' first home doubleheader.
Montana was in need of a confidence boost on the heels of three straight losses in the Oregon Duck Invitational last weekend. Achenbach certainly did her part.
"She has very good ball movement and she has a combination of pitches, so she's able to stretch batters with their swings or their thoughts," Meuchel said. "Then she's tough. She always wants to have the ball and compete."
Achenbach had plenty of run support in the nightcap. Former Columbia Falls athletic standout KJ Schweikert pitched for Providence and surrendered her first run in the second inning when she issued a bases-loaded walk to Gabby Martinez.
Delene Colburn gave the Grizzlies a 2-0 lead in the second when she singled and later scored from third on a Schweikert wild pitch. Colburn then delivered the hit of the day in the fourth inning — a towering three-run blast to center field that carried 261 feet.
Montana led 6-0 after four innings and added two more runs in the fifth. Both came in on a walk-off single by pinch-hitter Madison Saacke.
"I think everyone was pretty excited that we finally got to play at home," Achenbach said. "It wasn't snowing, so that was nice. And the new bleachers and everything looked amazing. It was nice to have people here to see what we can do."
Montana (9-17) had a little trouble cranking up the offense in Game 1. NAIA Providence (2-7) led 1-0 heading into the bottom of the third after Grizzly starter Michaela Hood surrendered an RBI double to Ashton Bell in the second.
No. 9 hitter Kylie Hayton kick-started a Grizzly rally in the third with a one-out base hit. Colburn gave the hosts a pair of baserunner when she singled with two outs. Hayton came home on a wild pitch and Colburn played the go-ahead run on a double by Ashlyn Lyons.
Montana added an insurance run in the third when Gabby Martinez slapped a single to center field, moved up on a wild pitch and scored on a Colburn double off the fence in right center field.
"I think we were a little anxious in Game 1 to be back home in this environment," Meuchel said. "Then we kind of settled in and were a little more true to who we are at the plate, who we are on defense. 
"We've been challenged by our schedule. I really like our players and our team and the resilience they have. That's a win streak right there, two in a row. It's a little bit of a confidence booster."
Montana will have its final tuneup for Big Sky Conference play later this week. Utah Valley will be in town for games on Thursday, Friday and Saturday in the Griz Classic.
"It will be a fun challenge to face the same team three times over the course of three days," said Meuchel, whose squad opens league play at Idaho State next week. "I'm sure at times we're going to have to make adjustments because Utah Valley is going to know what we have. They'll have to make adjustments, too."