A potentially dangerous foe stands between the seventh-ranked Montana football team and an important win Saturday.
Some believe the Grizzlies have already secured an FCS playoff spot by virtue of their 8-2 record. Others contend they have work to do.
Just to be safe, Montana will try to maintain its month-long sense of urgency in a senior day test against young but improving Weber State (1-9). Kickoff for the Big Sky Conference clash is slated for 12:07 p.m. inside Washington-Grizzly Stadium.
"We're not good enough to rest against anybody, our guys know that," said Montana coach Mick Delaney, whose squad has won five of its last six games. "The only thing we can control is trying to be 9-2.
"Obviously you'd be stupid to think they don't think about next week a little bit. But thinking about it and letting it be a distraction are two different things."
Montana plays at Montana State next Saturday in a showdown both teams have pointed to for months. The fact the longtime rivals are ranked seventh and eighth, respectively, adds to the buildup.
* * * * *
The Grizzlies' route to their last three victories has been roughly the same: Spot the opponent a second-half lead and then roar back late in regulation.
It's terrific if you love suspense. It also speaks to the team's lack of consistency, which could prove costly against a hungry Weber squad that in the past month has put a scare into MSU and Southern Utah.
"I'm a little tired of it myself," Griz senior offensive lineman William Poehls said of his team's hot-and-cold play. "Four games in a row where they're close.
"It's fun. At the same time it's like, why can't we do what we do in the fourth quarter throughout the game? If we do that there should be no one that can stop us."
Delaney voiced his concern earlier this week after his team rushed for 52 yards in last Saturday's 31-27 win at South Dakota. That low number helped lead to Montana's disadvantage in time of possession (25:42 to 34:18). It also put added pressure to perform on quarterback Jordan Johnson, who was sacked four times and threw three interceptions.
The Griz will try to kick-start their run game with junior scatback Jordan Canada getting most of the carries. His backup, in the absence of injured Travon Van and Joey Counts, will be freshman John Nguyen for the third straight week.
"For the O-linemen, we have to come ready to work," Poehls said. "Get back on track from where we were toward the beginning of the season."
* * * * *
The X factor Saturday is Weber State offensive coordinator Robin Pflugrad. He was Montana's head coach in 2010 and 2011, so he is privy to inside information that could be useful to the Wildcats.
"You think it would be because he knows all those kids uniquely and closely," Weber second-year head coach Jody Sears said. "Whatever their strengths and weaknesses are, yeah maybe we can identify some of those things or play into those things.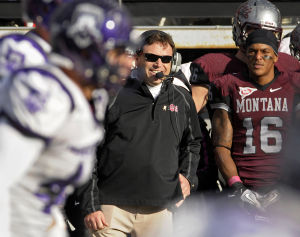 "But at the end of the day, it's going to come down to our ability to coach our kids and get the most out of them and give them an opportunity – put them in a position to make plays consistently."
Asked whether his team's feelings toward its former head coach could be a distraction, Delaney rejected the notion.
"That's not a problem at all, I don't believe," he said. "Our kids, they're playing the game for the University of Montana and it's not about anything else other than the football game. But I do have the utmost respect for Coach Pflugrad. I worked for him two years here."
Pflugrad calls the plays for a mistake-prone Weber offense that runs the spread option. The scheme is familiar to the Grizzlies because they ran it the previous three seasons.
"There will be some tricks," Delaney predicted. "There will be some reverses and reverse passes and throw-backs and some of that stuff.
"That's one thing, I think personality-wise, it's good to know some of the things we practiced for a couple years (under Pflugrad)."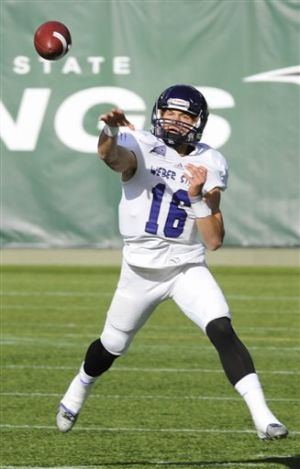 Weber State freshman QB Austin Chipoletti is playing his best football of the season, throwing for more than 900 yards in his last three outings. Sears credits his growth – he has started seven games – and the return of senior center Tyson Tiatia from an injury.
"He missed the first half of the season," Sears noted, "and he has really done a nice job with our line, giving (Chipoletti) time to throw the ball and look things over."
* * * * *
Montana's defense will try to pick up where it left off in the second half of last week's game when it held South Dakota to a field goal. The unit is banged up and the health of senior cornerback Anthony Goodwin (shoulder) is an ongoing concern. But his backups, Joshua Dennard and JR Nelson, have enough experience to adequately fill in.
"As a defense I feel like this is gut-check time," Griz defensive tackle Caleb Kidder said. "Time for us to start showing up, start getting better.
"We've got the Cats in another week. November is a time when we play our best football."
NOTES: Standout Griz wide receiver Ellis Henderson was sidelined from practice this week by a sore throat. Teammate Taylor Walcott (WR) underwent surgery last week on his ankle ... Weber ranks last in the Big Sky in points per game (15.2), points allowed (44.8), offensive yards per game (302.8), yards allowed per game (503.7), rushing yards allowed per game (243.7) and third-down conversions (50 for 175) ... Montana ranks second in the Big Sky in points per game (38.5) and third in points allowed (23.6) ... Weber linebacker Roman Valenzuela missed last Saturday's game with a concussion but is expected to play vs. Montana.