Haley Vining was so sick she didn't practice this past week.
That didn't prevent her from hitting the biggest shot of her life Saturday afternoon.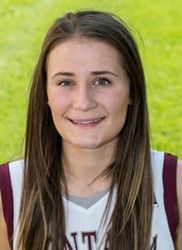 The senior point guard nailed a 3-pointer with 14.1 seconds left that erased a deficit and propelled the Montana women's basketball team to a 70-66 win over Big Sky Conference front-runner Montana State. A season-high crowd of 4,249 turned out to watch UM record its fifth straight win.
"I didn't know how many minutes Haley was going to play, but she was feeling a lot better today," UM coach Robin Selvig said. "It's fun to have her -- you know you spend half your life in rehab (for three knee surgeries) -- have some good things happen her senior year."
Just like the first time the teams met on Jan. 30, Montana squandered a fourth-quarter lead. This time the Lady Griz had a reply after Peyton Ferris' free throws with 25.2 seconds left gave the Bobcats a 65-64 advantage.
Montana took a timeout, looking to draw up something good minus the services of post Alycia Sims, who fouled out with 15 points and 10 rebounds. The Bobcats crowded the paint in an effort to stop the Big Sky's most prolific scorer, Kayleigh Valley, and that left the door open for Vining on a cross-court pass from Mekayla Isaak.
"I think everybody expected it to go in to Kayleigh (Valley), so when my girl went to double her, I saw I was open and I told myself to catch it with my feet set and let it go," said Vining, who was 0 for 2 from downtown at that point.
"It felt so good. I'm so happy it was at home. That might be my last Cat-Griz game, so I was pretty excited I got to end it on that note."
No one was more thrilled for Vining than Valley, who finished with a game-high 23 points.
"It's incredible what she's been through," Valley said. "Being able to be back on the floor even after all those knee surgeries and the injuries and the struggles she's gone through, to see her hit that big shot to win the game ..."
Montana State took a six-game winning streak into the weekend and played with confidence early. The Bobcats (12-2 conference, 19-6 overall) led 14-10 at the first break before losing their momentum.
"The quarter that killed us was the second quarter," said MSU coach Tricia Binford, whose team fell victim to a 22-8 run leading up to halftime. "We came out well early I thought. Then we got really flat. Montana took control. The crowd got behind them and the pace was way too slow for us."
Montana's lead was 32-22 at intermission thanks largely to Valley and Sims, who each had eight points. Montana State hit just 3 of 11 shots in the second frame and 8 of 26 for the half.
"We were just trying to make it tough for them to get it inside to start with," Sims said.
Montana (9-5, 16-9) kept the pressure on in the third frame, stretching its lead to 37-24 on a Valley free throw at 7:22. The hosts appeared headed for a comfortable win when Sims hit a bucket early in the fourth quarter to make the score 51-40.
But the Bobcats weren't going away. A pair of Jasmine Hommes free throws with 5:15 left capped a 10-1 run and pulled the visitors within two, 52-50. Montana spent the next 4-plus minutes clinging to a narrow lead until a pair of turnovers opened the door for the Cats to claim a 66-65 lead with 25.2 ticks left.
"It had a little bit of deja vu written on it in that fourth quarter," said Selvig, referring to Jan. 30. "We missed some layups. I was thinking, are we not going to score in the fourth?
"That's what happened at MSU. We had a lead and then didn't make a field goal the fourth quarter. They're too good to stop forever. They're going to make some shots and finally we made some shots in the last three minutes."
After Vining hit her fateful 3-pointer, Montana still had work to do on the defensive end. Riley Nordgaard and Hommes both took shots before the ball went out of bounds beyond the MSU baseline with 3.5 seconds left.
Possession was awarded to the Cats initially, but the officials looked at the replay monitor and reversed their call. Montana was granted possession and the clock was moved to 4.2.
Isaak inbounded the ball to Valley, who was fouled immediately. She hit two free throws with 3.6 ticks left, killing Montana State's comeback hopes.
"This loss hurts because it's Cat-Griz," said Hommes, whose team maintained first in the Big Sky. "Personally, too, because it's my last one. It's going to sting tonight but tomorrow when we're back in Bozeman, we have to get back to work. This season still has a lot of games left. March is what counts."
Selvig felt his team's scrappy man defense was key to the outcome. The Cats hit 35.5 percent of their attempts from the floor (22 for 62).
"It ended up being such a physical contest," he said. "We dang near ran out of players and had a lot of fouls (24).
"They were going inside and putting pressure on to get fouls. But we played hard."
Binford, who is enjoying her best season in 11 years at the helm, saluted Selvig afterwards. In 38 years as Lady Griz skipper his team has been swept by the Bobcats only once. His career record against MSU is 74-19.
"He's one of the best coaches in the nation," she said. "That's one of the reasons he has so many wins under his belt. And the atmosphere here is pretty challenging. The crowd does a great job of getting behind them."