ANACONDA – Braxton Hill is one tough player.
In his first game back since injuring his shoulder against Big Fork on Sept. 3, the Anaconda quarterback was asked to throw.
The asked to throw again. And again. In all, he tossed 43 passes in the Copperheads 40-28 loss to Florence as put on a gritty performance against the Falcons.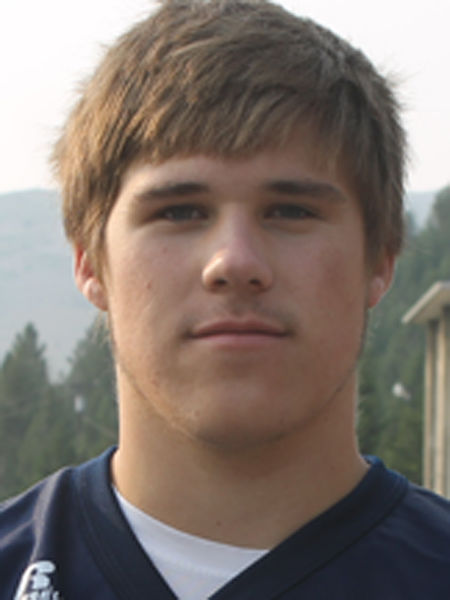 "He hasn't been on the field for a few weeks and had a couple high balls, but overall I was absolutely proud of him," Anaconda head coach Bob Orrino said. "He gutted it out."
Hill's situation has been something of a wild ride over the past couple weeks. A first opinion by a doctor left his playing situation in doubt. A second, however, was a bit more optimistic and the decision was made to let Hill return to the field.
Orrino said this week was his first back and able to practice and there certainly was a bit of rust. Early in the game he struggled with his accuracy, completing just 6 of 16 passes for 79 yards in the first half.
As the game went on, the 6-foot-2 quarterback seemed to get a little more comfortable and he even ran a bit in the second half, rushing for 24 yards on five carries.
In all, he finished 16 of 43 for 272 yards, two picks and two touchdowns. His throws were a little forced and there certainly wasn't quite as much zip on his passes before the injury.
Hulking wide outs Bobby Swainston and Montana Western basketball signee Trent Mikalatos made things a bit easier for him. The pair came up with some tremendous grabs, including an incredible 35-yard touchdown reception from Swainston who was able to outleap a Falcon defensive back at the goal line.
Hill did not play defense, though Orrino said this might be something that he's able to do next week.
Anaconda trailed for much of the game, though was down just 14-8 at halftime. The Copperheads had their chances, but missed passes, fumbles, and huge penalties ultimately led to their loss.
"It was out game, we just gave it away," Orrino said. "Mistakes, penalties, it's late in the season but we need to fix that. We move on, we upset Loyola and we win out. That's what we have to do now."
Kohlman was knocked out of the game after a 44-yard run late in the third quarter, but was able to bounce back and finish the contest.
"This is a tough place to play and we knew Anaconda would be a dog fight," Florence head coach Pat Duchien said. "The kids here, they're big, they're tough and they're physical. Once again, our offensive line did a great job and so did our defense. Anytime you come into Anaconda you know it's gonna take some work and they're never going to be out of the game."
Anaconda did make it close in the second half after two touchdown passes closed the score to 28-22 late in the third quarter.
The Falcons were able to respond, as Kohlman threw a 20-yard touchdown pass on fourth down to Marcus Zeiler to give the Falcons a 34-22 lead with nine minutes left in the final quarter.
Florence running back put the game out of reach with a 12-yard touchdown from running back Kyler Alm, who also had a four-yard touchdown catch in the win.
A late garbage-time touchdown from Anaconda put the game at its final. Florence moves to 3-2 on the year, while Anaconda falls to 2-4.
"This is a mentally tough group and our kids are used to adversity," Duchien said. "It shows in big games like this."