Prep Extra
Prep Extra: Hellgate swimmer Brendan Campbell fights through pain of mystery muscle ailment
There's not much more frightening than the unknown, the faceless assailant creeping its way through Brendan Campbell's neuromuscular system. The long list of maladies he and his doctors have ruled out is oddly comforting, though.
Campbell doesn't have ALS. He doesn't have MS. It's not a brain tumor. It's not cancerous. So what the heck is it?
He pauses, gathering the words to an all-too-familiar conversation.
"We know what it's not," he begins, "which is honestly about as reassuring as knowing what it is."
The mystery ailment has taken from Campbell the passions of his young life and left in their place physical and emotional torment – but also humility, perspective and wisdom beyond his 17 years.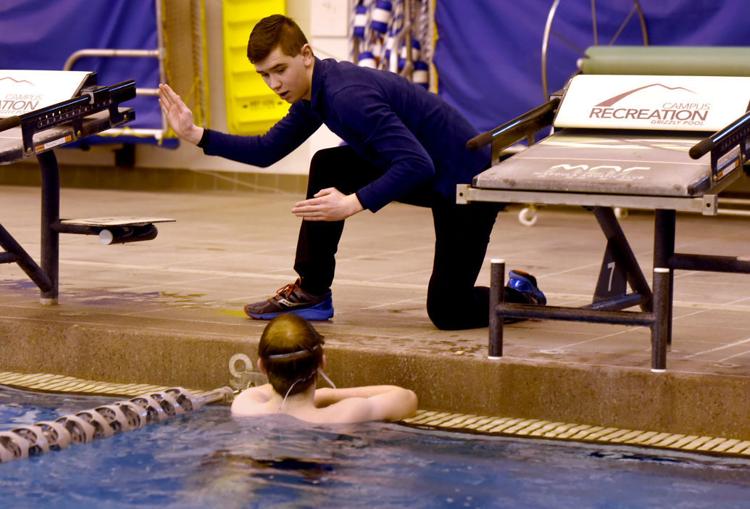 Brendan Campbell cut through the waters of Bozeman High School's pool like a knife, sharpened by than nearly a decade of competitive swimming.
The butterfly stroke was among his best disciplines, having set a Montana short course club state record in the 50-yarder just two months prior. Yet with a lap remaining in the 200, something felt wrong. He arms began to burn. Engulfed in familiar cool water, his upper body was on fire.
"I mean the 200 fly is a painful race, but it was nothing like that," remembered Campbell, now a junior at Hellgate High. "I felt like I couldn't take a stroke, like I'd tear something."
He labored to the finish line, trying to shake out the stinging pains in his forearms and shoulders as he exited the pool. He stretched. He drank water, popped a few ibuprofen.
That day last May was only the beginning.
First came the pain and occasional weakness. Then it spread to his lower extremities. A few weeks later he began the longest swimming hiatus of his young life. He stayed out of the pool, stopped playing the piano and the cello, and dedicated himself to rest. It had to just be overuse, he thought, and extreme fatigue.
The symptoms did not cease.
There was numbness, tingling and spasms. Severe weakness followed to the point where even walking became a chore some days.
"It's not a soreness; it's not something you can touch," he said, retracing a description he's given countless times over the last year. To doctors, to neurologists, to friends and his parents.
"It's just there, which is a very odd thing for people to try and wrap their heads around."
The experts weren't having much better luck. By summer's end, Campbell had been tested more often than a doctoral candidate. Dozens of tests probed into his genetics and the workings of his brain and came back with no conclusive results. The Campbells' only hint at what was affecting their son was an abnormal electromyography (EMG), a diagnostic procedure that assesses the health of nerve cell motor neurons that control muscles. Though atypical, it came with no indication of a cause.
All the while the pain subsisted.
"Very random tasks really bothered me," Campbell explained. Like writing or typing, playing his musical instruments, "these tiny dexterous movements."
Campbell's parents, Connie and Alan, purchased dictation software on the Internet so Brendan wouldn't need to type for his school work. They visited a full hospital's worth of local doctors, then set out in September to see a specialist in myalgia (muscle pain) at the renowned Mayo Clinic based in Rochester, Minnesota.
Campbell missed the entire summer swim season. He was unable to attend USA Swimming Junior Nationals in Texas that December, for which he'd qualified in the 100 breaststroke. He began accepting the fact that he might never swim competitively again.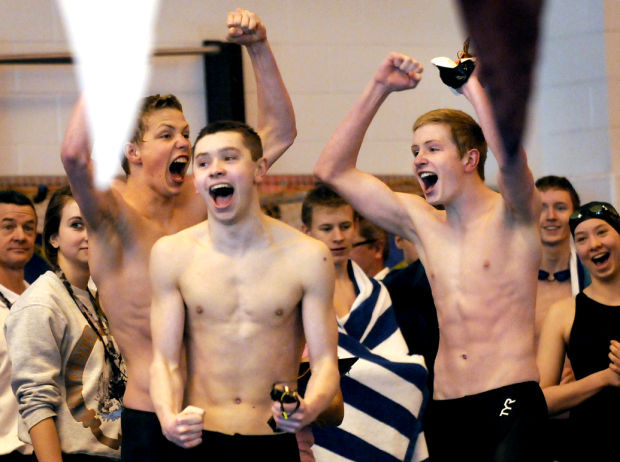 Swimming had been there for Campbell almost as long as he could remember. He joined the Missoula YMCA Swim Team when he was just 8 years old.
He attended countless 5 a.m. practice sessions through the years and poured his time and energy into the pool, treating the sport with admiration and respect.
"Even when he was in seventh grade at the time, he was one of those old-man little kids," joked Hellgate senior Jacob Butler, a teammate of Campbell's at the Y and with the Knights. "He'd show up to the pool with his nice sweater on, a really mature little kid."
Campbell approached swimming just as he tackles his neuromuscular condition. There are always uncontrollables, he said, like other racers in the pool or soreness from a previous event.
Or a near-debilitating pain screaming down his arms.
"You can either let those things overwhelm you, let yourself give into it and swim poorly, or you can rise to the occasion and not be weighed down," he said. "Swimming is a mental sport. I was able to view this as one big uncontrollable."
Campbell redirected the time he once spent in the pool to his teammates. He still beats the sun to early morning practices, but instead of donning a swimsuit, cap and goggles, he holds the clipboard.
He's a part-time manager, part-time student coach for both the YMCA and Missoula high school teams.
"In typical Brendan fashion, he's just thrown his passion in a different direction," said Kirby Beierle, head coach at the YMCA who has served as one of Campbell's coaches since he first dived into a pool. "The kids are so thankful to have any time with him. They want to impress him, so they'll do things for him they won't do for me."
And he knows his stuff, Beierle continued. Campbell was growing into one of Missoula and Montana's top swimmers.
"It was pretty heartbreaking," she said. "It felt like he had just got his ball rolling. His body was matching his passion and it was kind of a magical thing."
Even when his body and mind were evenly matched, Campbell's psychology always spoke a decibel higher. Whether for injury, fatigue or allergic reactions, nothing kept him out of the pool.
Why would now be any different?
Let Campbell be clear: he is no better today than he was nine months ago. But he's not really any worse either.
He's not dying. His condition doesn't seem to be degenerative. Non-weight-bearing exercise like swimming remains doable – to a point. A strong mind can manage physical pain.
Campbell has spent the winter relearning his body, what it can handle and what it can't. Three- or four-hour swimming sessions that once covered miles have been reduced to hardly as many minutes.
"I've been training my entire life. I'd crank out 5,000 yards like it was no big deal," he said with a smile. "Now I'll be done with a hundred. That's it."
He may never regain his former aptitude, but Campbell just wants to compete. It's rubbed off on his Hellgate teammates as the Knights prepare for the state swim meet that starts Friday in Great Falls.
"You can take some of his energy," Butler said. "You might not want to go to that one practice, but you know he would do anything to be there."
It took Campbell until early January, more than a month into the high school season, to reach his MHSA-mandated 10 pre-competition practices. He's competed sparingly but entered in at least three sanctioned meets, making him eligible for state.
And he's winning. Campbell took gold in the 50 freestyle in all three meets, including two weeks ago in Great Falls. If he's up for it this week, his spot as the breaststroke leg of Hellgate's 200 medley relay team, which set a state record a year ago, is still waiting for him, said Knights' head coach Helen Houlihan.
"He's swimming very short distances right now and he can put every ounce of energy he has into those races," said Houlihan, who coaches all three Missoula programs. "The conditioning he's done in the past has really carried him through this."
Despite his minimalist training regimen, Campbell's time of 22.41 seconds at the Missoula Invitational on Jan. 23 would have netted him silver in the 50 free at last year's state meet.
"But that's not the point," he said. "I was able to get over that back in July or August. You have to realize, I'm not physically capable like I was before. And that's OK. What matters is that you do your best with what you've got. I'm honestly more impressed with myself now, I guess, being able to do what I can. I used to think I could do nothing with this.
"From the beginning I took it as a lesson. I had to take it as a lesson. You can spend your time resenting what you're going through, being angry or upset all the time, or you can find a way to do something about it."