BUTTE – Corvallis was the first team in the Western A Divisional Volleyball tournament to clinch a berth at state when it swept through Columbia Falls in straight sets at the Maroon Activity Center on Thursday evening.
That's not to say it was easy.
Trailing most of the third set, Blue Devils head coach Kasey Arceniega had a chance to talk to her team when the Wildcats called a timeout. Arceniega, with her team trailing by two points, knew exactly what to say.
"You could tell that they were losing their confidence a little bit," Arceniega said. "I just told them there's no reason for them to be losing that confidence and to be athletes, step up and be more aggressive.
"That's what I said, in my own, firm way."
Her team responded with four straight points to finish out the game, including two aces from Casey Fison and a hard kill from junior Lilly Berry.
The second Columbia Falls' Stella Bistodeau sent a ball into the net while trying to return the match point, Corvallis could start thinking about their travel plans to Bozeman for the Class A State Volleyball Tournament.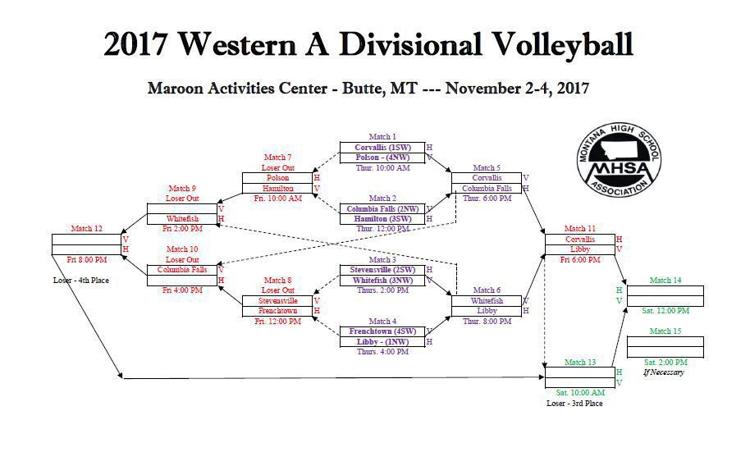 "It's super exciting and I think some of that pressure is now kind of relieved," Arceniega said. "It'll be back next week, but they feel good and they've earned this."
One set into the game, it didn't look as if the Blue Devils would have much trouble with the Wildcats.
Strong team play led Corvallis to an early 12-2 lead and it didn't look back from there, taking the match 25-6. It was a rough start to the game for the Wildcats and head coach Jolandie Brooks, but the break between the first and second set seemed to help quite a bit.
"We really wanted to take it one ball at a time and not get too lost in the speed of Corvallis," Brooks said. "We needed to be able to meet and match that, which I felt we did in the third set, but we weren't able to finish."
The Blue Devils were able to get out to a strong start in the second and opened up a 12-6 lead. Behind some solid play from Columbia Falls junior Ryley Kehr – who finished with six kills and 1.5 blocks – the Wildcats went on a 7-2 run and closed the gap.
"It's hard to keep that momentum," Arceniega said. "Then you add that pressure and the challenge becomes you going to handle that pressure. I'm not sure we handled it the best, but we handled it when it mattered."
Hannah Hutchison and Maureen Jessop were tremendous for the Blue Devils on the first day. Hutchinson has 22 kills and three aces through two games and at times has looked like the most dominate player on the floor. Jessop is certainly on the same level and has 19 kills and 19 digs in six sets.
It's a deep and talented group, but most importantly for Arceniega and her Corvallis squad, the on-court chemistry is obvious.
"It's not just a one person thing, we're working as a team," Hutchinson said. "Teamwork is what's really gotten us here. When one person is down, other people rise up to help."
CORVALLIS 3, POLSON 0
Hannah Hutchinson had 13 kills and Kate Hulbert had 34 assists as the Blue Devils downed the Pirates in the opening game of the tournament.
Ashley Hornaday and Maureen Jessop combined for nine of Corvallis' 12 aces during its 25-13, 25-9, 25-14 win.
Laurel Bitterman had 11 assists and two aces to lead Polson.
COLUMBIA FALLS 3, HAMILTON 1
Hannah Schweirkert had 37 assists, 13 digs and four aces as the Wildcats topped the Broncs in four sets in the second game of Thursday's session.
Trista Cowan added 17 kills and 13 digs as Columbia Falls won 25-19, 25-23, 18-25, 25-22.
Caitlin Dillon was strong for Hamilton, tallying 29 assists, 21 digs and three aces.
WHITEFISH 3, STEVENSVILLE 2
The Bulldogs rallied past the Yellowjackets in the fifth set of an instant classic first-round match.
Trailing 2-1, Whitefish took the final two sets 25-16 and 16-14. The fifth set was tied nine different times, but Lauren Schulz was able to make an excellent play on a ball from Becca Catina to end the match.
Catina had 35 assists during the match to lead the Bulldogs. Cailyn Ross was nearly unstoppable for long stretches of the match and ended with 26 kills, five aces and three blocks.
Angel Richards finished with 19 kills and five aces to lead Stevensville. 6:26 PM
LIBBY 3, FRENCHTOWN 0
Mehki Sykes had the Loggers final two kills as Libby took care of the Broncs in straight sets.
Libby scored six-straight points to end the game, including two aces by junior Jessika Jones. The Broncs had their chances and kept things close in the first two sets – which they lost 25-20 and 25-21.
Frenchtown lead by four points twice late in the second set, but couldn't quite get past the Loggers and their tough defense and serving.
The Broncs had just 12 kills during the game with eight of them coming from the combined efforts of Alivia Williams and Emilie Hinrichs. Frenchtown faces Stevensville in an elimination game Friday at noon.
LIBBY 3, WHITEFISH 1
The Loggers are back in the state tournament field for the first time since 2009 while the Bulldogs are headed to an elimination game.
Libby started off the game strong and won the first two sets, but Whitefish was able to take the third in commanding fashion, 25-14. The fourth set was again tight most of the way through, but Libby was able to gain a commanding 22-13 advantage.
Whitefish wasn't quite ready to quite and had a quick 4-1 run to get the score within six. A Whitefish error and a vicious Brooklyn Rainer kill would finally put away the Bulldogs away.
Rainer had a tremendous day for Libby and had 14 kills and two aces against Whitefish.
"They played us hard, they weren't conceding and we had to fight them hard," Libby head coach Cindy Ostrem-Johnson said. "It was a team effort."
Libby will get Corvallis on Friday evening in the semifinals. The Blue Devils are a team they've seen before and they're more than up for the challenge.
They've played twice, with each team winning one match.
"We've seem that team a couple times," Ostrem-Johnson said. "We beat them in three sets and then  
WESTERN B 
BIGFORK 3, ANACONDA 0
Jamie Berg delivered 13 kills to power the Vikings to a 25-19, 25-16, 25-21 sweep over the Copperheads in the first round of the Western B Divisionals in Eureka on Thursday. 
Anaconda will face Thompson Falls on Friday at noon in a loser-out match. 
The Copperheads were paced by Kelsie Oxnam with seven kills, 13 digs and three aces. Johanna Forsberg also provided 13 digs and Syd Peterson supplied 12 assists.
DEER LODGE 3, TROY 1
Kerstin Cooper dished out 15 kills and Kamryn Scully supplied 31 assists as the Wardens edged the Trojans to set the stage for a match against Eureka on Thursday at 6 p.m.
Both Cooper and Scully also registered two aces each. Ariels Clark delivered two blocks. 
SOUTHERN B
HUNTLEY PROJECT 3, JEFFERSON 1
The Red Devils topped the Panthers 25-11, 25-19, 25-27, 25-13 to advance to the semifinal match on Friday at 6 p.m. while sending Jefferson into a loser-out match against either Baker or Forsyth on Friday at 4 p.m.
"To even win a set against Huntley was a big deal," said Jefferson coach Mike Majors. "Huntley is the class of Class B. They taught us a lot."  
Emily McGinnis led the Panthers' attack with 13 kills, Aubrey McMaster provided 27 assists, Hayden Henchel made 22 digs, Simonie Mendenhall registered 11 blocks.