MISSOULA — They don't give those cute little steers catchy names like nasty bulls and bucking broncs.
But don't kid yourself: Those 600-pound buggers build reputations for stubborn behavior on the Pro Rodeo Cowboys Association circuit. Like the one steer wrestler Ty Erickson drew for the first day of the Montana Stampede rodeo Thursday — a critter that didn't seem a bit impressed by his No. 1 world ranking.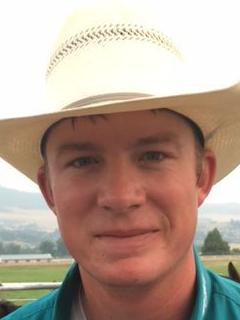 Erickson, a Helena native, still managed to post the fastest time of the night at 4.9 seconds. Which goes a long way toward explaining why he's on course for his second straight PRCA regular-season money title.
"These steers have track records and the steer I had tonight didn't have the greatest record," said Erickson, who has earned over $138,000 this year.
"You still have to run them. I tried to make the best run I could. So far it's working out. We'll see how everyone else does. See if I win anything."
This year's most important rodeo for the 6-foot-5 Erickson won't arrive until Dec. 7 in Las Vegas. Last year he entered the NFR with the No. 1 ranking and came away disappointed.
"I learned a lot from that," said Erickson, who finished second at the NFR in 2014. "I'm pretty excited for this year.
"I'm not going to approach it any different. You just try to get good starts, make good runs, then you can't worry about that average or what other guys are doing. When you do that, that's when you usually make mistakes." 
Regardless of how it turns out, Erickson has enjoyed this summer perhaps more than any other on the circuit. He's won more money than even last year and enjoys visiting familiar places like Missoula.
"I love to be able to represent Montana because this is home, this is where I love to be," he said.
In team roping, Polson's John Robertson and his teammate, Clayton Hass of Texas, posted the best time of the night at 4.7 seconds. Robertson, ranked 18th in the heeler world standings, is hoping to take away top honors in Missoula for the second straight year.
He'll have to wait to see what transpires in the Stampede the next two nights.
"I've always done pretty well here," he offered. "It's a good arena, good set-up for team roping. This time of year the steer are usually slowing down a little from being roped all year so it can be pretty good."
Among those teams Robertson and Hass beat Thursday were the defending world champion tandem of Levi Simpson and Jeremy Buhler. They failed to post a time along with almost everyone else.
Dillon's Ike Folsom and Idaho's Jade Stoddard sit in second place at 10.8.
"It was good tonight," Robertson said. "(Our steer) had a hickey on the horn to start with but it come off, so it made it legal and it worked out."
Bridger's Clint Griffis posted the score to beat in bareback riding at 74. Wyoming's Hawk Whitt had the top score in bull riding (81.5) and Wyoming's Andy Clarys set the top score in saddle bronc riding (80.5). 
Nevada's Dakota Eldridge had the fastest time in tie down roping (9.2). Bozeman's Lisa Anderson posted the time to beat in barrel racing (17.83).
The Stampede rodeo continues at 7 p.m. Friday and Saturday at the fair. Friday is "Tough Enough to Wear Pink" night.