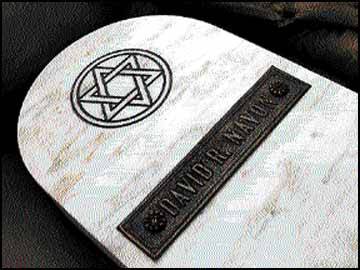 Mann Gulch monument for fallen firefighter now reflects his Jewish heritage
GATES OF THE MOUNTAINS - David Navon died in Mann Gulch almost 52 years ago. Finally, on Thursday, things were set right for the fallen smokejumper.
Navon was one of 13 firefighters killed by a wall of flame they tried to outrun on a hot August afternoon in 1949. The next year, smokejumper comrades placed white concrete crosses, designed and made in Missoula, at the spot where each man was found.
But Navon, from Modesto, Calif., was Jewish, and the cross was never right. An effort started by his friends and his sister culminated in the gulch Thursday when seven smokejumpers, a forester and an assistant helicopter foreman placed a marble monument engraved with a Star of David for Navon.
It brought the close of yet another Mann Gulch chapter for Dave Turner, a 29-year U.S. Forest Service veteran who's the recreation forester for the Helena Ranger District, a Mann Gulch fire history specialist and the coordinator of the monument project.
"David would have enjoyed this day," Turner said on a hike up to the north ridge between Mann Gulch and Rescue Gulch as the crew waited for the concrete to set up. "He loved the idea of working outdoors, working for the Forest Service. He would have been amazed and maybe embarrassed at the hubbub and attention over him 50 years later."
They were all glad to be there and do the work, said Wayne Williams, a Missoula smokejumper foreman who has worked extensively on Mann Gulch-related projects and has jumped 23 seasons and fought fires 27. The jumpers, six of whom jumped out of a DC-3 near the head of the gulch and one of whom was the designated driver from Missoula, were chosen by their places on the lists, just as they would have been if a fire had broken out.
"People would die to do this deal," Williams said. "As far as smokejumping, this place is a historic icon. To say you've jumped in Mann Gulch, it's great. And it's humbling, too."
"It was an honor to jump this," said jumper Shawn Borgen, in his second year jumping out of Missoula. "It's a historic site. It's kind of jumping in with the ghosts of your forefathers. The whole jump program is steeped in tradition. It's just an honor to be part of it and an honor to jump here."
The Mann Gulch fire was momentous from the day it happened. It was the first time in the 10-year history of the smokejumpers and the first time in 52,000 fires in the U.S. Forest Service's Region One that the agency lost an employee fighting a fire.
On that day, Aug. 5, 1949, it lost 13 men - 12 jumpers and a ground firefighter - to a fire that looked like a routine 60-acre blaze just off the Missouri River.
It was so routine that the men had an early bite to eat at 5 p.m. before they headed up-gulch to fight the fire. Just after 6 p.m., 11 were dead and two so badly burned that they would die the next day in a Helena hospital. The fire had blown up in the thick, 3-foot-tall grasses and scattered trees and the 100-degree heat, chasing the men up the side of the gulch.
Foreman Wag Dodge had lit a small patch of ground around him, one of the first-ever escape fires, and stepped into it, but the men - maybe because the idea was so new, maybe because of the noise - had misunderstood and run past him. Only two men, one a hyper-fit 17-year-old on his first jump, had outrun the 1,500- to 1,800-degree, 50-foot-high wall of flame, cresting the ridge at the top of the 76-percent grade a heartbreaking few seconds ahead of those who didn't make it.
Out of the fire came seven of the Ten Standard Orders that smokejumpers carry on cards inside their hardhats, one most directly: Always know what your fire is doing at all times; observe personally and use scouts.
The fire also marked the birth of modern fire science, pioneered by Harry Gisborne, who died that fall at the gulch puzzling over the fire's behavior.
Out of the fire also came a book by Norman Maclean, "Young Men and Fire," published in 1992, two years after Maclean died. Maclean, a Montanan who spent 45 years as an English professor at the University of Chicago before he wrote his famous novella "A River Runs Through It," devoted the last 14 years of his life to researching the fire. His research partner was Laird Robinson, a former smokejumper and career Forest Service employee who met Maclean by chance at the Aerial Fire Depot in 1976.
Maclean called the four front-running firefighters, who died heartbreakingly close to reaching the top of the ridge and safety, the Four Horsemen. Navon was one of them.
During their research, a now-retired Forest Service official promised Maclean that the crumbling white crosses, appropriate as remembrances for Christians, would be maintained. After Maclean's book came out and foot traffic began in earnest in the gulch, Williams took up the cause of new markers. Donations came from Maclean's estate and his grown children, as well as relatives of the dead firefighters, the Forest Service, the Smokejumper Welfare Fund and the Intermountain Fire Sciences Laboratory.
In May of 1997, each of the 13 fallen firefighters got a new granite marker, installed by a group of smokejumpers who spent two days doing the work. The crosses were left to molder away - except for Navon's, which they removed, at the request of Anita Navon, David's sister.
"After all the crosses were up, it came to us that it was a little incongruous for David to have a cross where he fell," she said in a phone interview Wednesday from her home in Berkeley, Calif. "At the time, it was a sort of military convention to use the cross and the Star of David."
But, she said, the family was so devastated that no one ever visited Mann Gulch or talked about her brother.
"When it all happened, just the mention of Montana put me off," she said. "It was just too awful a memory."
As well, she said, "His picture was there, and he was always on everybody's minds, but we never talked about him."
Navon, 28 when he was killed in Mann Gulch, served in World War II and survived some of its famous battles. He earned a forestry degree at the University of California at Berkeley. He loved books and art, said his sister, who was five years younger. The last time she saw him, they went together to the DeYoung Museum of Art in San Francisco in June, before he went to Montana for his second season of firefighting.
In August of 1999, Jack Rose came to Montana for the 50th anniversary of the Mann Gulch fire. Rose, a retired California attorney, worked as a smokejumper that summer with Navon. He liked Navon, he said in a phone interview Wednesday, and was touched by Navon's story as a war veteran who loved forestry.
"He survived all that, and not too many did, and then he perished at Mann Gulch," Rose said.
Rose and contemporaries George Harpole and Starr Jenkins, a close friend of Navon's, consulted after the Mann Gulch commemoration. Without the white cross, they decided, Navon's spot was too hard to see. Rose wrote a letter to Forest Service officials that started the project rolling. The Forest Service threw in money, along with Anita Navon, who supported it, Rose and members of the National Smokejumpers Association. They commissioned Ted Stetler of Western Montana Monument Services to make the monument. Its installation was derailed by the fire season last summer.
The result shines now next to Navon's granite marker. Brought into the gulch Thursday morning at the end of a cable off a helicopter after Turner wrapped it in foam and a cotton-batting sleeping bag, it measures 14 inches across, 4 inches thick and almost 3 feet tall. The piece of Georgia white marble weighs 210 pounds and bears, underneath the Star of David, the original plaque from the cross: David R. Navon.
On a day when the balsamroot was still just budding, the shooting stars still new and bright and the wind chilly and stiff, a new monument echoed the new season. Mann Gulch, with its eerie moonscape, flattened trees and blackened snags, always echoes the tragedies of the past.
"I don't know if David was a spiritual man at all," said Turner, looking north off the ridgetop to the Missouri River. "Seems like coming out of World War II, you'd have to be. But maybe the Star of David will be of some comfort."