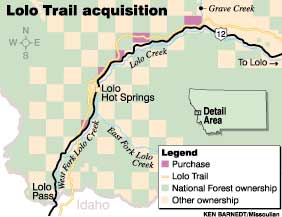 BUTTE (AP) - Seven more people have joined a class-action lawsuit accusing Anaconda police of making unnecessary and inappropriate strip searches, and an Anaconda woman has filed a new suit over their use of pepper spray.
One of the seven who added their names to the class-action suit, Dan Jovanovich, lost a civil lawsuit against the Anaconda police last week. Another of the five was one of the primary witnesses in his case, Nancy Newlin.
The lawsuit claims that the plaintiffs, including women, were searched in view of male inmates and that the searches were videotaped and passed around by department employees.
Sixteen people are now plaintiffs in the strip-search complaint, which was filed in federal court in January by Missoula lawyers Alan Blakley and Mark Jones.
Anaconda-Deer Lodge County officials have said the lawsuit contains blatant falsehoods.
The new lawsuit was filed last week by Blakley and Jones for Francesca Trisdale, who said she was soaked with pepper spray and refused decontamination by three police officers and a dispatcher who knew she suffered from asthma and a heart condition. Her suit asks for $1 million in compensation.
Trisdale pleaded guilty to four misdemeanor charges stemming from the arrest and was ordered to write a letter to police apologizing for resisting them.
A federal court jury ruled against Jovanovich last week in his suit against four Anaconda officers. He claimed one officer permanently damaged the rotator cuff of his right shoulder when he removed Jovanovich from an Anaconda bar two years ago. He said the officer slammed him into a brick wall while the others stood by passively.
In the strip-search case, Jovanovich charges that he was arrested on a bench warrant in March 2000 and taken to the Anaconda police station. In the short time it took his father to fill out release forms and pay his bond, he was subjected to a visual body-cavity search, he said.
Newlin alleges she was arrested in October 1998 after a search of her house, was taken to the police station and strip-searched.
Be the first to know
Get local news delivered to your inbox!