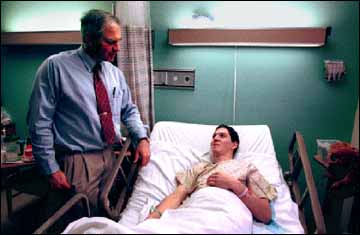 Teen paralyzed in skiing accident optimistic - and realistic - about his recoveryChad Upky's bright brown eyes reflect hope and optimism. But lying on his side at St. Patrick Hospital, the Hellgate High School senior also is realistic about the months of rehabilitation he faces after a skiing accident earlier this month left him paralyzed below the waist.
"I just want to get over to Community (Medical Center) and start doing rehab," Upky said Monday, forcing an occasional smile and adding that his spirits "are pretty good."
Although he doesn't remember his Feb. 12 night accident, friends have told him he was knocked out after hitting his forehead with a ski tip and fell to the ground on the face of Marshall Mountain.
"Just an accident that happened," said Upky, who has been skiing since about the fourth grade.
"I don't blame anybody. … I hit the jump wrong or something," he said, typifying the attitude Dr. Dean Ross said the 18-year-old has shown throughout the ordeal.
"This is a kid with remarkable willingness to engage with the rehab program," said Ross, after telling Upky and his mother, Terrie Kamrud, the teen will be moved to Community Medical Center on Tuesday.
Although the paralysis is termed "complete" below the injury, Ross isn't ready to tell Upky he'll never walk.
"The damage was severe," said Ross. "At this point it's not possible to tell him that he'll walk again, but we certainly don't tell him that he certainly never will either."
"Certainly his will and his otherwise excellent health and his youth are in his favor," he said.
Upky has shown maturity beyond his youth about focusing on short-term goals, "which is important at this stage in his rehabilitation," Ross said.
During the weekend, Chad made a couple of wheelchair trips into the sunshine outside and his mother says she believes in the presence of family and friends.
"I wasn't going to deny people to come and see. I think that's the best for him," she said.
Although some days are difficult, Kamrud stays is consistently upbeat and optimistic.
"I've got to be that way," she said. "If he sees I'm worried it'll bring him down and I don't want that ."
But that doesn't prevent the mother of two from trying to internalize the pain and suffering.
"Our children shouldn't be hurting. We want to take it from them," she said. "It's going to be hard and time's going to tell. Thank God he's here and he has everything he has. … (We'll) just concentrate on the things that you can do."
Although Upky is covered by his stepfather's health insurance, Kamrud is unsure how much it will cover and she'd especially like help building a ramp and getting their home in the West Riverside area ready for Upky's wheelchair.
Initially, there was talk about going to Craig Hospital in Englewood, Colo. (where Missoula police officer Bob Heinle is undergoing rehabilitation for paralysis caused by a gunshot wound last fall). But Upky wanted to remain in Missoula near family and friends.
So for the next three to six weeks, he will learn tools to cope physically and psychologically with his injury, and make plans to graduate with the class of 1999.
"Thinking positive," Chad said, "and focused on getting better."
n On Friday and Saturday, McDonald's restaurants in Missoula are donating the 39 cents from super-sizing any Value Meal toward Chad Upky's hospital and rehabilitation expenses.
KYSS Radio has played a role in increasing awareness and Orange Street Food Farm, where Chad is employed, is selling $1 raffle tickets for a television. Donation containers also are located around Missoula.
Accounts in Upky's name have been opened at First Interstate Bank, 101 E. Front St., and Two Rivers Bank in West Riverside and a fund-raising activity is tentatively scheduled for Orchard Homes Country Life Club on March 20.
Be the first to know
Get local news delivered to your inbox!