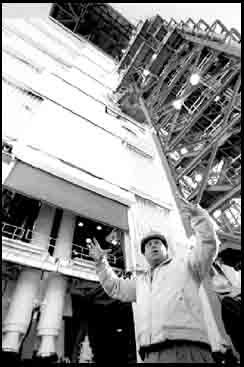 Henry Bugbee
MISSOULA - Well-known philosopher Henry Bugbee's life culminated on Saturday, Dec. 18, 1999. A longtime resident of Missoula, he was Emeritus Professor of Philosophy at the University of Montana and chair of the department from 1967 through 1972. His gifts to the public are most evident in his book "The Inward Morning: A Philosophical Exploration in Journal Form," which in a manner both inconspicuous and consequential has helped to redirect many of the great philosophical minds in this country and abroad. In addition to "The Inward Morning," Bugbee wrote such diversified essays as an article on Gabriel Marcel, as well as on the experience of the sublime, on education, wilderness, and the "Book of Job."
A major source of Henry Bugbee's inspiration was the great literature of the West and the East. A humanist par excellence, he lived with and out of those texts, and through his example he made humanists out of many who were neither so trained nor inclined. His profound effect on students and colleagues is attested by essays in celebration and his thought and life collected in the book "Wilderness and the Heart," edited by Professor Ed Mooney of Sonoma State University and by a lectureship endowed at the University of Montana in Bugbee's honor that annually brings outstanding philosophers to Missoula. One of the speakers, Harvard Professor Willard Van Orman Quine, called Bugbee "the ultimate exemplar of the examined life."
At the university, he served the Department of Philosophy and its students with great care and commitment. His most innovative and outstanding achievement was the Intensive Humanities Program, a yearlong course of studies he helped initiate. It was a program dedicated to reading the great literature in a way that honored its heritage. Professor Bugbee's devotion to the project reflected an unwavering faith in the power of the literature to positively affect his students for whose intellectual and reflective growth he cared deeply. This program, though no longer in existence, remains a monument of highest humanist aspiration and practice, as is true of Bugbee's life.
Henry Bugbee's testimonies at wilderness hearings were spectacular moments, in which his audience, accustomed to the idiom of economics and recreational resources, came to realize there is a kinship between the eloquence of nature and the eloquence of art. He spoke with a depth, resonance and grace at once unmistakable and unforgettable. And how he spoke was at one with how he carried himself. His speech and presence flowed together to make an abiding impression on those around him, whether the moment was jocular or serious. He has enriched and deepened our discourse about nature and the wilderness forever.
Bugbee's love of wilderness was consonant with his love of fly-fishing, a passion he pursued for many years on the streams, rivers, and lakes of the East as well as the West. He fished with the same eloquence he lived. No fly-line could be cast with greater grace; no one could acquire a more studied knowledge of the streams and lakes and the fish that finned there; no one could have a more reflective understanding and appreciation of the fullness of the moment when a fish breaks water. For all who fished with him, Bugbee was a mentor of the art of appreciating the Earth, its waters, and what they bear.
Many in the Missoula community will remember encountering him on his daily climbs up Mount Sentinel, Jumbo, or Waterworks Hill. Even in the depths of winter, he would be seen going up the icy slopes with his dog, Puppy, and later with Sioux.
Henry Bugbee was born Feb. 19, 1915, in New York City. He and his two sisters were the children of a surgeon who pioneered in the field of urology. He was educated at Hotchkiss School, attended Princeton University, where he was a varsity rower, graduating in 1936 with high honors in philosophy. His pursuit of a Ph.D. in philosophy at the University of California, Berkeley, was interrupted by World War II. He enlisted and served in the Navy as captain of a mine sweeper in the Pacific. Aspects of his wartime shipboard life are recounted in "The Inward Morning." After the war, he returned to Berkeley to complete his doctoral dissertation. His teaching career took him to the University of Nevada at Reno, Stanford, Harvard, Chatham College, Penn State and the University of Montana, where he taught, with some interludes, from 1957 through his official retirement in 1977. From 1963 to 1967 Bugbee was a visitation speaker at 55 colleges and universities, sponsored by The Arts Program of the Association of American Colleges and the Danforth Foundation.
He is survived by his wife, Sally Moore; his five children, Ann Berkley of Lake Oswego, Ore., Joan Jackson and her husband Mike of Cordova, Alaska, Bruce Bugbee and his wife Nancy of Missoula, Taj Bugbee and his wife Patty of Beaverton, Ore., and Barbara Heavy Runner of Missoula; two stepchildren, Jonathon Moore Sharaf of Plumsteadville, Pa., and Megan Moore and her husband Carlo Odevaine of Missoula; seven grandchildren, Linda Berkley of Portland, Ore., Michael Berkley of Yerba Linda, Calif., Brook Jackson of Cordova, Alaska, Morgan and Libby Bugbee of Missoula, Dylan Bugbee of Beaverton, Ore., Olivia and Daniel Nisbet of Great Falls, and Eugene Heavy Runner of Ronan.
A memorial service will be held at the President's Room in Brantly Hall, the University of Montana, Connell Avenue, at 2 p.m. Saturday, Jan. 8. All are welcome. Those who wish to share their memories of Henry are urged to do so. In lieu of flowers, donations may be sent to the Annual Bugbee Lecture, Department of Philosophy, University of Montana, Missoula, Mont. 59812.
Lucylle Hartz Evan
STEVENSVILLE - Lucylle Hartz Evans, 82, of Stevensville, passed away on Friday, Dec. 17, 1999, after a long struggle with cancer. She left this life on her way to heaven accompanied by the Blessed Mother and St. Joseph
She was born July 24, 1917, in Alton, Ill., the daughter of Michael and May (Hogan) Hartz. After her parents' deaths she went at age 5 to Stuttgart, Ark., to be raised by her grandparents, George and Susanna Hartz. After high school she went to business school in Little Rock. She met and married James Evans in Little Rock in 1943 while they were both working for the federal government. In 1946, they moved to Stevensville. Lucylle was preceded in death by her husband in 1967. She married Jerome Borkoski in 1982.
She started college at the University of Montana in 1968, majoring in history and anthropology. It was while she was completing a history paper that her first book was born as well as her lifelong dedication to the restoration and presentation of Historic St. Mary's Mission in Stevensville. She was the president of the mission board, a nonprofit organization established for the purpose of restoring and maintaining the historic complex.
Through her direction and efforts, St. Mary's Mission and the adjoining buildings and grounds, have been painstakingly restored to reflect the 1880s, the height of its beauty.
In 1976, she published "St. Mary's in the Rocky Mountains" chronicling the history of St. Mary's Mission. In 1981, she published "Good Samaritan of the Northwest," the biography of Father Anthony Ravalli. In 1983, she published "The History of St. Mary's Mission in Stained Glass," the text describing the windows in St. Mary's Church of Stevensville. In December 1999, she published "They Called Him Lolo," the biography of Father Lawrence Palladino, a Jesuit priest who served in western Montana. She was well-respected as an author and as a historian.
In 1976 she received membership in Phi Alpha Theta for recognition in the field of history. Also in 1976, she received a certificate of recognition from the Montana Bicentennial Commission. For her conspicuous attainments and scholarship in history, she was awarded membership in the International History Honorary Society. She was one of the organizers of "The Mission Event - Roots of the Montana's Pluralistic Tradition," held at the University of Montana in 1981.
She received a Doctor of Humane Letters from Carroll College in Helena in 1984 to honor her work as historian and author. In 1987 she spoke to the Montana Legislature to ensure that Stevensville was officially recognized as the oldest community in Montana. She was a life member of the Bitterroot Valley Historical Society and a charter member of the Stevensville Museum.
She was preceded in death by a half brother, George Hartz.
Survivors include her husband; her daughter and son-in-law, Susan and Loye Ashton of Williston, N.D.; her grandsons, George Esperum and his wife Angela of Glendale, Ariz., and Jason Esperum of Williston; and great-grandchildren, Miranda and Ericka Esperum of Glendale.
Survivors also include stepchildren Michael Borkoski and his wife Diane of Menomonie Falls, Wis., Jerome W. Borkoski and his wife Joyce of Ixonia, Wis., and Laura Jost and her husband Gregory of Neenah, Wis.; stepgrandchildren Michael Borkoski of Milwaukee, Denise Dudnik and her husband Mark of Franklin, Wis., Brett Koch and his wife, Susan of Appleton, Wis., and Shannon, Jeremy, Jennifer and Hannah Jost, all of Neenah; and four stepgreat-grandchildren from Appleton.
The funeral Mass will be co-celebrated by Father Stephen Tallman, Father John Wong and Father Java Hennessey. Visitation will be at Whitesitt Funeral Home in Stevensville on Monday from 1 to 6 p.m. Rosary will be at St. Mary's Catholic Church in Stevensville on Monday at 7:30 p.m. Funeral Mass will be celebrated at 10:30 a.m. Tuesday.
The family prefers that memorials go to Historic St. Mary's Mission.
Funeral arrangements are under the direction of the Whitesitt Funeral Home.
Homer Clyde Thomas
MISSOULA - Homer Clyde Thomas, 85, passed away Friday, Dec. 17, 1999, at Mountain Valley Hospice House.
He was born Jan. 17, 1914, in Bloomington, Idaho, the son of Burton Lewis and Mary Stevenson Thomas. He was raised on his father's ranch and attended Fielding High School in the Bear Lake Valley.
He met and married Kathryn Hansen on Nov. 25, 1935, in Randolph, Utah. In the following years after their marriage Homer worked in the trucking industry in Idaho and California and moved his family to Oakland, Calif., in 1941. During World War II he worked in the shipyards and later was employed doing carpentry work in the San Francisco Bay area.
In 1955 they moved to Deer Lodge where he was employed at the Anaconda smelter and at a cabinet company before becoming supervisor of the carpentry shop at the Montana State Prison. He retired in 1979.
In 1986, Homer and Kathryn bought their retirement home here in Missoula. Homer enjoyed gardening, landscaping and spending many hours in his carpentry shop building various items to customize their new home. He especially enjoyed building roll-top desks for each member of his family, leaving loving memories. He will be greatly missed.
Homer was preceded in death by son Paul Kay, his parents, three brothers and two sisters.
He is survived by his wife Kathryn (Kay); his son, Clark and wife Melva of Seattle; his daughter, Cara Lynne and her husband Bill Hart of Helena; his daughter, Michelle Rae Thomas of Missoula; and his brother, Karel Thomas of Bloomington, Idaho. He is also survived by 10 grandchildren and eight great-grandchildren.
Cremation was under the direction of the Malletta Family of Funeral Homes, Sunset Chapel, 7405 Mullan Road. A private family service will be held at a later date.
Marvin Leonard Kelly
MISSOULA - Marvin Leonard Kelly, 62, of Missoula, passed away on Thursday, Dec. 16, 1999.
He was born on Oct. 31, 1937, to Leonard and Helen Kelly. He was born and raised in Missoula.
Marvin worked in the shipyards in California and later moved back to Missoula and worked for Yellow Cab. He worked there for almost 20 years and retired early in 1998.
Marvin's greatest love was bowling. He was active in leagues and tournaments all over the state. He was an active Moose member.
Marvin is survived by his wife of 23 years, Peggy; their daughter, Nikki and granddaughter Kylyn of Missoula; his son, John and wife Connie and grandchildren Alysa, Garrett and Jordan of Missoula. Also surviving are his daughter Tammy and granddaughters Rachel and Patsy of South Dakota and daughter Cindy and grandchildren Kayla and Andrew of Frenchtown. Marvin is also survived by Peggy's children, Debbie Eickhorst and husband Randy and granddaughters Melisa and Venus of Bigfork, Barb Reeder and husband Steven and grandsons Michael and Matthew of California, Dave Solum and wife Rose of Clinton, Lori Solum of Idaho, Pam Pfau and husband Joe of Missoula, Erik Solum and wife Penny and grandsons Erik Jr. and Richard of Bigfork. Other survivors include his brothers Ed Laird and wife Margaret of Missoula, Fred Kelly and wife Carol of Arizona, Don Kelly and wife Pat of California; several nieces and nephews; his Auntie Zelda and Uncle Bruce of Missoula and their children Anita Michel and husband George of Missoula and Larry Fonner of Colorado.
Marvin was proceeded in death by his parents Leonard and Helen Kelly and his sister Patsy L. Kelly.
Visitation will be noon-8 p.m. Monday, Dec. 20, at the Malletta Family of Funeral Home's, Sunset Chapel, 7405 Mullan Road. Funeral services will be 11 a.m. Tuesday, Dec. 21, at the Sunset Chapel. Cremation will follow. A reception will be held at Westside Lanes immediately following the services.
In lieu of flowers, the family suggests memorials in Marvin's name to the Moose Lodge, 140 W. Pine St., Missoula, Mont. 59802.
Bill J. Soderstrom Sr.
KALISPELL - Bill J. Soderstrom Sr., 69, passed away on Thursday, Dec. 16, 1999, at his home in Kalispell.
He is survived by four children, Sheryl Soderstrom of Sanders, Ariz., Karen Jam and husband Joe of Columbia Falls, Bill Soderstrom Jr. of Kalispell, and LeAnn Meadows of Kalispell; three sisters, Nita Fishel of California, Carol Isakson of Kalispell and Jane Connelly of Colorado; two brothers, Bob Soderstrom of Arizona and Mike Soderstrom of Butte; three grandchildren, Jessica Meadows, TaiLee Jam and Micah Jam; and many nieces and nephews.
Memorial services will be 11 a.m. Tuesday, Dec. 21, in the Johnson Mortuary Chapel. A reception will follow at the VFW on Main Street in Kalispell.
Cremation and arrangements are under the direction of Johnson Mortuary and Crematory.
Patricia Piccinini Hurtt
MISSOULA - Patricia Piccinini Hurtt, 71, of Missoula, passed away on Friday, Dec. 17, 1999, of cancer at Mountain Valley Hospice House.
She was born on Dec. 16, 1928, in Eureka, Kan., to Frank and Mary Remington Fairman.
Pat was a cosmetology instructor at Mr. Rich's Beauty College and Modern Beauty School for many years. She was an inspiration to many. Pat enjoyed time spent with family and friends, reading, music, and her dogs, Dee Dee, Curtis and Sugar. She'll always be with us.
Her parents, husband Tony Piccinini, and son John Vaughn preceded her in death.
Survivors include three stepdaughters, Reen Fletcher of Denver, Leslie Blackburn of Evanston, Wyo., and Kenny Piccinini of Spokane; two stepsons, Tony Piccinini of Avery, Idaho, and Dave Hurtt Jr. of Salt Lake City; three grandsons, Warren Vaughn of Tucson, Ariz., and Jason and Jerry Vaughn of Houston; one sister; and many nephews, nieces and friends.
No services are planned at this time. There will be a celebration of life in her honor at a time to be announced.
The family suggests memorials to Mountain Valley Hospice House, 10450 Mullan Road, Missoula, Mont. 59808, or to the American Cancer Society, P.O. Box 3914, Missoula, Mont. 59806.
God saw she was getting tired,
So he put his arms around her,
And whispered, "Come with me. "
With tearful eyes we watched her suffer,
Although we loved her dearly,
We could not make her stay.
A golden heart stopped beating,
Hardworking hands to rest.
God broke our hearts to prove to us,
Arrangements are under the care of Garden City Funeral Home and Crematory.
Amanda M. Baker
LINCOLN - Amanda M. Baker, age 7, of Lincoln, died on Thursday, Dec. 16, 1999, in a pedestrian-vehicle accident.
Amanda was born March 9, 1992, in Missoula to Daniel W. and Ruth A. (Cranmer) Baker. She was a second-grade student at Lincoln Grade School, in Lincoln.
During Amanda's kindergarten year, she recieved the "Reflections Award" in art. Amanda very much enjoyed playing with her friends, being read to by her sisters and riding her bike. She was always happy and had a smile on her face.
Amanda is survived by her mother Ruth Baker of Lincoln; father Daniel Baker of Missoula; sisters Heather and Jessica Baker, both of Lincoln; grandparents Larry and Maureen Baker of Winner, S.D., and James and Violet Cranmer of Kalispell; great-grandmother Edna Baker of Sturgis, S.D.; her hamster, Lucy; and her cat, Snuggles.
"Everyone who knew her, Loved her."
Visitation will be noon-8 p.m. Monday, Dec. 20, at Retz Funeral Home in Helena and noon-8 p.m. Tuesday, Dec. 21, at the Blackfoot Valley Bible Church in Lincoln. A funeral service will be 11 a.m. Wednesday, Dec. 22, at the Blackfoot Valley Bible Church. Interment at the Old Lincoln Cemetery will follow.
Memorials can be made to the Lewis and Clark Humane Society, P.O. Box 4455, Helena, Mont. 59604.
Retz Funeral Home is in charge of arrangements.