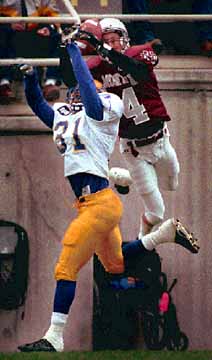 Ah Yat's return makes Souers' one to forget as Griz flatten JacksHe's back, bad back and all. Brian Ah Yat, supposedly out, trotted on Saturday to quarterback the Montana Grizzlies in their win-or-else Big Sky football game against Northern Arizona.
Fifty passes and more than 3Þ hours later, the slingin' senior from Honolulu had led the Grizzlies to a 33-20 victory that ruined an emotional return to Washington-Grizzly Stadium for NAU coach Jerome Souers.
Ah Yat threw his first touchdown pass in a month 6Þ minutes into the game, then added two more. He went on to complete 33 passes in 50 attempts, both season highs, for 357 yards.
When Lumberjack safety Raymond Perryman hit Ah Yat out of bounds on the NAU sideline in the fourth quarter, he got a faceful of wounded but still intact quarterback. Souers took Perryman out of the game as a 15-yard penalty was marked off.
Ah Yat's performance capped what one UM trainer called "an amazing recovery" from an injury sustained 14 days before against Portland State. Grizzly coach Mick Dennehy identified the injury Saturday as "broken transverse processes."
A transverse process is an extension of a vertebra. Broken ones are painful but not dangerous, said Dennehy, who told the Missoulian on Thursday before a closed practice that Ah Yat wouldn't be ready to play.
A doctor who examined Ah Yat that same day "was as surprised as anyone" about his progress, Dennehy said after the game.
"He kind of left it in Brian's hands. Brian took his first snaps at practice on Thursday and felt very good," Dennehy said.
Still it was a game-day decision to start the senior, who was Division I-AA's All-America quarterback as a sophomore but has missed games in each of the past two seasons because of injuries.
Ah Yat wasn't available for comment after the game.
"We don't try to run a clandestine operation around here," Dennehy said. "Based on our knowledge of Brian's injury and what the medical people were going to allow him to do, basically he was out this week (until Thursday)."
Souers, who received gentle treatment by fans who had cheered his defenses when he was a Grizzly assistant from 1986-97, expected Ah Yat to play all along, despite Dennehy's statements during the week.
"That's a tactic in the art of war," Souers said. "It's, like, page 48. It's what you call feigning weakness to conceal strength. We prepared for him all week long. Had the rest of you buffaloed though, didn't he?"
How had the Lumberjacks known Ah Yat would play?
"I can't answer that," Souers said.
Because its defense had proved it could keep NAU quarterback Travis Brown under wraps, Montana had a fairly comfortable 24-13 lead entering the fourth quarter. Thus, the Grizzlies avoided the kind of frantic finish that colored their early schedule. They are 2-3 in such endings.
The Lumberjacks, down by 11, went for it on fourth-and-4 with 11:30 left from the Grizzly 33. UM defensive tackle Tyler Martin pressured Brown into a pass much too high for tight end Stevan Fontana.
Montana then marched 67 yards for the touchdown that put the game away. Interference penalties against the Jacks on the first two plays boosted the drive, and Jeremy Watkins made his second specatcular catch for a 29-yard gain to the NAU 14.
Olsen froze safety David Moran - Northern Arizona's starting quarterback a week ago - and broke across the middle from the left side to accept an 8-yard touchdown pass from Ah Yat. Even though Kris Heppner's string of 55 straight extra-point kicks ended on the next play, UM was up 30-13 and on cruise control with 9:05 left.
Ah Yat stayed in for one more series, the one on which Perryman leveled him, before he was replaced by Sean Davis with two minutes left. He went largely untouched throughout the game, a tribute to the protection of tackles Scott Curry, Chase Raynock and Kamakana Kaimuloa; guards Randy Allik, Matt Theusen and Leif Thorsen; and center Paul Mocko.
The Lumberjacks went into the game averaging a league-high five sacks per game. They got Ah Yat just once, when linebacker Jake Crissup ran him down on a scramble for
a 1-yard loss to start the fourth quarter.
Montana also got some big plays from its special teams, none vaster than the one on the second-half kickoff. Di-Onte Smith hit NAU's Justin Yuille before he got rolling, and Paul Jenkins and Calvin Coleman stripped the ball away.
"Di-Onte … stood him up, and I just saw the ball sitting there," Coleman said. "I went for the opportunity and I took it. I tried to strip it and luckily, I was in the end zone."
Coleman emerged from the bottom of the body heap with the ball and the touchdown. That put the Grizzlies up 24-7.
Brown finished with big passing numbers: 33 of 58 for 381 yards and two touchdowns. Northern Arizona outgained UM 438 yards to 395. But two lost fumbles, 10 penalties and a healthy Ah Yat ultimately did the Lumberjacks in.