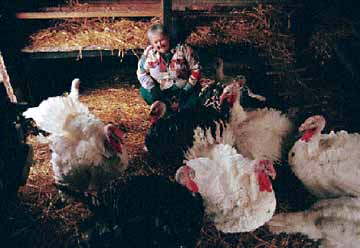 Judy Donaldson's turkeys are homegrown from the heartST. IGNATIUS - When the breeze starts to bite and autumn turns the corner into winter, Judy Donaldson buttons her patchwork overshirt taut against the cold of her morning chores.
This is, she confesses, her favorite time of year.
The asters offer a farewell bloom. An acre of crisscrossed corn stalks gives testimony to summer's bounty. The apples that no one could reach wrinkle on a dozen branches.
In the barn, a mama bunny warms a half dozen babies in a nest of straw and fur. In the chicken coop, 17 ever-so-plump turkeys peck the last of yesterday's grain from the feeding trough.
Donaldson kicks the leaves coloring her lawn and nods to the snow squall on the Mission Mountains to her east. Just look at that, she says. The sun finds a break, narrow but navigable, in the clouds and lights the foothills to her west. If we had the field glasses, she says, we could probably see buffalo.
This time of day, Donaldson says, her life seems like a dream: the move to Montana, the long search for work, the good fortune of finding the little farmhouse for rent, the generosity of her landlord and of his land.
"It's like a miracle," she whispers.
The first time Judy Donaldson raised turkeys was back home in northeast Indiana, three hens and a tom, a gift from her sister when they were a day old.
They'd sit with her on the front porch swing at daybreak, pecking cereal out of her breakfast bowl.
"They thought I was their mother," Donaldson says.
This time, she set out for the Cenex in Ronan intent on buying baby chickens to raise and sell as fryers. She came home with 20 turkey chicks that her husband bargained for.
"I told Otis, 'I want two little hens and a rooster,' " Donaldson said. "But you can't sex turkeys when they are babies, so he bought them all. I wish he'd do me that way with money."
She couldn't let these turkeys run free, like she did back home. The owls would get them, or the hawks or coyotes. Either that or they'd run out on Highway 93.
Still, Donaldson babies her birds - which are gobbledy plump after seven months of eating lettuce and zucchini from the garden. Corn, too, cobs and all. And squash.
They start calling an hour before she fills two plastic pails with tap water and a coffee can with corn, and leaves the warmth of her kitchen. "Can you hear them?" she asks. "They're looking for mama."
By the time she peeks through a knothole in the chicken house, the birds are in full gobble.
There's no profit in raising turkeys, Donaldson says. "I'm losing my shirt." But she loves it just the same. "I just love animals. It doesn't matter to me what they are."
Judy and Otis Donaldson are, she figures, a perfect match. Her people were farmers in Indiana, and she grew up butchering pigs - "on New Year's Day at Uncle Noble's" - and tending chickens - "I'd fall headfirst into the 55-gallon barrel of feed."
Otis is a Texan and a rancher, quick with a smile, accustomed to hard work.
They share a love of animals, all sorts, she says. She can't count the number of dogs and cats they've "rescued" over the years.
They've spent their 21 years together moving around the country, working on ranches and following construction. When they married, Judy had six children. Otis helped her raise them, and did a wonderful job of it. But the kids are grown and gone now, and Judy and Otis are ready to stay in one place.
"Last year, Otis said, 'Honey, I am so tired. Where are we going to go?' And I said, to Montana."
They were living in Wyoming on land so alkaline you couldn't drink the water or grow a garden. But they had friends in St. Ignatius and Otis had a job offer.
By the time they arrived, though, the job belonged to someone else. Their friends offered the Donaldsons a room, and Otis started commuting to and from the Job Service office in Polson. One day, he invited Judy along for the drive.
About a mile north of St. Ignatius, she saw the little white farmhouse with the green roof. "I said, 'Oh Otis, there's my place. It's got the chicken house and the barn. It's my dream.' "
they could tell, empty. So Otis started asking around. One call led to another and another, then to a real-estate agent who knew the owner - a retired doctor in Nevada. Yes, he said, he'd call and ask if they could rent it.
Two weeks later, the doctor called the Donaldsons. They provided the asked-for references, "and he let us move in," Judy said. "Otis didn't even have a job."
They moved in at the end of March, before the buds began to show on the linden tree that shades the porch. Each week that followed brought a new and wonderful surprise: snowdrops blooming alongside the driveway, neighbors Judy felt like she'd known forever, old-fashioned irises and lilacs, a humongous corn patch, a wonderfully old bed of asparagus, a house that immediately reminded Judy of her grandma's.
At the end of April, she and Otis went to Ronan to buy baby chickens, and came home with turkeys.
With a stomp, a wiggle and a whistle, Judy Donaldson can coax her toms to strut.
"Gobble, gobble, gobble," she mimics, her arms reaching for the birds. She shakes her imaginary tail feathers and flaps her wings. Her brood answers back.
"Look at you, tom. You're beautiful," she coos to the biggest of the mottled brown males. He's in full strut now, feathers fanned, wings and chest fluffed.
"Gobble, gobble, gobble. Oooh, look at you. You're the cock of the roost."
"Come here baby," she says to a hen with gnarly knuckles on its feet. "You're my little pampered one, aren't you? I'm not going to eat you."
"Hey," she scolds a big white-feathered hen. "No fingernail pecking."
One of the toms pecks her patchwork shirt, and gets a pat on the head. "Sorry. You already ate all the buttons."
Donaldson squats now and is surrounded by her brood. The chicken house grows silent as she sweet-talks the birds, rubbing their knobby topped heads.
"I sat outside with these guys all summer, watching the buffalo up on the Bison Range and talking to the pheasants that poked their heads out of the grass. One day, a bunch of wild turkeys came up to investigate these guys, but they ran off when they saw me."
"You've got to love an animal or it's not going to respond," she instructs. "But you can't name them. Once you give them names, they become pets and you can't eat them."
And these turkeys are, indeed, intended for butchering. Donaldson flattened a cardboard box into a sign a few weeks back and stapled it to the back of the plywood sign her husband set out on Highway 93 last summer.
Otis Donaldson's sign announced: "I'm Looking for Work." It brought him odd jobs all summer. In September, he found work driving a dump truck at a construction site in Missoula.
Judy Donaldson's sign announces: "Order Now 'Fresh' Turkeys." It has brought four orders so far. She's hoping for another nine. That way, she could butcher one turkey for herself and keep a tom and a pair of hens to produce next year's babies. ("About spring, they breed and lay a bunch of big eggs - ouch eggs," she says.)
Of the 20 baby turkeys she brought home from the Cenex, 17 thrived and grew. The other three died the first day.
She lifts one of the toms circling her in the chicken house, and figures he's nearly 20 pounds. She'll sell him for $1.29 a pound, cleaned and dressed.
"All summer, they ate out of the garden," she says. "They loved the greens. I even gave them the weeds and the green bean plants once the beans were done. And I had tons and tons of zucchini. I let them grow and they'd be nine pounds."
The little tiny ears of corn that didn't grow also found their way into the turkey feed. "I shucked them and broke 'em in half," she said. "They'd swallow the cobs whole. I couldn't believe it."
Every meal comes with a helping of grit, crushed rock that helps the turkeys grind up and digest their food. Now that the garden's hunkered down for the winter, meals are mostly grain and corn, with an occasional helping of potato peelings and egg shells.
These turkeys, Donaldson says, haven't had any medicine, and she doesn't use chemicals on her garden. They've been raised n
atural. They'll be good eating.
Judy and Otis Donaldson are, she concedes, "way behind" in their rent, but they pay some every month and some day they'll catch up. Their landlord likes that they take such care with the place, and has promised not to put them out in cold weather.
"I would love to have these 80 acres for my own," Judy said. "The barns all have good, solid, cement floors. Otis and I could rescue so many animals. I'd love to have some pigs and goats, and he'd love having cows again."
Next spring, Otis and a neighbor are going to bring in some sawdust and soil to rejuvenate the garden. Judy's saving flower seeds to scatter in the marsh that buffers their front yard from the highway. She's also saving some cleanup in the flower and vegetable beds for spring, knowing the urge that will come over her with the first warm breath of spring.
A local couple lived here nearly 60 years before they sold out and moved to a new house in town. Judy and Otis met them over the summer, and thanked them for the bounty they left behind.
"All the magnificent flowers were their doing," she said. "I just got to enjoy it: the columbines and lupines and lilies - you should have seen the lilies - and the lilac bushes and the marigolds. And we had apples and plums and more vegetables than I've ever had before.
"I canned 401 quarts of fruits and vegetables and jams. I didn't even put up that much when the kids were all at home."
The kids aren't coming for Thanksgiving or Christmas this year. It's too far, and too cold for them. Otis was worried, she said, that she wouldn't put up the tree for just the two of them.
So Judy surprised him a week or so ago, lifting it into the corner of the living room while he was at work, looping the blue tinsel from branch to branch, plugging in the lights when she saw his turn signal on the highway that night.
"You should have seen his face when he came in the door."
It sure felt like home, she said. It still does.
"I'd like to stay right here forever," she said. "Until our time is up."
Be the first to know
Get local news delivered to your inbox!