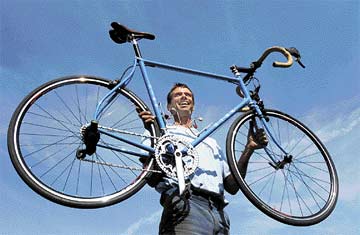 BOZEMAN - Dave Kirk's garage workshop is what used to be called a "cottage industry," emphasis on the "cottage." From the high-end workman's table, the casual observer might guess that Kirk is a hobbyist craftsman. But it would take an aficionado's knowledge to recognize the obscure posters for bicycle and automobile manufacturers.
"Be prepared to be underwhelmed," he warns potential visitors. "I'm just a guy with a big metal table. People come in here and say, 'Where are the lasers?' Well, here's the hacksaw."
Don't be fooled. He may do everything by hand, but Kirk has sold more of his custom-made bicycle frames and forks in England than he has in Bozeman.
"A quirk of fate," said Kirk, who has never promoted himself locally. Or perhaps this is small-town business in the globalized age of Internet marketing.
"Apparently I have a hot bed in St. Louis, Missouri," Kirk said of his advertising, a combination of stylish Web site and word-of-mouth in the community of bike enthusiasts and collectors.
Whatever the case, the former professional bicyclist has parlayed a market niche into a world-class reputation out of his Bozeman home.
He has lived there since 1999 when he moved from upstate New York, where he was prinicipal designer for Serotta Competitive Bicycles.
"He's one of the finest custom frame builders in existence," Carl Strong, who owns Bozeman's Strong Frames, said.
Kirk's house is like any other in his subdivision. Its Kirk Frameworks shingle is almost hidden on the side of house. The marvelous garden, courtesy of Kirk's wife, Karin, is more conspicuous.
Like his unassuming environment, Kirk's aesthetic tastes trend toward function. The lugs and fillets that brace the joints of his frames are the most ostentatious elements of his craftsmanship.
"He has this unique ability to find solutions to problems that are simple and practical," Strong said.
But the aesthetics are truly important.
The elements are attached in a process called brazing with molten silver, applied painstakingly through capillary action with an acetylene torch.
"You very precisely miter the tubes so that they fit together," Norm Carr, a Kirk Frameworks customer from Kirkland, Wash., said. "When you do that, the joints are seamless and it makes for elegant frame building."
This process effects a retro look that Kirk sends to San Diego for a personalized high-gloss paint job.
"He's more traditional than I am," Strong said. "It's a lot of current technology applied with the spirit of the past."
Kirk sends photos along every step in the construction, so that his customers feel like they are part of the process, the inspirations for which are wide-ranging.
"I have people referencing architecture," Kirk said. "They'll tell me, 'I really like flying buttresses,' or 'I really like Baroque furniture,' and I say, 'OK, I can see that.' "
His customer demographic is usually a well-off, middle-aged bicycling enthusiast.
Some of his customers own 30 bikes.
"These people are sophisticated," Strong said. "You have to be really involved in the sport before you want a custom-made bicycle."
They often know exactly what they want.
"He's very amenable to that," Carr, who used to manufacture bikes, said. "He's very good listener. He took a lot of effort to make sure he understood what I wanted. He was willing to tell me that my ideas weren't the best. He was very easy to work with. Cyclists can be very picky, as can anyone wanting custom-made sports gear."
Kirk takes body measurements like a tailor, to create the perfect fit for any body, ranging from Kirk's lanky build with "the aerodynamics of a barn door" to the ideal bicycle shape the 5-foot, 9-inch powerhouse body of Tour de France riders.
But Kirk does not build for the high-performance, 10,000-miles-a-year riders.
According to his customers, Kirk and other artisan craftsman frame-builders provide a service for those who are ignored by factory mass-produced bicycle companies. Namely, the bicyclist who is neither a mountain biker nor a road racer.
His frames are built for comfort, and for style points among those in the know.
"I got back into cycling and I decided to spoil myself," Carr said. "I think its worth it."
Then there's the other occupant of the workshop: a 1999 Birkin SB, a sleek, open-topped sports car.
This is how Kirk spends the last six years of summer weekends, entering races with the Southwest Montana Sports Car Club of America.
Some bicyclists are taken aback by Kirk's other pastime - cars are for lazy people, they say.
The few customers that visit his garage confirm that bicycle gearheads are gearheads, nonetheless.
" 'What is that thing?' they say," Kirk said.
Kirk restored classic cars when he was younger.
"There's a certain continuity to it," he said. "It's very much like a bicycle: minimal."