HELENA – The Montana Department of Commerce's Office of Tourism and Business Development is tapping new market research as it targets "free spirited" tourists in search of a #MontanaMoment.
The Governor's Conference on Tourism and Recreation began its second day in Helena on Tuesday with research presentations and information on how the state plans to capitalize on new data on tourism, which is a $3.5 billion industry in Montana. Commerce hired San Francisco-based Destination Analysts Inc. to conduct the first study in a decade on how Montana as a destination brand is perceived, and who is most likely to book a trip.
Brands reference physical things but are more about the human emotions they elicit, Erin Francis-Cummings with Destination Analysts told a full crowd.
"Unfortunately, there is not an industry as competitive as destination marketing," she said.
With an open mindset particularly among millennials about tourism, Montana must compete against the entire world for visitors, she continued, adding, "The good news is there's high demand for outdoor destination brands."
Francis-Cummings detailed research that included surveys of more than 6,200 travelers, asking questions about familiarity with Montana, perceptions and how it ranks among other states.
Montana faces some challenges when it comes to general tourism trends, she said. There is growing resistance among travelers for trips that require significant time, which is a common perception about Montana, and there is a strong belief that the state is difficult to access.
Data showed that thinking about Montana as a destination in the West ranked toward the bottom, compared to top responses of the Grand Canyon and Yellowstone National Park. The park response is good for Montana, but is still largely seen as independent of Montana by travelers.
When ranked against other western states, Montana is in the middle for familiarity behind California, Washington, Oregon and Arizona.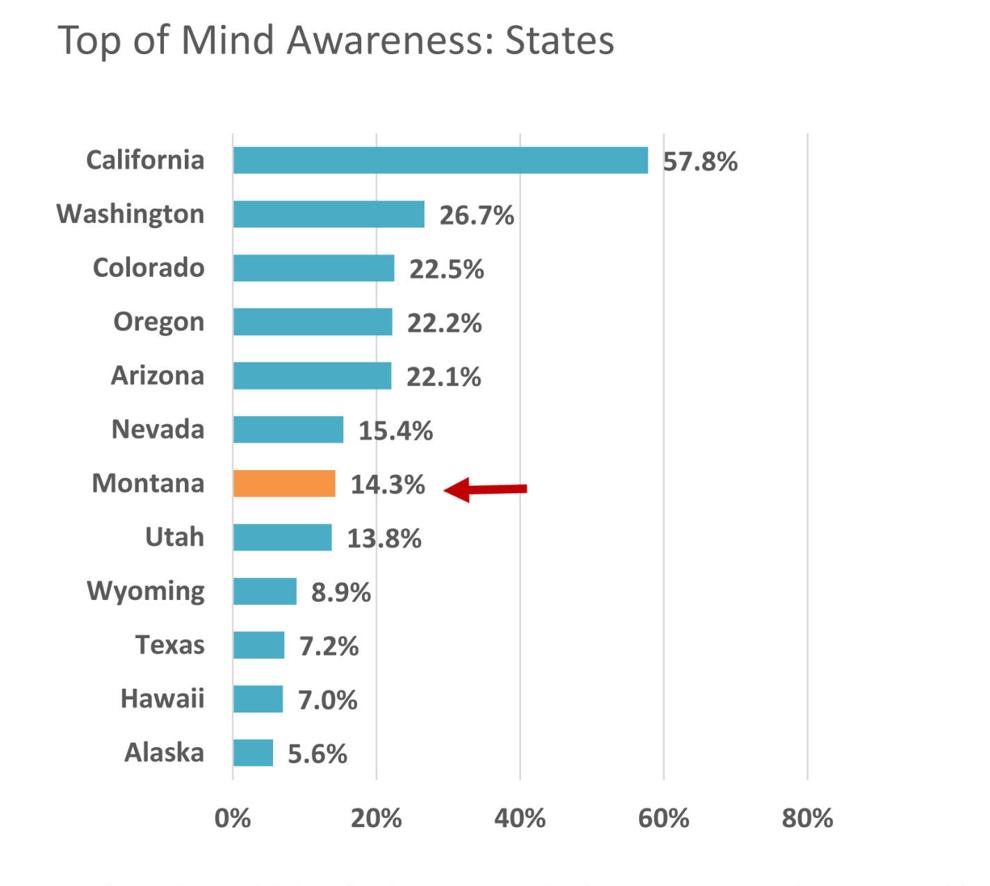 While the data suggest challenges with marketing the state, Francis-Cummings said Montana is in a position of opportunity as visitors count hiking and scenic beauty among the most important vacation factors. Montana comes in below average for awareness about enticements such as historical sites, iconic attractions and dining, with questions about affordability.
That puts Colorado as Montana's greatest competitor for that market, she said, as Montana typically ranked second among western states behind Colorado for outdoor recreation and scenery. The biggest gap between the states is in winter recreation.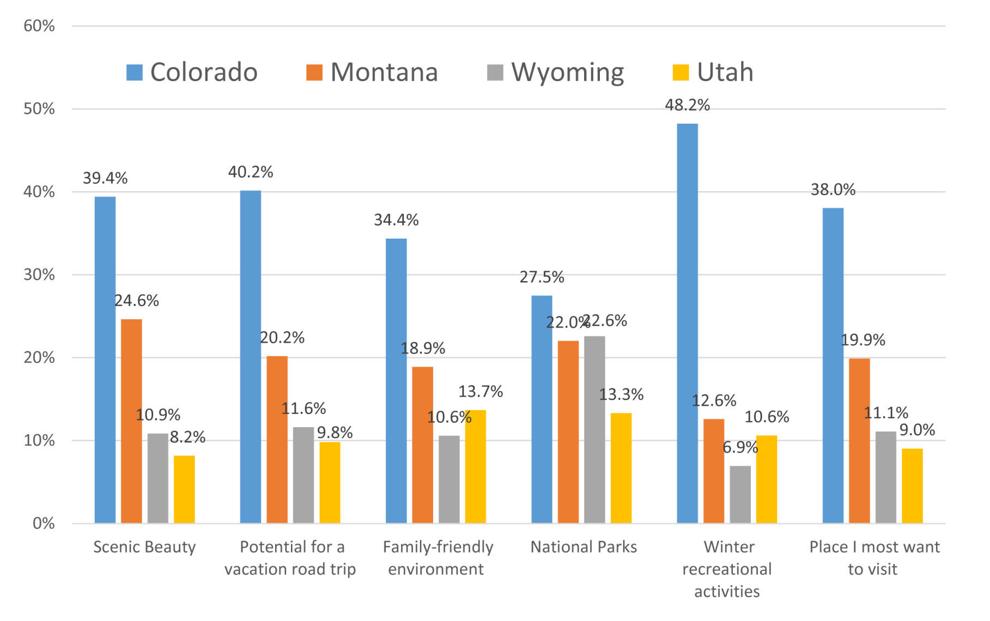 Colorado excels with people able to name specific destinations. Francis-Cummings emphasized that the biggest factor favoring Montana in competing for tourist dollars is the perception that Colorado has become increasingly crowded. But Montana must focus on awareness of specific places and dispelling some of the perceived mystery among national and international travelers.
"What we're looking for are people who will provide a high degree of economic impact and are excited about Montana," she said.
Research showed that travelers fitting that description are typically married with children, have earned a college degree, have household incomes of about $80,000 per year, are men approximately 36 years old and are prolific travelers. History buffs, once they become aware of historic opportunities, are also excited about visiting Montana.
Emily Dold with Wisconsin-based advertising firm Hoffman York discussed how the research will shape advertising in the coming year to focus on target audiences, geography and positioning Montana for high potential visitors.
Marketing varies depending on the audience, she said. Raising awareness of Montana's amenities nationwide is different than encouraging residents of neighboring states to cross the border.
Using social media, search engines and other online tools will target potential tourists with the right message at the right time, she said.
The focus of the national media targets markets with more potential visitors and helps make the campaign both effective and efficient, she added.
"We have to be mindful that our competitors are spending big in national media," Dold said, with California spending on TV and Colorado on print.
Raising local awareness among neighboring states where residents are typically more familiar with Montana allows a broader approach, Dold said. Advertising that focuses more on road trips and coming with frequency for events is a key focus of that portion of marketing.
Raylee Honeycutt with the Tourism office told the crowd that with the research and strategy, the state will roll out its seasonal marketing campaign this week.
Consumers are inundated with 1,500 messages per day and understand advertising. Finding creative ways to market will help capture those tourists' attention for the few seconds that could bring them to Montana.
Montana as a destination brand offers powerful encounters with nature, the unexpected, authenticity and modern comforts that tap into a "free spirited state of mind," Honeycutt said.
This year's campaign uses vivid imagery, and as most potential visitors are well aware that Montana has beautiful mountains, a more human approach.
A couple of years ago the agency launched the social media hashtag #MontanaMoment. Based on its popularity among both locals and tourists, Tourism is ramping up publicity with the slogan "Discover your #MontanaMoment," and encouraging everyone to share their experiences.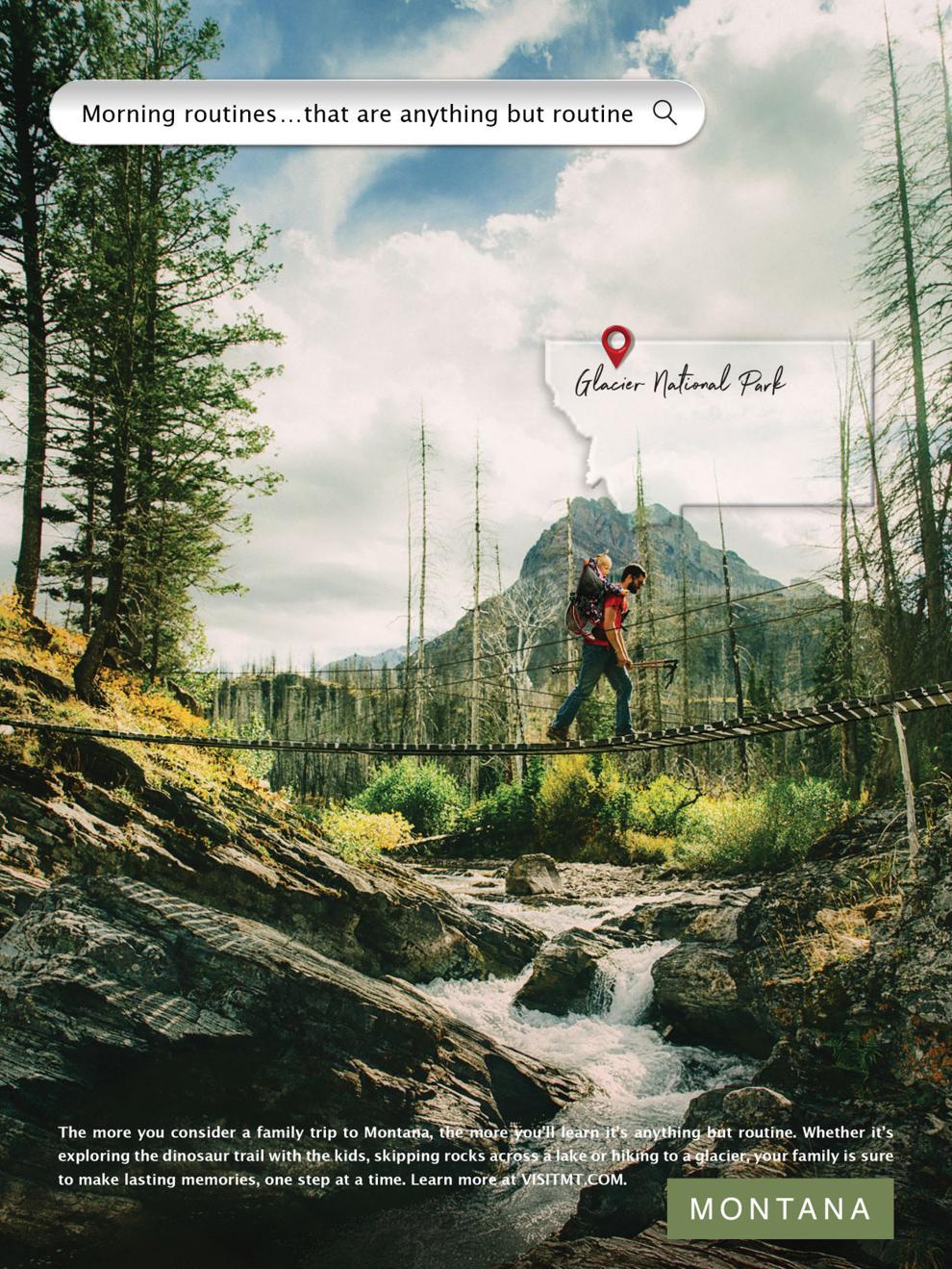 Ads include an embossed state map showing the exact location of the photo and emphasizing the specific destination. A search bar offers potential questions while a descriptive paragraph walks the line between highlighting the mystery and excitement associated with Montana while dispelling some of the concerns about accessibility.
Short videos featuring "brand ambassadors" will also anchor Tourism's website visitmt.com in telling stories about the state and opportunities for visitors.
Reporter Tom Kuglin can be reached at 447-4076 @IR_TomKuglin