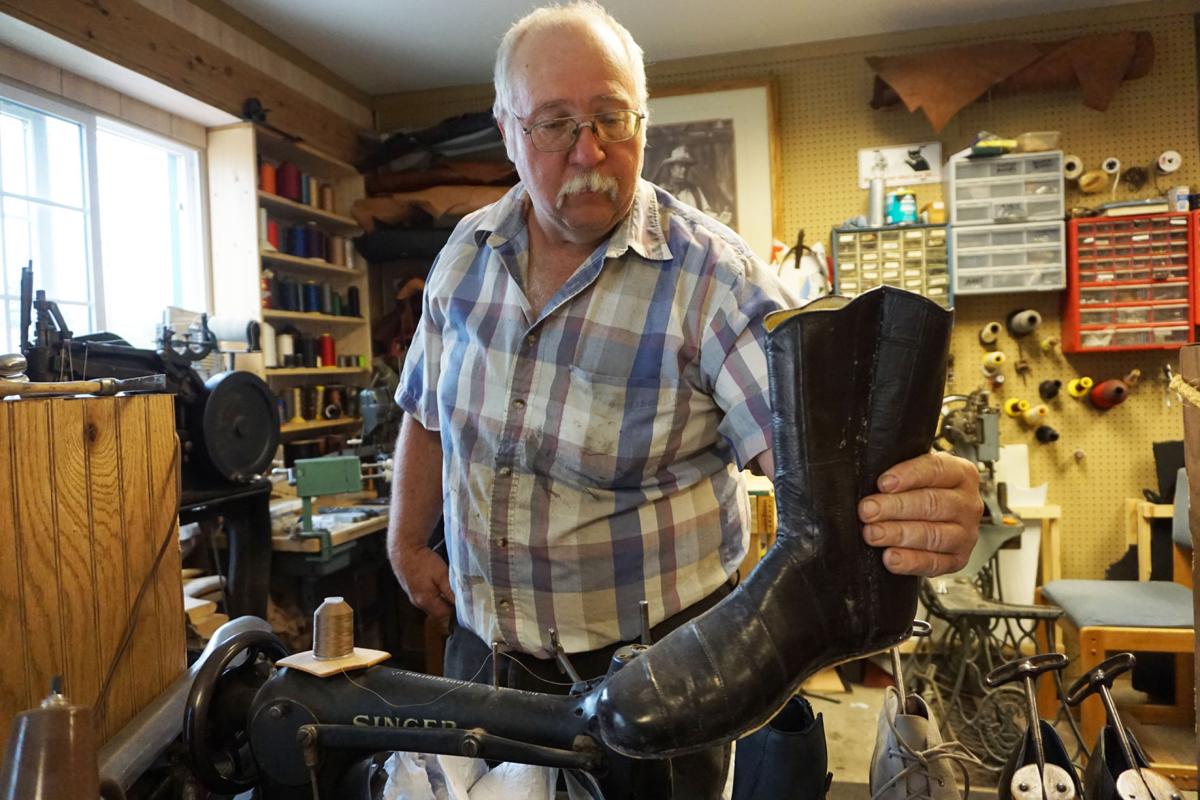 ANACONDA – In a world of glued-on soles and cheap vinyl flats, Joe Lynch practices what many would consider a dying craft – cobbling.
Last September the Anaconda resident opened Lynch's Boot and Shoe Repair on East Third Street in the Smelter City.
However, Lynch says this isn't his first time at the rodeo when it comes to repairing shoes.
For 31 years he owned and operated Glenn's Shoe repair in Kalispell with his wife Niki Lynch, until he moved to Anaconda because, he said, he wanted a change of pace.
"It was getting to be overwhelming," said Lynch. "Kalispell was just getting a little too big and too hectic."
Arguably for as long as shoes have existed people have been repairing them, and the first recorded mention of the word "cobbler" by the Oxford English Dictionary goes back to the 1300s.
However, today there are fewer and fewer shoe-repair specialists.
When Lynch started in Kalispell, he said, there were eight cobblers in the Flathead Valley, but by the time he left his and another shop were the only two left in the region.
Lynch said one reason for the declining numbers is that people have become accustomed to throwing away inexpensive shoes.
But even inexpensive shoes can be repaired, Lynch said, and often at a lesser cost than buying a pair of new ones.
However, Lynch doesn't just repair shoes and boots – he also makes them.
In Kalispell he made custom boots for clients, but today he just makes them for friends and family members.
Lynch said he learned how to make boots after attending a trade school in Oklahoma in the 1980s.
"The part I did was shoe, boot and saddle," said Lynch. "I went down there to learn how to make saddles and I started watching them making cowboy boots. I got into that and never did learn how to make a saddle."
Before going to the trade school, Lynch said he studied two years to become an accountant, but ultimately decided a life of crunching numbers wasn't for him.
"I met a guy that had been to the school in Oklahoma," Lynch said. "I had done some leather work just as a hobby and I just signed up, and I took off and went."
Lynch said he enjoys working with leather and repairing worn-out shoes because of the creativity involved and the satisfaction the goes along with bringing something back to life.
"What I like about boot making is creating the different patterns and building something from scratch," said Lynch. "The repairs are the same. You take something that's worn out and bring it back."
Lynch said he works with just about every kind of boot or shoe, with some exceptions.
"Most everything can be repaired, but some things aren't feasible," said Lynch, adding that he also works with bags, purses, belts and other leather items.
Tools of the trade include both electrical and mechanical sewing machines, Lynch said. But since his move to Anaconda, he said he's decided to go strictly vintage.
He pointed out a circa-1960s sewing machine to the Montana Standard, along with a harness machine from the late 1800s that can sew through leather as thick as an inch.
"My shop in Kalispell is still full of the newer stuff. But I like working with the old ones, so I brought old," said Lynch. "Those you can keep rebuilding."
Like Lynch's vintage machines, you can also keep rebuilding a pair of shoes.
Lynch said he has some clients who repeatedly bring in the same pair. The reason, he said, is often because repair is more cost effective than buying new, but more often than not it's because some people get attached to their shoes.
"I've had people that bring in shoes that probably cost them $10 and have me put in $45-worth of work into them," said Lynch. "A lot of times (it's) because it's just a favorite shoe."