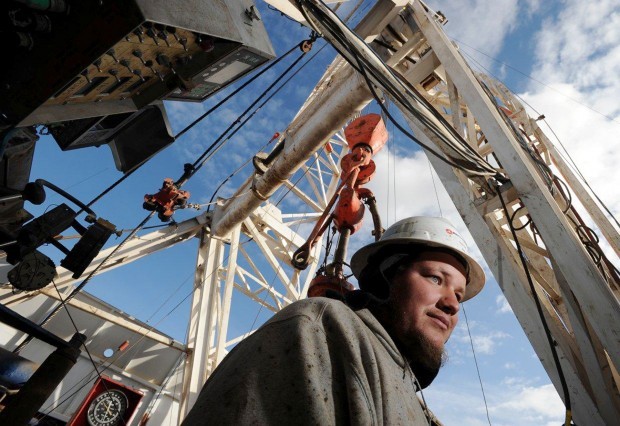 BILLINGS - Some 50 Billings businesses are busy answering the calls from 350 oil companies hungry for workers, trucks, pipe and more, so they can keep pumping crude out of eastern Montana and western North Dakota.
The stakes are high: An estimated $1.5 billion is being spent each month drilling in the Bakken fields.
In fact, ties to the Bakken boom are so strong in Yellowstone County, the air carrier Silver Airways, formerly called Gulfstream International, is considering adding a direct flight to Williston, N.D., from Billings.
In early December, Billings businessman Wayne Wilcox drove seven hours to Williston, the epicenter of what's quickly becoming the largest oil play in the United States, to sell his Big Sky ATMs and video screens that display ads.
"It literally is like a gold rush," he said.
In Bozeman, over the course of six months, Wilcox sold 15 Advanced Wall Advertising screens.
"I sold that many in a single day in Williston and five more in Sidney the next day," he said.
Atop a drilling rig at a Continental Resources well site between Sidney and Culbertson recently, a siren shrieked a rusty call, telling the roughnecks to add pipe.
The workers slap high-tech tongs around wet pipe and start the change-out, splattering drilling mud. Drillers have punched two miles straight down at what's called the Jane well site and it's time to start the curve.
Under his fluoroscope, Billings native and geologist Dan Neiter centers a sample of limestone dredged from down below.
"I see the color of oil, little spots of a glow showing oil," he said.
Finding "color" and the correct drilling depths prompts Neiter to tell the drillers on the rig to keep curving the bit, aiming for the heart of the Bakken oil reserve.
After the 90-degree turn is made and the bit is running horizontally, the drillers will punch through two more miles of shale, snaking along the 10-foot-thick formation so a single well pump can suck oil out along the entire run.
"He can hit a basketball hoop at a mile," Neiter said of the driller.
The refinement of horizontal drilling combined with hydraulic fracturing, called fracking, has made this boom possible. In fracking, drillers fire a million gallons or more of water mixed with sand and chemicals under extreme pressure into the underground shale, smashing the rock to release the trapped oil and natural gas.
North Dakota is passing Alaska in oil production and some in the traditionally wheat-and-cattle state dream of eventually bumping Texas off the top of oil baron hill.
Oklahoma's Continental Resources is the largest single player in the Bakken - with 500 wells - and it could possibly triple that number in five years. Because the bulk of the Bakken lies on the North Dakota side, that state enjoys the lion's share of the drilling activity. More than 200 oil rigs are snouting around for oil across western North Dakota at a cost of $7 million a well.
Montana has nine rigs, with more coming. Bakken production yields $1.2 billion per year for Montana and the leasing frenzy has reached west to Scobey and the Fort Peck Reservation.
Curt Brown, Continental's production foreman in the Sidney area, manages about 170 wells.
"We're proposing to drill 400 wells around Richland County, so it's going to get big," Brown said.
Third-generation Sidney farmer and rancher John Mercer shares oil income from the family homestead with his six siblings. Most neighbors also are enjoying the best paychecks in their lifetimes, he said, as oil field wages drive up their pay.
Thanks to oil and natural gas taxes, Richland County built a justice center, health center and social services building in Sidney and an activity center at the fairgrounds.
But there are plenty of have-nots, too.
With two-bedroom homes renting for $3,000 or more a month, even second- and third-generation residents have been forced to leave Sidney.
And driving is a nightmare.
On Dec. 8, a neighbor drove the two-lane road from Sidney to Fairview and ran into the usual convoy of what Mercer calls "80-ton toads."
In 11 miles, he counted 155 vehicles at night, most of them semi-trucks with shorter pup trailers.
Mercer is pro-oil and pro-growth. But he said Sidney's sewer lagoon, sewer lines and roads were maxed out last year, even before three more motels and 1,200 more homes are completed and hooked up. Upgrades could cost $15 million.
"It's a paradise for business, but they are talking about Sidney going from 10,000 people, doubling in a year or year and a half," he said. "How do you plan for that?"
Sidney native and mayor Bret Smelser shares Mercer's values and concerns.
"I've never been in so many close crashes in my lifetime than during this past year and they weren't deer," said Smelser, who also runs the family business, Border Steel & Recycling.
Staying ahead of the crazy growth is a mayor's job, but during the boom the workers have come ahead of the infrastructure.
After Bainville doubled the size of its sewer lagoon three years ago, its population of 150 quickly doubled, so sewer hookups are maxed out. It's the same story with sewer and water in Culbertson and Plentywood.
And some services arrive uninvited.
Korean prostitutes parked their RV in Bainville for a summer, mayor Dennis Portra said.
"When you have hundreds of guys making $80,000 to $100,000 a year without a wife or girlfriend around, of course we're going to have problems," he said.
His white cowboy hat ringed with the history of the oil boom, John Murnion dry camped in his trailer through last winter, which set records for cold and snow.
"You put a little electric heater in your bedroom and go to sleep," the truck driver said. "The thing is, you have to get in on the boom early."
With enough lodging and services, Continental Oil chief executive Harold Hamm said he could hire 500 more truck drivers.
At Fairview's Loaf 'N Jug, piles of pre-wrapped food and a dozen coffee pots gushing java fuel the pre-dawn stampede of workers.
Some towns have been forced to temporarily turn away would-be residents because their sewer systems are maxed out.
Terry, at the western edge of the boom, doesn't have any man camps yet. But last fall, city council members considered a six-month ban on the camps, and then backed off.
If crude prices drop sharply, or fracking chemicals are curbed or banned, these boom towns could turn into relative ghost towns overnight, Mercer said.
Meanwhile, many eastern Montanans say they want more orderly, sustainable growth, adding, "We don't want to end up like Williston."
Former Kalispell trucker Ken Berosik, who's seen a lot of cities during his 1.5 million-mile career, said the "the nicest, cleanest town around" has fallen victim to runaway development.
"Used to be you'd drive into Williston and, if you needed a hand, they'd be happy to help you," he said. "Now they won't even look at you and you can't blame them."