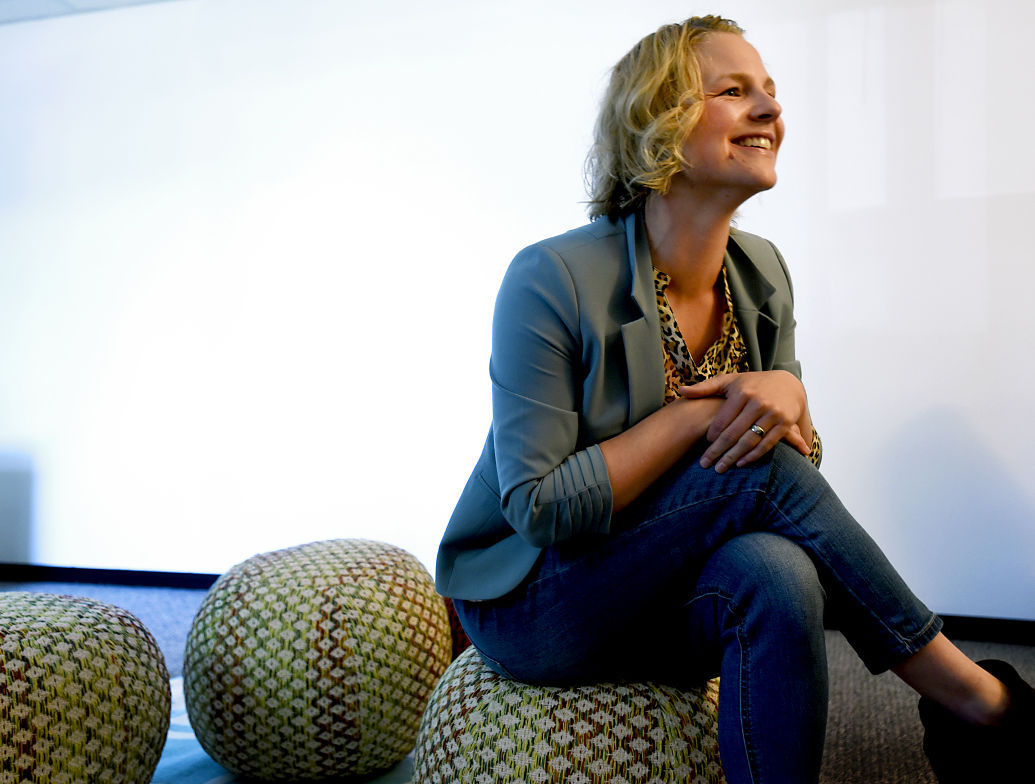 Christa Weathers is fueled by creativity.
Weathers, 37, sees success in the most recent developments at the Open Aid Alliance, and she's bringing energy and passion to push the organization forward.
The Open Aid Alliance, where Weathers has worked since 2008, is dedicated to "empowering people living with HIV, hepatitis C and other health disparities and preventing new infections through testing, education and outreach."
Recently, the nonprofit was forced to move because its property manager had received complaints about the syringe exchange program. With Weathers at the helm as executive director, the Open Aid Alliance parlayed the temporary setback into positive gains.
For one, the office moved from a dark basement into a brighter and more visible space at 1500 W. Broadway at the corner of Broadway and Russell Street. Secondly, Weathers sees signs the newer syringe exchange program is only going to grow.
Two tribes in Montana contacted the Open Aid Alliance for help setting up a program, one in eastern Montana and one in western Montana, she said. And she believes a statewide syringe exchange program may not be far off, with support from both the state and federal government.
"I think we're kind of at the tipping point for widespread support for syringe exchange and federal dollars. I think that's coming," Weathers said.
Martha Robertson, on the board of the Open Aid Alliance, said Weathers has managed the organization in a time of dwindling state and federal funding. She's done so, though, with aplomb.
"Christa is creative, articulate, sensitive, bright, and incredibly proactive," said Robertson in her nomination of Weathers. "Christa has readily adapted to the transformation of OAA in anticipation of more complex conditions and limited resources."
Weathers is a molecular biologist, but work as a scientist wasn't for her.
"I needed to be around people and talk to people. Sometimes, scientists go to work and don't talk to anybody," she said.
She's been the executive director at Open Aid since 2009, and she loves working for the nonprofit, although she isn't keen on the term "nonprofit."
"It sends the message that we shouldn't make money. But we should make money, and we should act more like businesses and do our part to support ourselves. We have this big vision and big goals, but asking people to support 100 percent of the bill? I just don't believe in that," Weathers said.
In fact, she believes donors should ask nonprofits what they're doing to support their own mission, and the answer shouldn't be handing over a fundraising plan, she said.
Open Aid charges for some of its programs, and Weathers said clients are willing to pay, and charging them builds value.
Later this year, the organization plans to launch a business, a tortilla company. It will bring in money for the cause, and it will put program participants, including some of the most challenging ones, to work.
"We want to include people coming out of incarceration," Weathers said. "We know without jobs, a lot of people can't get out of jail. They can't get housing. It's just such a first step."
She sees Dave's Killer Bread as a model. One out of three of the people who work at the bread company has a criminal background, and the bakers are committed to creating the best product and giving people second chances.
"That's going to be very much our approach. Dave is an inspiration," Weathers said.
The working name for Open Aid's company is "Hella Good Tortillas," and Weathers said it's possible the organization may work on other "hella good" products down the road. The team will start small to ensure the business is solid, but it will launch with a large dose of enthusiasm, of course.
"We're really excited about (Hella Good Tortillas)," Weather said.
In the future, Weathers sees herself owning a business, and she already has plans bubbling. She generates a lot of ideas, and even if she isn't able to follow through on every one, she likes to feel the creative juices flowing.
"I believe I will be a business owner in my life, so I'm really passionate about it," she said.
One idea at the fore is developing stylish workout pants for mothers and women who experience a phenomenon associated with a bladder that doesn't control itself.
"You sneeze, you cough, you jump on a trampoline," Weathers said. The result? You pee. "It's a really frustrating situation."
So she wants to create absorbent pants that women can use without underwear, since many people work out wearing only outerwear.
"They have to be cute. I want great prints," Weathers said.
The business news you need
With a weekly newsletter looking back at local history.