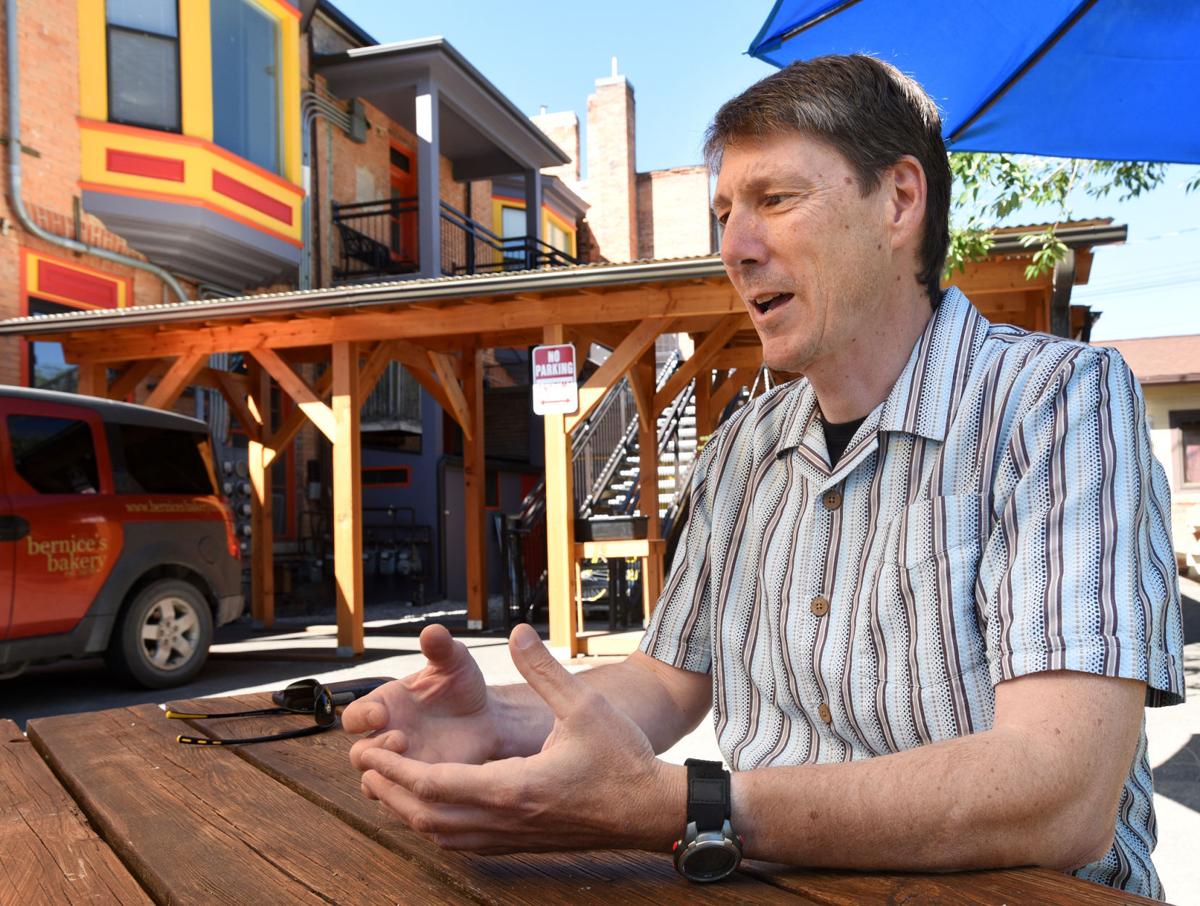 According to rough estimates by the City of Missoula's planning office, there at least 200 people who advertise tourist homes within city limits on websites such as Airbnb.com, VRBO.com or HomeAway.com.
"We don't know how many there are," said city council member John DiBari. "The state has no idea because most people don't comply with paying their facilities tax and they don't get a license from the City-County Health Department."
Tourists homes are currently legal in only four zoning districts in the city, which means that nearly half of the short-term rentals in Missoula are illegal because they're in residential neighborhoods. However, these units provide much-needed income, attract tourists and encourage efficient use of housing and infrastructure.
That's why the City Council is currently in the process of trying to overhaul the regulations on these rentals. Two council members, DiBari and Bryan von Lossberg, have proposed changes to the city's zoning laws that would allow tourist homes in all zones except industrial zones, as long as the owners purchase a business license and get a health and safety inspection.
The proposed ordinance also would limit the number of tourist homes permitted per parcel in specific residential districts and per building in order to prevent the opportunity for entire apartment buildings or condos to become short-term rentals.
"Which, in my mind, would make it a hotel," DiBari said.
The tourist homes are defined by state law as complete dwelling units that are rented out in increments of 29 days or less. That means, for example, a person who rents a room in their house while they live there isn't affected.
DiBari said this issue arose before he was even elected, when a constituent of von Lossberg's reached out after his tourist home was shut down by the city following a complaint. There had only been four other complaints over the last two years.
"So the real issue was, given our complaint-driven enforcement, there was differential enforcement of the zoning code," he said. "This person that was shut down, his next door neighbor could have been operating a tourist home and they were allowed to continue because nobody complained. So we saw that there was some inequity."
DiBari said the idea for the changes is to provide a simple, non-onerous path for people who operate tourist homes to come into compliance with a revised zoning code.
"So we are looking at trying to find a reasonable way to approach this," he said. "This is a use that's already integrated into the fabric of the community, because they're out there, and we wanted to recognize that."
A lot of issues remain to be resolved, however. The city's planning board is at odds with DiBari on a few key issues, such as whether or not all tourist homes should have to have a City-County Health Department Public Accommodation License.
Helen Jenkins, who sits on the planning board, believes that there should be a differentiation between "primary use" tourist homes - those that are rented out 270 days or more, and "occasional use" tourist homes that are rented out less than 95 days.
"The planning board did a lot of research related to this issue, and what became clear was the cities with the most successful compliance were those that differentiated between standards for primary use - meaning someone who bought a home just to rent it out - and occasional use - someone who lives in their home but rents it out part of the year," Jenkins said.
She and other planning board members felt that the original draft ordinance proposed by the Land Use committee made the process of registering a tourist home very expensive and cumbersome. They felt that people would just keep their tourist home rentals a secret rather than getting all the necessary paperwork.
"We elaborated on the fact that to do a kind of blanket requirement, the process was going to cost well over $1,000, and it was never going to get compliance," she said.
For example, Jenkins said the Accommodation License means an in-person inspector is looking for things like "conveyance of laundry" and "septic system capacity" that should only apply to hotels and motels.
In Jenkins' view, the "occasional use" homes should be exempt from getting an accommodation license because it costs $250 - and $40 to renew every year - and would therefore make it onerous for people who just want to rent their house a few months a year.
"We are really encouraging the City-County Health Department to come up with a much less exhaustive inspection," she said. "Things like whether there are fire extinguishers, emergency exits and fire alarms. Stuff that is relevant."
Jenkins also wants the city to exempt occasional use tourist homes from having to get a Home Occupation Business License, proof of commercial liability insurance, notarized proof that covenants do not exist and a city building inspection.
"We heard from various members of the public about how the Occasional Use tourist home helps to supplement their incomes, which provides opportunities for bettering their properties," Jenkins told the council. "We heard testimony about how using Airbnb had allowed someone to afford a new roof. This is meaningful because we have to remember that the Occasional Use tourist home regulations will disproportionately affect lower and middle-income households. The wealthy have no need to open their homes to strangers for a little extra cash."
DiBari said he's inclined to disagree with Jenkins, because he feels that everyone should be subject to the same laws and be "on the record" with the state and the city. He said he's not comfortable creating two different classes of tourist homes.
"I'm not comfortable saying that any tourist home operating for 95 days or less, which to me is more than occasionally, does not have any requirements whatsoever - no business license, no proof of compliance with state law and no basic information detailing who is the responsible party for the tourist home," he said.
DiBari said all tourist homes should be treated the same way in the interest of equity.
The issue will go before a public hearing on August 22 at the Monday night meeting of the full council. Then it will probably go back to committee to get ironed out.
One thing both DiBari and Jenkins agree on is that the Internet allows customers to weed out places that aren't up to standards.
"This is largely a self-regulating industry," DiBari said. "So if you go to Airbnb and read through the comments on a place, and they say it's filthy and dirty, you are not going to go there. They're not going to be in business for long. So I think we recognize that this is, to a greater extent than many businesses, pretty self-regulating. The owner gets to leave comments about the guests and the guests get to leave comments about the tourist home that they're in, and it sort of sorts itself out."
However, DiBari said people don't actually comment about things like fire extinguishers or emergency exits.
"I think it is important that we provide people the opportunity to come into compliance with the health department regulations, not all of which will apply to a tourist home, but we can make sure there is a basic level of safety," he said.
Jenkins said that, if anything, people who rent out apartments and rooms and houses long-term should be subject to more scrutiny.