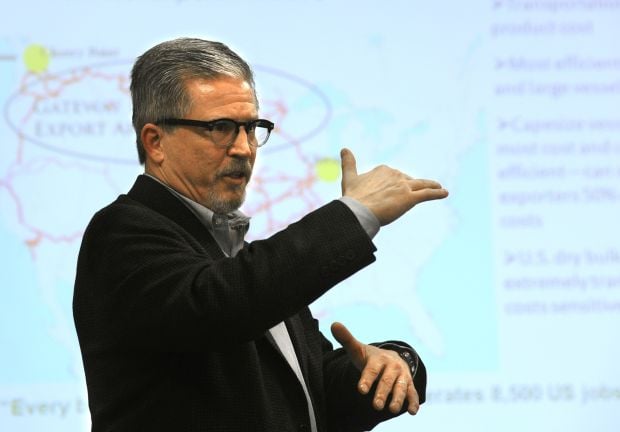 Developers said Wednesday they are politically outmatched in their battle to build two coal ports in Washington state, and they're begging for help from Montana industry.
That means letters, online comments and even trips to hearings in the Pacific Northwest, where regulators are conducting an "unprecedented" environmental review, developers said during Montana Energy 2014 in Billings.
"Lots and lots of ground-level organizing. And I'll tell you, the opposition is better at it than we are," said Wendy Hutchinson of Millennium Bulk Terminals, which is seeking to build the $643 million Longview dock on the Columbia River.
Hutchinson was joined Wednesday at the conference at MetraPark by Bob Watters of SSA Marine, which is hoping to build the separate $700 million Gateway Pacific coal port at Cherry Point near the Canadian border.
Combined, the two ports could export about 100 million tons of coal annually to emerging economies in Asia where demand is skyrocketing coal, especially from the Powder River Basin. The two companies plan to spend a total of $1.4 billion for the terminals and are locked in a public-relations battle in the green-leaning Pacific Northwest.
In the last two years, environmental groups and other coal opponents have flooded regulatory hearings with protests. State officials are studying the environmental impact of the docks, from the coal mines in Montana and Wyoming to the greenhouse gas emissions from burning coal in Asian power plants. Federal regulators have ordered a smaller study centered on the proposed terminal sites.
Once the study is complete in about a year, more public hearings will be held on the environmental impact study, giving both sides another chance to make their case. Past hearings looked more like rallies, with the two sides color-coordinating their clothes and cheering outside.
Officials from Millennium and SSA Marine say they will follow all regulatory requirements, but they're frustrated by the delays they say are hampering them from creating jobs from the coast to the mines in a responsible manner.
"It's our belief you can do both. You can generate good, family-wage jobs and be good stewards of the environment," Watters said.
Millennium is jointly owned by Australia-based Ambre Energy and Arch Coal. The company is part owner of the Decker Mine east of Billings. Privately held SSA Marine is based in Seattle and is one of the largest shipping companies nationwide
Each proposed site presents its own unique challenges. In Longview, area officials are worried the 16 daily train trips to Millennium will snarl traffic without an estimated $200 million in rail and road improvements.
The Cherry Point site is currently undeveloped, which means SSA Marine would likely need to do more environmental mitigation, such as restoring marine habitats.
In Central Oregon, a third, smaller proposal from Ambre Energy involves building a barge dock and shipping coal on the Columbia River.