A new and promising building style called mass timber construction could be the wave of the future by creating Montana jobs, cutting construction costs, combating climate change, reducing wildfires and healing the West's overgrown forests.
That's according to a broad coalition of experts in a variety of industries in Missoula, from architects to foresters to builders.
"Mass timber construction, combined with sustainable forest management on public and private lands, can make Montana a leader in achieving a more sustainable future," said Tom DeLuca, the dean of the W.A. Franke College of Forestry and Conservation at the University of Montana. "Mass timber construction reduces the dependence on steel and concrete and greatly reduces carbon emission as building with mass timber is, at a minimum, carbon-neutral."
Mass timber construction means building with large, structural panels of products like cross-laminated timber (CLT), which is created from gluing together perpendicular layers of dimensional lumber to create a large structural panel. The resulting panels can be huge and are often three, five, seven or nine layers of glued-together lumber. The panels can be used in place of steel and concrete, and unlike traditional wood stick frame construction, can be used for buildings as tall as 18 stories, per U.S. building codes.
Cross-laminated timber is 75 percent lighter than steel and stronger, meaning foundations don't have to be as complex, and it's easier and quicker to put into place on a construction site. The construction industry in the U.S. has been dominated by steel and concrete for many decades, but those materials cause significant carbon emissions and account for 8% of carbon emissions globally, according to DeLuca.
Cross-laminated timber is a largely carbon-neutral resource, DeLuca explained, because trees sequester carbon from the atmosphere and can be regrown. It's gaining popularity in green building initiatives across the country after seeing many decades of use in Europe.
Architects and builders say that while the material may cost more up front than steel and concrete, it requires less intensive skills and smaller crews to assemble and takes much less time. And because wood interiors and exteriors are en vogue, developers are getting premium lease and purchase prices on mass timber construction projects.
Jacob Wright, an architect with MMW in Missoula, said mass timber has "so many benefits."
"Whether it's the local economy or forest management or designability that we didn't used to have," he said. "There's so many things that are clicking that check the box 'yes, this is great' that this is something that needs to move forward."
Julie Kies, the wood innovations and biomass utilization coordinator for the U.S. Forest Service Regions 1 and 4, said America's forests are overgrown after roughly a century of fire suppression by humans.
"We're now growing more trees than we're cutting down," she said.
Centuries ago, natural wildfire often cleared smaller growth, and the forests were full of burn-proof old-growth trees. That had many ecological benefits, and Kies said one of the Forest Service's goals is to provide a sustainable resource from public forests while managing them in a way to make them as healthy as possible. Mass timber construction can help achieve both of those goals.
"Our program mainly looks at trying to expand and diversify markets for wood," she said. "Where we see excitement around mass timber right now is architects, engineers, builders, developers are really excited about the aesthetic and environmental benefits of building with wood.
"We've been providing sustainable, renewable building products through our wood from our lands for centuries."
Kies said in order for the Forest Service and private landowners to implement the necessary management on the nation's forests, there needs to be an economic return.
You have free articles remaining.
"It costs money to do the management, and there's a lot of material out there after a hundred years of fire suppression," she said. "There's a lot more material out there than would be under sort of natural regeneration and fire cycles. So the Forest Service is trying to go back to restoring our lands and encouraging other land managers to do the same to get back to this resilient place and not have these big mega-fires."
Selective tree removals can encourage greater tree species diversity and remove trees that serve as unwanted fuel for forest fires, she said.
"So we have huge management needs and we need markets for our wood," she said. "But many mills in Montana and other states have closed down."
Most mills in Montana that remain are running under capacity, she noted.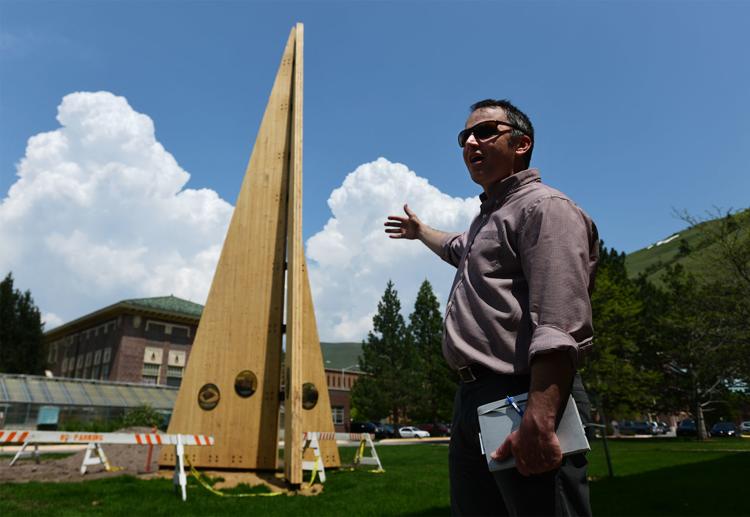 "And part of that is related to timber availability from public and private lands," Kies said. "So we want to make those mills stronger too, so if they have more markets like the mass timber building boom is creating for them, creating value-added markets, they're stronger and they can invest in more shifts, equipment and diversify their markets."
Wright, the architect, said he's currently working on one big project here that will utilize mass timber. He said a mass timber building will be about a fifth of the weight of a traditional building and the material can be made so when it's hit by fire, it chars and insulates the inner layers so the entire structure doesn't burn. He said mass timber buildings can be built 25% quicker and have 15% to 20% less carbon dioxide emissions than steel buildings.
"So there's a lot of benefits there," he said.
DeLuca said the forestry college hopes to build a new "state-of-the-art" headquarters facility on campus using the material in the future, which would be "built from sustainable produced Montana resources to meet the highest green building standard." The goal would be to make it deconstructable, so that when it outlives its life it doesn't go to a landfill. The college held a ribbon cutting for a giant kiosk out front called the CLTree, which was donated to UM by several businesses and organizations.
Craig Rawlings, the president and CEO of the Forest Business Network in Missoula, said a mass timber workshop his organization holds in Portland is growing every year and now gets 1,600 attendees.
"Everybody's concerned about trying to draw down carbon, and construction is such a huge contributor with concrete and steel," he said. "The growth trajectory (of mass timber construction) has been tremendous. The demand seems to be there."
Ben Super, the development director at the forestry college, said the new Missoula Public Library and the new Missoula Airport building could have been designed to be built with mass timber if it wasn't such a new concept in the U.S., unlike in Europe. He said if more countries utilize mass timber, such as Brazil where the Amazon rainforest is being converted to agricultural land, then forests could have more value and combat rising CO2 levels.
"It's fascinating," he said. "Right now in Vancouver (Canada) and Portland and Seattle, mass timber has really taken hold and there are very significant amounts of commercial projects either underway or completed and it has really changed the industry. And I know of two brand-new mills being built in Idaho and Spokane. And these aren't little ma and pa shops, these are big deals. We see very significant growth potential."