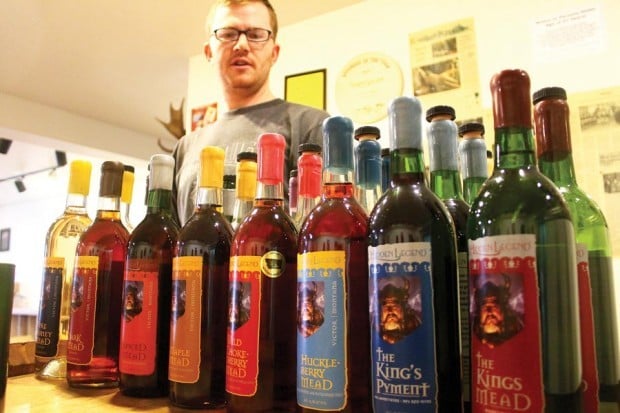 VICTOR - Vintner Ken Schultz may have to change the name of his business yet again, because the Hidden Legends Winery is not so hidden anymore.
Unfamiliar residents and UPS drivers may initially have trouble finding the innocuous winery, squeezed as it is between unrelated businesses in the Sheafman Plaza strip mall south of Victor on U.S. Highway 93. An extravagant rock-and-wooden-beam Napa-style winery, it isn't. In that respect, it lives up to its name.
But a winery's success is based on its product, not its buildings, and that applies even more in the digital age, when customers rarely see a product's origins. So Schultz could be operating out of his former tepee, and it wouldn't affect the success his winery has seen in the past month-and-a-half.
Schultz had little time to talk last week as he filled orders and readied them for shipment. If the trend continues, the UPS driver may need to add the winery as a scheduled daily stop.
"The online business has really picked up," Schultz said. "It happened suddenly on Nov. 4 - that's what made us look around."
It turns out that the winery is suddenly part of one of the newest trends, according to Forbes Magazine. Writer Andrew Bender included mead alongside truffles and fennel pollen in his Oct. 24 article on the 10 latest food trends, based upon his survey of U.S. chefs and food writers. In an illustration of how much power publications can have in swaying public opinion, Schultz was watching his online orders pile up less than two weeks later.
Following on the honeyed heels of that mainstream publicity, Schultz's concoctions recently got another boost when Sommelier Journal published a Nov. 30 special report on the growing popularity of mead. The journal is written for wine aficionados, so the tip of the journal's haughty hat showed the lowly mead has risen in the wine world.
"Pictures of us ended up in the article and they listed us as one of the top 10 or 12 producers in the U.S., although they included a couple of Canadians," Schultz said. "It's launched us into the stratosphere."
Schultz may be riding a mead-fueled missile now, but it's been decades in the making.
He began making wine as a hobby in 1974 and made his first batch of mead in 1989. A decade later, he won his first medal in an international wine competition and in 2001, he won a bronze medal for mead going up against a bevy of winning wines at the Indiana State Fair.
That's about when he started Painted Rocks Winery, making mead for distribution with several partners on West Fork Road. After the winery was sold in 2003, Schultz struck out on his own and opened the Trapper Creek Winery in Hamilton in 2006. In the meantime, he kept learning the commercial ropes, refining his process and adding more medals to his awards cabinet. Most recently, his huckleberry mead won the 2010 Gold Medal and Best in Region at the Northwest Wine Summit.
After being caught up in a trademark dispute, Schultz changed the name of his business to Hidden Legends and moved north again to the Victor site in 2009. He plans on staying there for a while because he's recently expanded into the adjacent retail unit. His son, Patrick, plans on developing a series of events to be held in the new space, featuring mead beverages, of course.
Schultz hasn't totally given up on the juice of the grape. Along with his meads, which are made with honey that's flavored with the juice of berries, Schultz has been making a pyment, which is a mix of grape wine and mead. Now, in collaboration with local orchards, he's preparing to add a cyser, a combination of mead and apple juice, to his product line.
Last year, he bottled a riesling and a cabernet-merlot, both of which included Flathead cherry juice. In a few months, he'll have another riesling and in May, he'll come out with a chardonnay. Schultz is using Idaho grapes because of state alcohol laws; he can't use grapes from any state that doesn't touch Montana so that rules out Washington, Oregon and California.
"We're buying grapes from the Snake River area - they're getting pretty good," Schultz said. "We want to put out some well-known wine varieties for our local markets so we're targeting bottles under $10."
Mead may be becoming trendy with the effete crowd, but those into the buy-local trend have been buying from Schultz for years.
Customer Kevin Keskeny walked out of the winery tasting room Saturday toting a couple bottles of mead and a bottle of wine.
"I like it because it's local - they use local huckleberries and chokecherries - but mainly because it's good," Keskeny said. "It's hard to name a favorite - I can't pick one over the other."
Schultz will be visiting a few more competitions this year and will probably add other mead flavors to the 10 he already makes.
"Probably the only thing limiting our experimentation is our ability to keep up with orders," Schultz said.