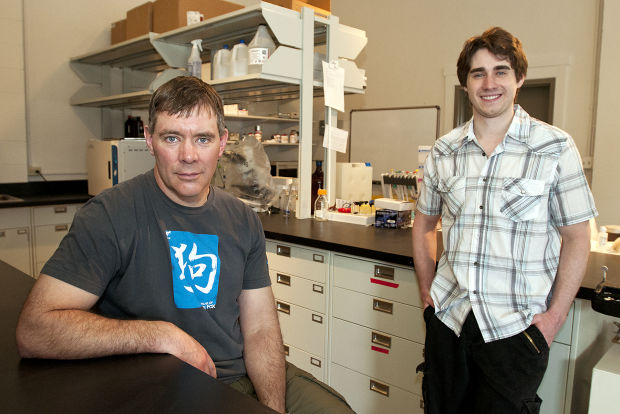 Two Missoula scientists have patented an innovative new way to combat infections from a common and potentially dangerous bacteria, methicillin-resistant staphylococcus aureus, often called MRSA.
Their company, Wintermute Biomedical, is one of the only biomedical research facilities in Missoula and they've been using a $60,000 grant from the Montana Board of Research and Commercialization Technology to fund their testing.
Wes Hale, the company's managing director and research scientist, formed the company with chief scientific officer Tom Rau in July 2012. Both men hold degrees in molecular biology from the University of Montana, and Rau holds a Ph.D in neuroscience. They've been working hard to get their product, a viscous lotion called Solexan, to market. However, they still have a long way to go before they can conduct clinical trials on humans.
According to the U.S. Centers for Disease Control and Prevention website, there isn't a lot of data on the number of people who get MRSA skin infections, but it spreads easily because 2 percent of the population carries the bacteria in their nose. Those people don't usually feel the effects, but they can spread the bacteria through open wounds to others who are susceptible.
Because MRSA spreads through skin abrasions, certain segments of the population such as nursing home residents, athletes, children, prison inmates, military recruits and diabetics whose blood doesn't clot normally are particularly susceptible to MRSA infections.
"MRSA is really starting to get out of hand," said Hale. "The CDC tries to keep a lid on it because they don't want people panicking. It's starting to get pretty scary. The only thing that can kill it is an antibiotic, Vancomycin, that can damage your liver quite significantly. It's really expensive and doesn't work all that well. We invented a product that inhibits the growth of MRSA and actually kills it. We've been doing animal studies the past few months and results have been pretty spectacular."
They've been testing Solexan on rats for the past year and they plan to publish the results for a peer-review process soon, which could lead them to clinical trials.
"We found that our product decreased the MRSA growth in the animals by a factor of 10," Hale said. "We also found that the animals that were treated with our product did not become septic. 62.5 percent of the untreated controls (rats not given the lotion) went septic, which means they have no hope."
Right now, Vancomycin is the drug of choice for treating most MRSA infections, but it is "wicked expensive" according to Hale, costing upwards of $1,400 for a 14-day treatment. It also causes liver toxicity.
Rau said that a lot of companies make big money by producing products that treat symptoms of diseases rather than the cause.
"A lot of pharmaceutical companies, they don't put a lot of money into making new antibiotics," Rau said. "They just change it because that's cheaper to do and it's easy to do instead of going out and building new ones. Cures don't make lots of money, treatments make lots of money. If I cure you, you won't need a cure again for a long time, but if I treat you, you need it every day. Drugs like Lipitor or other statins, it's just a printing press for money. And once you are on it, you need it all your life. If I can come up with something that you need every day, wow."
The two men hope that Solexan can be used in conjunction with Vancomycin to decrease hospital stay lengths, which would save people money.
Solexan can be a preemptive treatment for surgical wounds, because Rau and Hale have seen evidence that wound-healing is speeded up by their product.
The two men are currently applying for a Small Business Innovative Research grant through the Department of Defense, because the Army has a massive problem with soldiers getting infected wounds.
"They have a huge issue with it, and they actually requested the application because they are looking for a way to treat wounds," Rau said. "We'll find out in August. If we get the SBIR funding we are a year away from clinical trials."
Both men agreed that Montana is a great place to conduct biomedical research because there is funding available.
"You can get money," Rau said. "If we were in New York or California, there would be thousands of competitors. You would be a small fish in a huge pond. Here, if you come up with an idea you can get people to help you. It's cool."