Stockman Bank opened a new $18 million facility on Brooks Street earlier this month and to celebrate, the company donated $15,000 to Chief Charlo Elementary for a new playground that will be open to the public and designed for all abilities.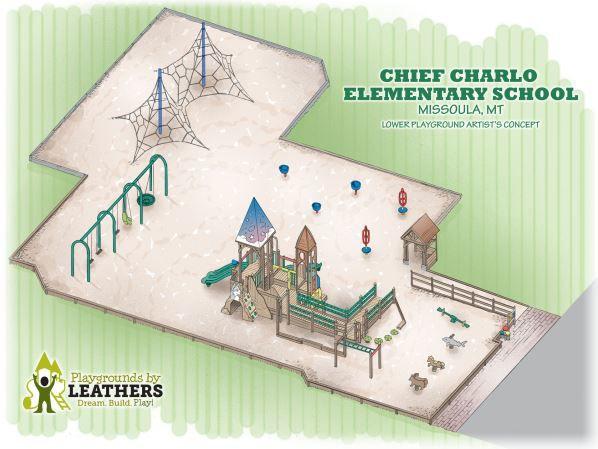 "We have a vision of a more inclusive, safe neighborhood and when we reached out to Stockman Bank, they got back to us right away," said Chief Charlo Principal Vincent Giammona. "This isn't just about our school. It's obviously going to improve student safety, but we want it to be a neighborhood place. So many families use our facilities on nights and weekends."
Giammona said the South Hills neighborhood school's aging equipment needs replacing, but instead they decided to start a campaign to raise funds for two new sets of equipment on both playgrounds.
"It's a big undertaking," he said.
Bob Burns, the Missoula market president for Stockman Bank, said the new branch location means the bank has created about 64 jobs in Missoula over the past few years since they opened their first location.
"Location matters a lot, and I think it's a great place for employees to work and for our customers," Burns said of the new spot at 3615 Brooks St., near Paradise Falls.
Stockman Bank was started in 1953 in eastern Montana and is now the largest family-owned, privately held bank in Montana. Now owned by the Coffee family, including CEO Bill Coffee, the bank broke ground on a six-story downtown location in 2016 and also has a branch on Burlington Avenue.
You have free articles remaining.
"There's really been a commitment from the Coffee family to invest heavily not only in Missoula but in western Montana," Burns explained. "They really want to show Missoula they're making a significant commitment, not only in new jobs but in properties."
The site once held a Sizzler restaurant and later, a movie theater. It had been blighted for a while, and last year the Missoula Redevelopment Agency approved $494,941 to improve sidewalks, street lighting and landscaping at the site after cops complained about illegal activity. When the site was vacant for many years, it generated about $56,000 per year in property taxes, but now that the bank is open it's expected to generate about $277,660 more per year in taxes, which will pay off the TIF (tax increment financing) assistance.
"The sidewalks, street trees and pedestrian-scale lighting will make the area more pedestrian-friendly, in keeping with the city's vision for Midtown," said MRA development coordinator and project manager Annette Marchesseault when the money was approved.
Burns said it was important for the bank to get behind something in the community, and the new playground at Chief Charlo was an easy decision.
"Nothing's easier to get behind than kids needing a safe space to play for all abilities," he said. "We jumped on that opportunity."
The bank has various areas of service, including commercial lending, consumer lending, mortgage lending, insurance services and wealth management. Large solar panels on the roof generate much of the building's power, and there are electric charging stations for electric cars, and low-emission-only parking spots. The bank also has dozens of works from local artists, an underground conference room and a top floor with views that will be leased out to another company, much as the downtown location's fifth floor is rented out to an accounting firm.
Burns said the bank's decision to invest so heavily in Missoula shows the company is bullish on the economy here.
"We're very optimistic," he said. "Missoula's rapidly growing and catching the attention of outside investors across the U.S. A lot of people want to work here and to live here."