The home-sharing website Airbnb lists roughly 300 short-term rentals listed in Missoula, a community with a population of about 75,000. That pales in comparison to the 915 listings in Whitefish, pop. 7,600, or the 524 listings in Bozeman, pop. 48,000.
Short-term rentals can cause problems in communities, including increased home prices, a reduction in workforce and affordable housing and changes in neighborhood complexion. That's according to Norma Nickerson of the Institute for Tourism and Recreation Research at the University of Montana.
Along with co-author Rhonda Fitzgerald, an inn owner in Whitefish, Nickerson wrote a recent report for Montana Business Quarterly about the fast-growing industry of home sharing in Montana.
Short-term rentals are "currently flooding" communities like Whitefish, Bozeman, West Yellowstone, Kalispell and Missoula, they found.
"Originally short-term rentals were considered a part of the sharing economy, offering travelers a low-cost option to pricey hotels or resorts," they wrote. "But a growing trend has emerged with commercial operators running hoteling schemes, which tend to fracture communities, raise safety concerns and increase the price of rent for residents while depleting affordable housing options."
During a phone interview on Friday, Nickerson said they got the idea to study short-term rentals after hearing complaints from residents of Gardiner, Montana. The small town is a gateway to Yellowstone National Park, and it has been transformed in recent years by short-term rentals.
"Residents were telling us how short-term rentals were taking up all the housing," she said. "People that currently live there, it makes their property more valuable. But if you are a business person trying to hire people for the season, there's no place for people to live because all the workforce housing is changing over from long-term rentals to short-term rentals."
Nearly 50 percent of the comments Nickerson solicited from Gardiner residents brought up housing affordability issues, including complaints about high rent and unreasonable housing prices.
Overall visitation to Montana is not increasing, as an estimated 12.2 million nonresidents visited Montana in 2018. That's down 2 percent from 2017, according to Nickerson. But between 2017 and 2018 there was a 12 percent increase in the use of short-term rentals within the peak summer season. In 2018, more than 411,000 nonresident groups rented a home or cabin in Montana during their stays. 
Several academic studies have indicated that short-term rentals actually lead to higher rents and home prices in communities. A 2017 study by the National Bureau of Economic Research and UCLA found that a 1 percent increase in Airbnb listings leads to a .018 percent increase in rents and a .026 percent increase in house prices at the median owner-occupancy rate ZIP code.
Missoula is in the midst of a housing affordability crisis, as home prices have risen nearly 40 percent here since 2010 while wages haven't kept pace. While the per capita number of short-term rentals in Missoula may be relatively small, the town of Whitefish a few hours north offers a cautionary tale.
John Muhlfeld, the mayor of Whitefish, said it's become obvious that out-of-state investors have been buying homes to convert them into a revenue source, driving up prices for people trying to live in the town.
"We've been generally observing a lot of traditional neighborhoods or homes are slowly through attrition transitioning to Airbnb or short-term rentals, most of which are being purchased by out-of-state investors and second-home buyers clearly looking at it as an investment," he said. "A lot are actually illegal. We've been taking initiatives to start cracking down in illegal short-term rentals."
Recently, the town prohibited short-term rentals in the WB2 district, which is the commercial corridor. They are, however, permitted in the WB3, the downtown business district.
Short term rentals are subject to the city's resort tax, but Muhlfeld said the town currently doesn't allocate any resort tax revenue to affordable housing.
"That is a topic of discussion, and I'm sure when they go to re-authorize the resort tax in 2025, affordable housing will be discussed," he explained.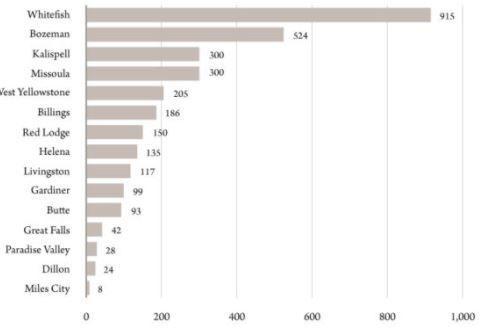 Nickerson studied what Whitefish has done to cope with the problem.
"In 2016, Whitefish conducted a workforce housing needs assessment and found that units occupied by year-round residents dropped nearly 10 percent from 2000 to 2010, with much of the shift attributed to second/vacation home buyers," she explained. "In addition, more long-term rentals are now limited to a six- to nine-month lease, allowing the owner to do short-term rentals at higher rates during the summer months."
In 2017, the town completed the Whitefish Strategic Housing Plan, which included a strategy to convert short-term rentals back into long-term housing.
"One solution used by Whitefish is their use of tracking software to understand the number and location of these short-term rental units," Nickerson said. "This provides the community with information to help them manage the proliferation of short-term rentals."
In 2016, the Missoula City Council approved rules for homeowners, which included complying with housing safety codes, limiting the number of guests allowed per square foot and notifying neighbors about their rental status. A $52 registration fee is required for short-term rental owners, along with a $27 yearly fee. Bozeman instituted much larger fees than Missoula.
Nickerson said it's possible that short-term rentals add a boost to the economy by attracting a segment of visitors who are attracted to places that aren't motels or hotels. When huge events come to Missoula, such as the Pearl Jam concert last year, motels and hotels fill up and short-term rentals fill a certain demand. But it's not clear if that outweighs the costs to residents, especially low-income renters or prospective buyers.
"Clearly, Montana is dealing with an affordable housing issue, and short-term rentals are not helping matters," she concluded. "But the hope is that Montana's towns and communities can stay affordable for year-round residents while offering a variety of lodging options for visitors."